Best Ways To Explore Australia - Unveiling The Land Down Under's Wonders
Today we will focus on the best ways to explore Australia, highlighting various modes of transportation, must-visit destinations, iconic landmarks, and essential tips to make the most of your Australian adventure.
Australia, a vast and diverse continent, offers a myriad of opportunities for exploration and adventure. From stunning coastlines and vibrant cities to expansive outback landscapes and unique wildlife encounters, Australia is a dream destination for travelers seeking to discover its natural beauty, rich culture, and captivating experiences.
Embarking on a road trip in Australia allows you to immerse yourself in the country's diverse landscapes and discover hidden gems along the way.
COPYRIGHT_BUG: Published on https://www.bugbog.com/best-ways-to-explore-australia/ by Velma Battle on 2023-07-05T16:05:25.377Z
Renting a car, campervan, or motorhome provides the freedom to create your own itinerary and explore at your own pace. Here are some further details on iconic road trip routes:
Great Ocean Road (Victoria)

- Stretching along the south-eastern coast of Victoria, the Great Ocean Road offers breathtaking views of the Southern Ocean and rugged cliffs. Make sure to stop at the Twelve Apostles, limestone stacks rising from the sea, and explore the lush rainforests of the Otway Ranges. Visit charming coastal towns like Lorne and Apollo Bay, and witness the iconic

London

Arch and Loch Ard Gorge.

Red Centre Way (Northern Territory

- The Red Centre Way takes you through the heart of Australia, offering a glimpse into the country's ancient landscapes. Start in Alice Springs and venture to Uluru, the majestic monolith that is sacred to the Indigenous Anangu people. Continue to Kata Tjuta (The Olgas), a series of striking rock formations, and explore Kings Canyon with its dramatic sandstone cliffs. Along the way, you'll encounter stunning desert scenery, Aboriginal cultural sites, and the opportunity to learn about the local Indigenous communities.

Gibb River Road (Western Australia

- For those seeking an off-the-beaten-path adventure, the Gibb River Road in Western Australia's Kimberley region is a must. This remote and rugged route takes you through ancient gorges, pristine waterfalls, and dramatic landscapes. Explore the Bungle Bungle Range in Purnululu National Park, swim in the clear waters of Bell Gorge, and marvel at the vastness of the Mitchell Plateau. This road trip is an opportunity to disconnect from the modern world and experience the raw beauty of the Kimberley.

Pacific Coast Touring Route (New South Wales and Queensland

- The Pacific Coast Touring Route allows you to experience the beauty of Australia's east coast, starting in Sydney and extending to Queensland. Drive along scenic coastal roads, stopping at picturesque

beaches

, charming towns, and vibrant cities. Explore the iconic Gold Coast with its stunning surf

beaches

, visit the pristine beaches of Byron Bay, and venture to the Great Barrier Reef region, where you can snorkel or dive to witness the diverse marine life.
Coastal cruising in Australia offers a unique perspective, allowing you to access remote areas, pristine islands, and marine wonders.
Here are further details on coastal cruising options:
Great Barrier Reef

- Embark on a cruise from Cairns or Port Douglas to explore the Great Barrier Reef, a UNESCO World Heritage Site. Snorkel or dive among vibrant coral reefs, swim with tropical fish, and marvel at the abundance of marine life. Consider visiting the Whitsunday Islands, a collection of breathtaking islands with secluded beaches and crystal-clear waters. Choose from day trips, multi-day sailing adventures, or luxury cruises to tailor your experience.

Kimberley Coast

- Cruising along the Kimberley Coast in Western Australia is a once-in-a-lifetime experience. Sail through pristine waters, witness dramatic cliffs, and encounter unique wildlife. Marvel at the Horizontal Falls, where tidal currents create a natural spectacle, and visit Montgomery Reef, where the falling tide reveals a cascading waterfall effect. Explore ancient Indigenous rock art sites, take helicopter tours to secluded gorges, and enjoy breathtaking sunsets over the Indian Ocean.

Sydney Harbour

- Exploring Sydney Harbour from the water is a must-do when visiting Australia's largest city. Take a harbor cruise and enjoy panoramic views of the Sydney Opera House, Sydney Harbour Bridge, and the city's skyline. You can choose from a variety of options, including lunch or dinner cruises, sunset cruises, or high-speed jet boat rides for a thrilling experience.
Australia's outback is a vast and rugged region that offers a true sense of adventure and a glimpse into the country's ancient landscapes.
Here are further details on ways to explore the Australian outback:
Camel Trekking

- Embark on a camel trek through the Simpson Desert or the Red Centre for a unique outback experience. Traveling by camel allows you to slow down and truly appreciate the vastness and solitude of the desert. Listen to stories from experienced guides, camp under the stars, and witness the breathtaking sunrises and sunsets that paint the desert sky.

4WD Expeditions

- Join a guided 4WD tour to explore remote areas of the Australian outback that are inaccessible by regular vehicles.

Travel

along iconic tracks such as the Birdsville Track or the Oodnadatta Track, which traverse deserts and offer a taste of the pioneering spirit of Australia's early settlers. Explore the rugged landscapes of the Kimberley, navigate through the Flinders Ranges, or venture into the vast expanses of the Australian Red Centre.

The Ghan Railway Journey

- For a unique and luxurious outback experience, embark on The Ghan, one of the world's most iconic train journeys. The Ghan takes you from Adelaide to Darwin or vice versa, passing through the spectacular landscapes of the Red Centre. Marvel at the changing scenery, from the rolling hills of the Flinders Ranges to the vast expanse of the Outback. Enjoy onboard amenities, fine dining, and guided excursions that showcase the rich history and unique landscapes of the region.
Australia's rich Indigenous culture and history provide a unique and profound experience for travelers.
Here are further details on cultural immersion activities:
Aboriginal Guided Tours

- Join guided walks, cultural workshops, or art experiences led by local Indigenous communities to learn about their traditions, Dreamtime stories, and connection to the land. Explore ancient rock art sites, such as those found in Kakadu National Park, Arnhem Land, or the Grampians National Park. Gain insights into the deep spiritual connection the Indigenous people have with the land, and listen to their stories of creation and survival.

Cultural

Festivals

and Events

- Participate in cultural festivals and events that celebrate Australia's Indigenous heritage. The Garma Festival in Arnhem Land is a significant event that showcases traditional dances, art displays, and powerful storytelling. The Tjungu Festival in Uluru brings together Indigenous culture, music, film, and food for a vibrant and immersive experience. These festivals provide a unique opportunity to engage with Indigenous communities and gain a deeper understanding of their rich cultural traditions.

Rock Art Sites

- Visit significant rock art sites scattered throughout Australia to witness ancient Indigenous rock paintings. Kakadu National Park, a UNESCO World Heritage Site, is home to one of the largest and most well-preserved collections of rock art in the world. The Kimberley region also boasts numerous rock art sites, such as Wandjina and Bradshaw art, which provide insights into the ancient cultural practices and beliefs of the Indigenous people.
Australia, the world's sixth-largest country, is known for its stunning landscapes, unique wildlife, vibrant cities, and rich cultural heritage. From the Great Barrier Reef to the vast Outback, this continent offers a treasure trove of natural wonders and intriguing history.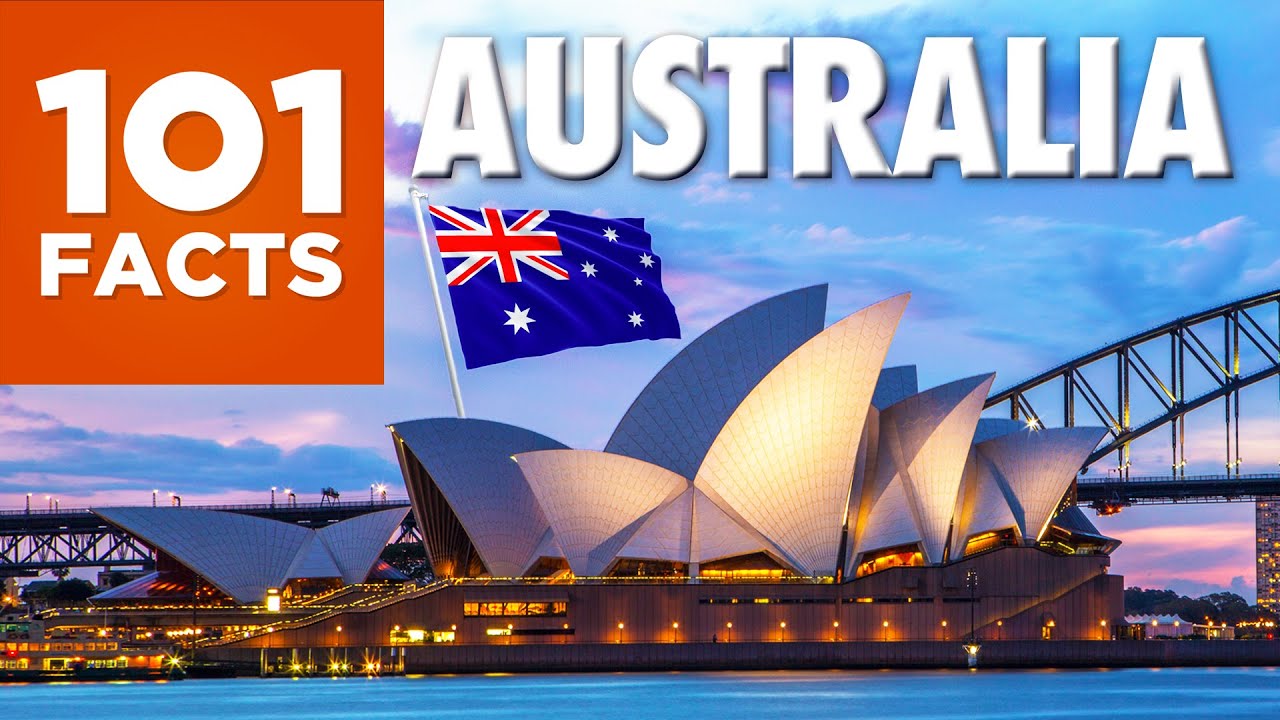 101 Facts About Australia
Australia is the world's largest island and the only country that encompasses an entire continent.

The country is home to a variety of iconic landmarks, including the Sydney Opera House, Sydney Harbour Bridge, Uluru (Ayers Rock), the Great Barrier Reef, the Twelve Apostles, and the stunning beaches of the Gold Coast.
Australia boasts an array of unique wildlife, with 83% of mammals, 89% of reptiles, and 90% of fish species found nowhere else on Earth.

The country is known for its marsupials, including kangaroos, koalas, wallabies, and wombats. The duck-billed platypus and the echidna are the only two egg-laying mammals in the world, and both can be found in Australia.

Indigenous Culture and History:

Australia's Indigenous population has a rich cultural heritage that dates back more than 65,000 years, making it one of the oldest continuous cultures on Earth.

There are over 250 distinct Indigenous language groups in Australia, each with its own unique traditions, customs, and Dreamtime stories.
Australia is known for its incredible biodiversity, with approximately 85% of flowering plants, 84% of mammals, and more than 45% of birds being endemic to the country.

The country is home to diverse ecosystems, including rainforests, deserts, savannas, and alpine regions, providing habitats for a wide range of plant and animal species.
Australia is a multicultural nation, with a rich diversity of cultures and ethnicities. People from over 200 countries call Australia home, contributing to a vibrant mix of languages, cuisines, and traditions.

The capital city, Canberra, is home to numerous embassies and diplomatic missions, reflecting the international connections and global presence of Australia.
Driving around Australia's coastline on the Highway 1, also known as the "Big Lap," can take several months to complete, depending on your route and stops. The total distance is approximately 14,500 kilometers (9,000 miles), and most travelers take anywhere from 3 to 12 months to complete the journey, allowing time for sightseeing and exploration along the way.
Australia is home to numerous breathtaking national parks. Some must-visit parks include Kakadu National Park in the Northern Territory, renowned for its ancient rock art and diverse wildlife; Great Barrier Reef Marine Park in Queensland, offering world-class snorkeling and diving opportunities; and the Blue Mountains National Park in New South Wales, known for its stunning cliffs, waterfalls, and hiking trails.
Australia is famous for its unique and diverse wildlife. Some popular wildlife encounters include snorkeling or diving with colorful fish and turtles in the Great Barrier Reef, spotting kangaroos and koalas in the wild on Kangaroo Island, and witnessing the incredible spectacle of thousands of Australian fur seals at Seal Bay on Phillip Island.
These are just the few best ways to explore Australia. Exploring Australia offers an array of experiences, from road-tripping along scenic routes to cruising the stunning coastlines, venturing into the outback, and immersing yourself in the country's rich Indigenous culture.
By embracing the spirit of adventure, respecting the environment, and engaging with local communities, you can create unforgettable memories and truly appreciate the wonders of the Land Down Under. So, plan your journey, pack your sense of curiosity, and get ready to embark on the Australian adventure of a lifetime!
Share:
Twitter

|
Facebook

|
Linkedin