With These 10 Vietnam Beaches, You Can Plan An Incredible Trip
Vietnam is a tropical Asian paradise with abundant natural beauty that surrounds major metropolis centers such as Ho Chi Minh City and Hanoi, while rural villages such as central Hoi An and remote Cat Ba Island remain largely unspoiled. While the old, tall tamarind trees and steep limestone monoliths rising from the oceans are magnificent, few sights can compare to the beauty and charm of Vietnam's beaches.
Vietnam's eastern border has a long crescent coastline with plenty of beach holiday spots. You'll enjoy the continual reminders of your tropical location as you recline on the white beach and absorb the warm wind. In your peripheral vision, you'll see visions of rice fields and bamboo basket boats.
Vietnam features gorgeous beaches for swimming, snorkeling, water sports, and calm leisure, from the northern areas of Halong Bay to the southern secluded island of Phu Quoc. With this list of the best Vietnam beaches, you can plan the perfect beach holiday.
Those contemplating a trip to Vietnam should be aware of the following recent restrictions:
COPYRIGHT_BUG: Published on https://www.bugbog.com/vietnam-beaches/ by Velma Battle on 2022-04-06T15:13:34.080Z
The COVID-19 entrance procedures for foreign arrivals were announced by the Ministry of

Health

on March 15 as Document No. 1265/BYT-DP. Foreign visitors must either do a COVID-19 negative test using the RT-PCR technique 72 hours before entering Vietnam or a quick antigen test (no self-test) 24 hours before entering Vietnam, according to the document. Children under the age of two are exempt from this rule.

Fill out a health statement and download the PC-COVID program before entering.

If a COVID-19 exam is not completed before traveling, one will be completed within 24 hours of arrival in Vietnam. If the test is negative, tourists can go anywhere in Vietnam without having to go through quarantine. Visa applications can now be submitted using the government's e-visa website.
On March 15, 2022, the Vietnamese government decided to reinstate its visa-free policy for 13 nations for up to 15 days regardless of the reason for admission. Belarus, Denmark, Finland, France, Germany, Italy, Japan, Norway, Russia, South Korea, Spain, Sweden, and the United Kingdom are all affected. Prior to the epidemic, the visa exemption policy had been in existence. The administration has yet to provide more information on the admission processes.
From March 15, the government has decided to reopen Vietnam to foreign tourists. The appropriate government officials are anticipated to present a full reopening plan soon.
The weather in Vietnam varies greatly as you go north to south, from a temperate to a tropical temperature, across a distance of more than 1,600 kilometers (1,000 miles). While Vietnam is a year-round destination due to its diversity, the ideal season to visit the country is in the spring (March to April), when days are generally nice, temperatures are reasonable, and rainfall is mild. At other times of the year, tropical monsoons bring torrential rainfall and flooding, while excessive temperatures may make summer days unbearably hot and sticky.
Your trip to Vietnam should cost roughly VND 1,203,899 ($53) per day, which is the average daily price based on the spending of previous travelers. Previous passengers spent an average of D275,990 ($12) on meals and D245,635 ($11) on local transportation in a single day. In addition, the average hotel cost for a couple in Vietnam is VND 1,058,702 ($46). As a result, a one-week trip to Vietnam for two people costs, on average, D 16.854,580 ($737). These typical travel costs were gathered from previous travelers to help you figure out how much money you'll need for your own trip.
For one individual, a one-week vacation in Vietnam costs roughly D8,427,290. As a result, a one-week vacation to Vietnam for two people costs roughly D16,854,580. In Vietnam, a two-week trip for two people costs VND 33,709,161. When traveling as a family of three or four, the cost per person frequently decreases since children's tickets are less expensive and hotel rooms may be shared. Your daily budget will decrease if you travel slower over a longer period of time. A monthly budget for two individuals traveling together in Vietnam is generally lower than a weekly budget for one person traveling alone.
Vietnamese cuisine is distinct and memorable. Vietnamese food is salty, sweet, sour, and spicy, and it can be found anywhere from street vendors to high-end restaurants. Nuoc mam, which is a fermented fish sauce, is used to generate these flavors. Chilli peppers, cane sugar, and the juice of kalamansi citrus fruit or tamarind are also added. Because the chili sauces are given separately, the dishes employ a lot of fresh herbs yet aren't extremely hot. Whether you're looking for a quick lunch in Hanoi or the greatest restaurants in Ho Chi Minh City, Vietnamese food is among the best in Southeast Asia.
Vietnam's beaches have long been one of Southeast Asia's best-kept secrets, but the country's coastal areas are gradually becoming more well-known! Vietnam has a beautiful coastline with miles and miles of pristine sand, tropical islands, and a lot of coves and lagoons that are just waiting to be explored.
With so many beaches to visit and so little time, we've compiled a list of the greatest Vietnam beaches to see.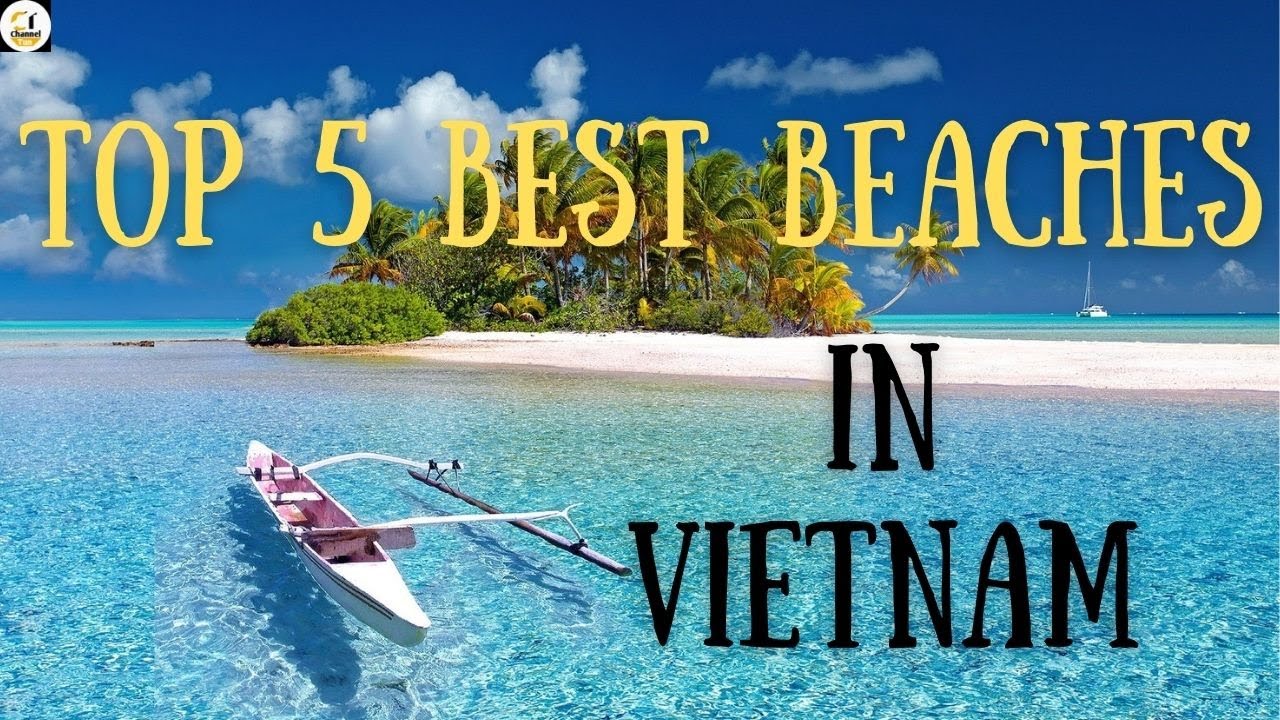 Top 5 best beaches In Vietnam | [Travel Vietnam 2021] | Channel Tun
Da Nang is one of Vietnam's most popular tourist locations, as well as one of the most accessible. It's practically in the midst of Hanoi and Ho Chi Minh City, with almost 28 kilometers of shoreline. It's a popular hangout for both residents and visitors, with certain portions available to the public and others reserved for high-end resorts. The beautiful white sand and warm waves make beach walks even better—as do the numerous palm trees you can hide behind for some shade.
Long Beach is Vietnam's classic tropical beach, with powder white sand and blue waves set against a tropical forest backdrop. Locals are nice, and you could be offered fresh pineapple or a massage while you're sleeping.
Because the waters on this beach are more like lagoons, even the most inexperienced swimmers may safely paddle around. If you're looking for the nicest beaches in Vietnam to relax on the sand and swim, this is the place to go.
There are no beaches in Ha Long Bay. The archipelago of Northern Vietnam, on the other hand, is one of the most beautiful places on the planet. The only way to visit this location, which is made up of about 2,000 islands, is to take a boat ride. During your trip, you'll most likely stop at beautiful hidden beaches to enjoy traditional Vietnamese cuisine, swimming, and snorkeling. If you have the opportunity, stay at one of Halong Bay's top hotels for an amazing experience.
The relatively undeveloped east coast of Phu Quoc is less visited than the more popular west, yet it is just as stunning. Star Beach (Bai Sao) is one of the island's most stunning beaches, with brilliant white sands and captivating, typically tranquil waves. A few beach eateries border the light blue waves, and kayaks and half-day snorkeling expeditions by boat are available throughout the summer.
Nha Trang, a lovely city on Vietnam's south coast, is often regarded as the country's top beach resort. Six kilometers of sand connect the sea to the city, with rolling waves on one side and cafés, restaurants, and some unique modern sculptures on the other. Watersports, boat cruises, and, of course, fresh pineapple, are all easily accessible – but keep in mind that the beach loses a lot of its attractiveness in November and December due to the turbulent waves.
An Bang, located 3 kilometers north of Hoi An, is one of Vietnam's most lively and entertaining beaches. Only the faraway Cham Islands break the beach symmetry. There's a lovely length of fine sand and a huge horizon (with less significant erosion than at Cua Dai), and only the distant Cham Islands disturb the seaside symmetry. A peaceful vacation in the area may be had by staying at the beach and visiting Hoi An on day excursions.
The Con Dao islands, which are separated from the mainland, are one of Vietnam's most popular tourist destinations. They were formerly the domain of political prisoners and undesirables, but now they attract attention due to their outstanding natural beauty. Con Son, the largest of the 15 islands and islets that make up the chain, is surrounded by beautiful beaches, coral reefs, and gorgeous bays and is still partially covered in tropical woods.
Mui Ne was formerly the crown gem of Vietnam's beach resorts, but severe tides have eroded the sand from the golden beach, and overdevelopment has eroded its allure in recent years. However, there are still some beautiful sand portions buried away here, suitable (during the season) for individuals who want to party at night and sunbathe during the day. Between late October and April, there are a lot of great schools and great wind conditions for kitesurfing.
Cui Dai Beach, a palm-fringed arc of white sand that meets the blue sea with views of the Cham Islands, is another beach for individuals who don't like crowds. The number of tourists at this beach is restricted since it is off the beaten path, which arguably peaks at the notably beautiful and ancient city of Hoi An. Some services are available, though, because it is near a well-known city in Vietnam. There are many motels, inflatables for hire, and a fee to park your motorcycle.
A few years ago, it appeared as though this lovely beach might vanish, as erosion that had begun in 2004 suddenly intensified, forcing the beach's stewards to rely on sandbags and other means to keep Cui Dai from vanishing. This beach has now, luckily, returned to normal after a lot of work was done on it.
The Cham Islands are a tiny archipelago of eight islands located close to the coast of Hoi An, making them readily accessible by boat from Cua Dai Beach. Previously only popular with backpackers, the backpacking population has remained strong, but life-jacketed domestic and foreign visitors have begun to visit the island for day visits and longer stays, to the point that these little plots of land now appear to be overcrowded.
These islands, which were first inhabited by the Cham people over 3,000 years ago, have seen a lot of commerce with surrounding nations throughout the years, and there are a few historic structures scattered about the region.
Beautiful white sands and dazzling blue oceans, as well as tasty seafood, friendly fisherman, and plenty of snorkeling options, are what draw visitors to this group of islands today.
Nha Trang, a lovely city on Vietnam's south coast, is often regarded as the country's top beach resort. Six kilometers of sand connect the sea to the city, with rolling waves on one side and cafés, restaurants, and some unique modern sculptures on the other.
The Mekong Delta is a region in Southeast Asia. The Mekong Delta, sometimes known as the "Rice Bowl of Vietnam," is one of Vietnam's most picturesque places. There are twisting canals, mangrove forests, floating markets, and lush green rice fields all over this area of Southeast Asia's most well-known river.
Vietnam's coastline has almost 2000 km of quiet coves, sandy sands, and clear waters ideal for snorkeling. These are the nicest Vietnam beaches for days spent lazing on sun-drenched sands and evenings spent watching the sunset.
Share:
Twitter

|
Facebook

|
Linkedin