Planning To Travel In Tunisia? Discover The Famous Exotic Destinations Here
In this post-pandemic period, travel in Tunisia is one of the most worthwhile destinations to add to your itinerary. Tunisia is Africa's northernmost country. With a population of 11 million people, it is a relatively tiny country with a well-educated populace. Tunisia is the smallest country in North Africa, but its culture and identity are founded on centuries of cross-cultural and ethnic interactions.
Tunisia provides an enticing combination of likely weather, beautiful beaches, and stunning ancient monuments, among other things. Due to the fact that the country appears to be predominantly geared toward package visitors, hotels are well-equipped to accommodate and entertain this type of clientele.
History? Hannibal grew up here, Carthage is on the outskirts of Tunis, and Matmata was the location for some of the Star Wars filming. Have you had enough of Roman ruins and beaches? The sand dunes of the Sahara and a thousand disgruntled camels are waiting for you. And all of this comes at a reasonable cost, with fair and varied food that is generally superior to that of the country's northern African neighbors.
COPYRIGHT_BUG: Published on https://www.bugbog.com/travel-in-tunisia/ by Velma Battle on 2022-04-07T02:43:56.130Z
Northern mountainous regions experience a Mediterranean climate marked by moderate, wet winters and scorching, dry summers. As it enters the Sahara Desert, the south experiences a hot, dry, and semiarid environment, while the eastern coastal boundary experiences an arid steppe climate.
Tunisia is famed for its summer heat and coastline, but there is much more to see. With its rolling dunes and isolated oases, the Sahara offers adventure tourist opportunities in the south, while the ruins of old towns dot the lush hill area in the north, making for simple historic day trips from Tunis.
Carthage, formerly a key adversary of Rome, was the port city of the seafaring Phoenicians, whose exploits were immortalized in the Punic Wars. However, these UNESCO World Heritage-listed ruins are extremely significant historically, and any traveler interested in North Africa's ancient past should make a point of paying a visit to this location.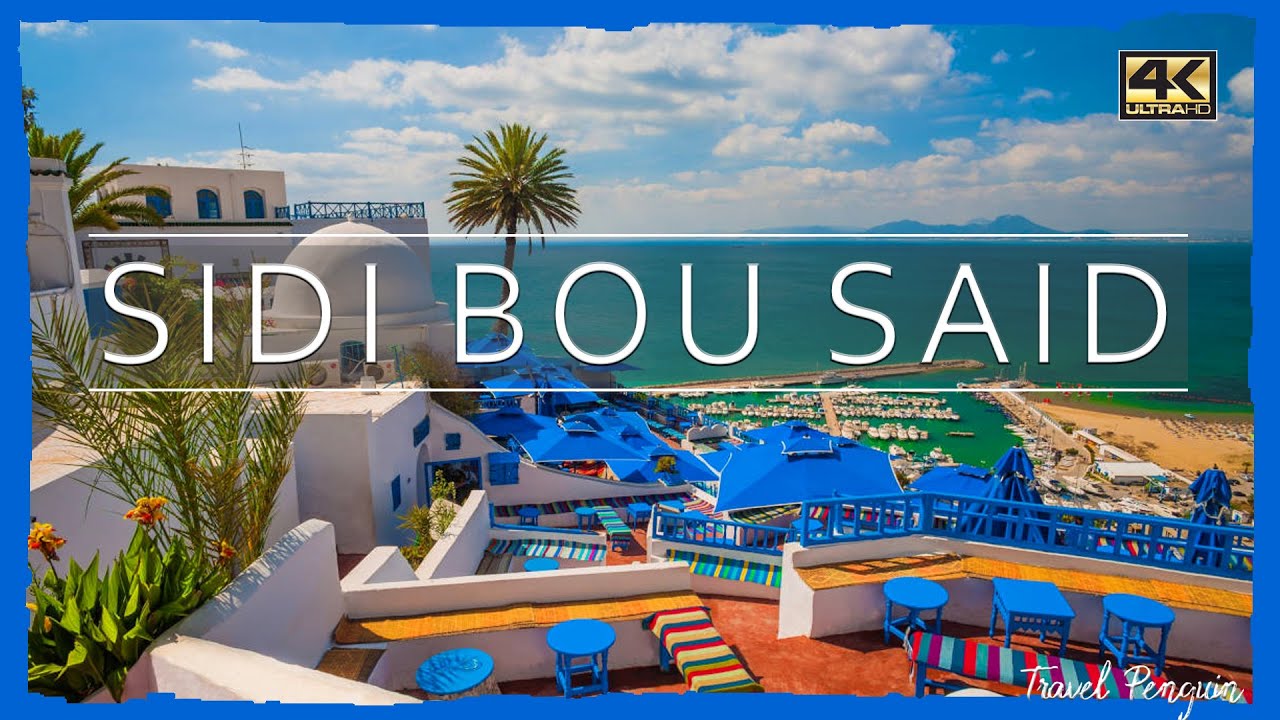 SIDI BOU SAID● Tunisia 【4K】 Cinematic [2019]
Sidi Bou Said is a small village on a cliff that looks like it fell off an artist's canvas. Sidi Bou Said, a small town on a cliff overlooking the Mediterranean, is known for its cobbled streets and blue-and-white houses. There are al fresco cafes, Tunisian restaurants, and small art galleries in the town. Ennejma Ezzahra Palace was built in the early 20th century and has arches, ornate stucco, and patterned tiles. Dar El Annabi is a historic house with wax figures dressed in traditional clothes. It is near a sandy beach.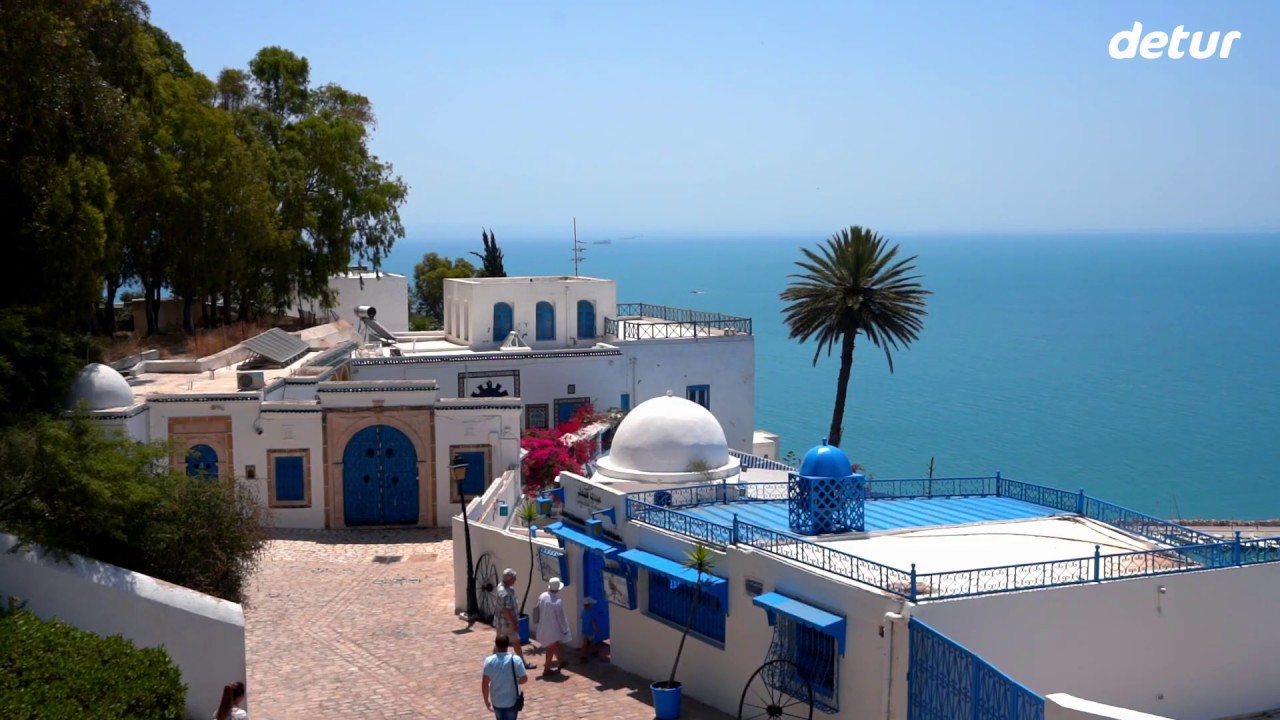 Hammamet Travel Video | Holiday in Hammamet Tunisia| Detur
A lot of people go to Hammamet to go to the beach. This quiet town on the Cap Bon Peninsula is Tunisia's top sun and sea resort. It's all about relaxing beach trips. Mediterranean charm is everywhere in the town, with its pretty white buildings next to a bright blue sea. People who come to sunbathe on the soft, white sand are charmed by its Mediterranean charm.
It doesn't take long for many people who come to this place to do nothing but walk around the old town and shop in the restored old town souks. It's a place where you don't have to worry about anything. It has all the things that make Tunisia great in one pretty package.
With its big fort, mosque, towering city walls, relaxing Medina, and magnificent museum of3rd-centuryy mosaics, Sousse is the perfect beach town. Every year, 1,200,000 people visit its hotels, restaurants, nightclubs, casinos, beaches, and sports facilities. Sousse is a renowned tourist destination because of its nightlife.
Kairouan has a magnificent Great Mosque and other fine buildings. Kairouan, the earliest Islamic city in the Maghreb, is one of Islam's holiest cities. Uqba ibn Nafi, an Arab general, and leader of Islamic conquests crossed the dunes to conquer the Maghreb.
Clubbing and nightlife.

Treking and Birdwatching.

Golf.

Hunting.

Water sports.

Sailing.

Scuba diving.

Adventure races and rallies.
Tunisia is a safe country in general, yet small crime is quite prevalent. To reduce the chances of things going wrong, you should stay cautious and take all available precautions.
Tunisia's official language is Arabic.
Tunisia's main foreign languages are French, English, and Italian, which are the most widely spoken. Because of the region's proximity to Europe, European languages have become increasingly popular in the country. There is also a considerable Turkish-speaking community in Tunisia.
At Level 4, it is not recommended to travel. Due to COVID-19, it is not recommended that you travel to Tunisia. Tunisia should be approached with caution owing to the threat of terrorism. Some locations are at greater risk than others.
Tunisia will accept certification of COVID-19 recovery and vaccination records from the United Kingdom. In response to events, curfews and lockdowns could be implemented on short notice. When traveling around the country, you should follow the advice of local authorities.
Tunisia is a hidden gem in North Africa. Tunisia is a country that is easy to overlook on an African map. Despite this, it provides a fantastic vacation experience that few other African destinations can match. When you visit Tunisia, you'll see that nature and history are two of the country's most appealing things.
Share:
Twitter

|
Facebook

|
Linkedin