Travel In Style While Trading Crypto
When it comes to cryptocurrencies, travel in style while trading crypto is the latest new trend today. Meeting new people and learning about other cultures, foods, sights, sounds, and ways of life around the world are all made possible through travel. Cryptocurrency can be used as a substitute for traditional money. In this post, you will learn about the basics of traveling with cryptocurrency. But, first, you should how crypto works.
Cryptocurrency, often known as crypto-currency or crypto, is any kind of currency that exists digitally or virtually and that uses encryption to protect transactions. A decentralized system is used to record transactions and issue new units in cryptocurrency transactions because there is no central issuing or regulatory authority. You can also convert it into cash.
To get your money, you first need to sell your cryptocurrency for cash. Then, you can either transfer the money to your bank account or buy more cryptocurrency with the money. Cryptocurrency can be sold for cash at any time. There is no limit on how much you can sell. First, link a payment method to your account.
COPYRIGHT_BUG: Published on https://www.bugbog.com/travel-in-style-while-trading-crypto/ by Velma Battle on 2022-03-25T13:45:11.792Z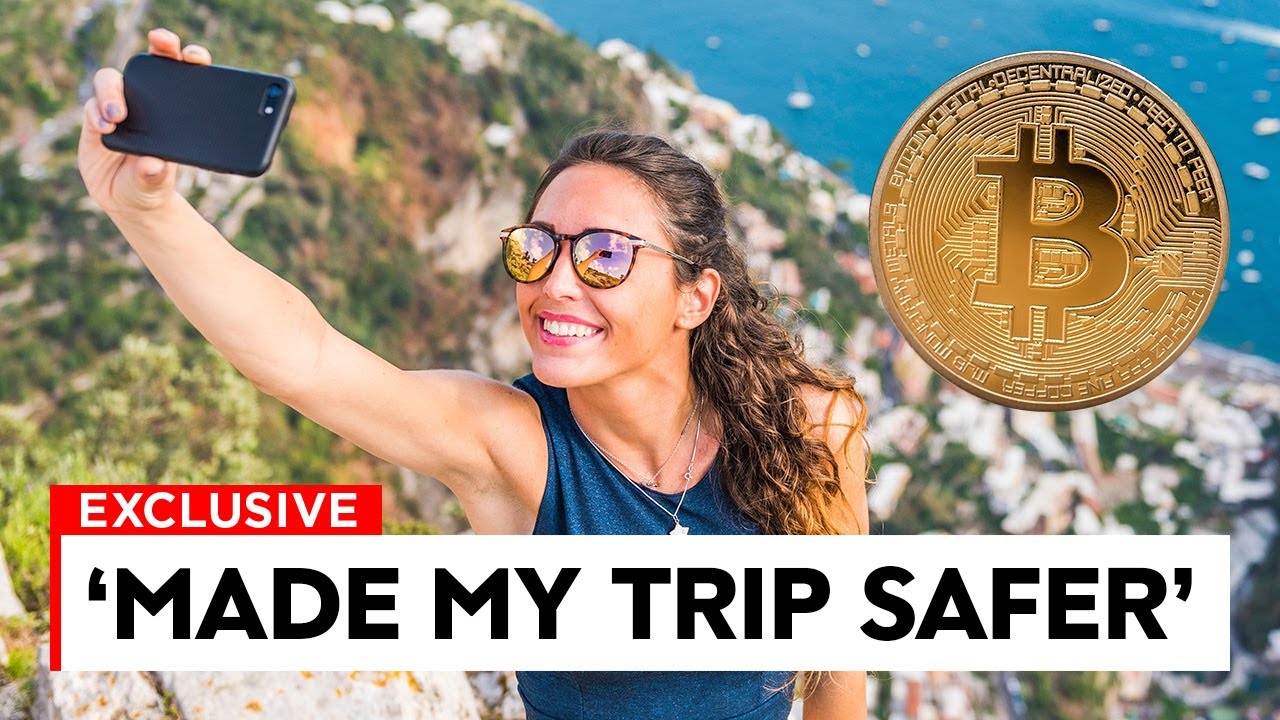 Travelling With Crypto Has Never Been EASIER... Here's How!
William & Mary Blockchain Lab director Troy Wiipongwii has used cryptocurrencies to pay for multiple flights and lodgings. Last month, using bitcoins, he purchased a ticket for a flight from Newark to Toronto. It's no longer only about investing in cryptocurrencies like Bitcoin, Dogecoin, and Ethereum. You can use cryptocurrency to make travel arrangements, pay for a hotel stay, or pay for a meal at a restaurant.
As early as 2013, CheapAir website was one of the first online travel agencies to accept bitcoin. Travel booking companies like Travala.com today provide over 3 million travel products. Airlines. In 2014, AirBaltic, Latvia's national carrier, became the world's first airline to take bitcoin. Also joining the bitcoin bandwagon are LOT Polish Airlines and Virgin Galactic. How to get digital currency. Buy or sell bitcoin at Binance, Coinbase, or Gemini. If you already have a PayPal account, you can buy cryptocurrencies with it. Do you want to use Bitcoin while traveling? Please watch the video in its full to get the most out of it.
Travel booking is made easier than ever before with Travala, the world's most popular blockchain-based travel platform. Using a variety of different cryptocurrencies, travelers may book vacations on the website. Over 700,000 hotels can now be booked using cryptocurrency through the company's partnership with Expedia.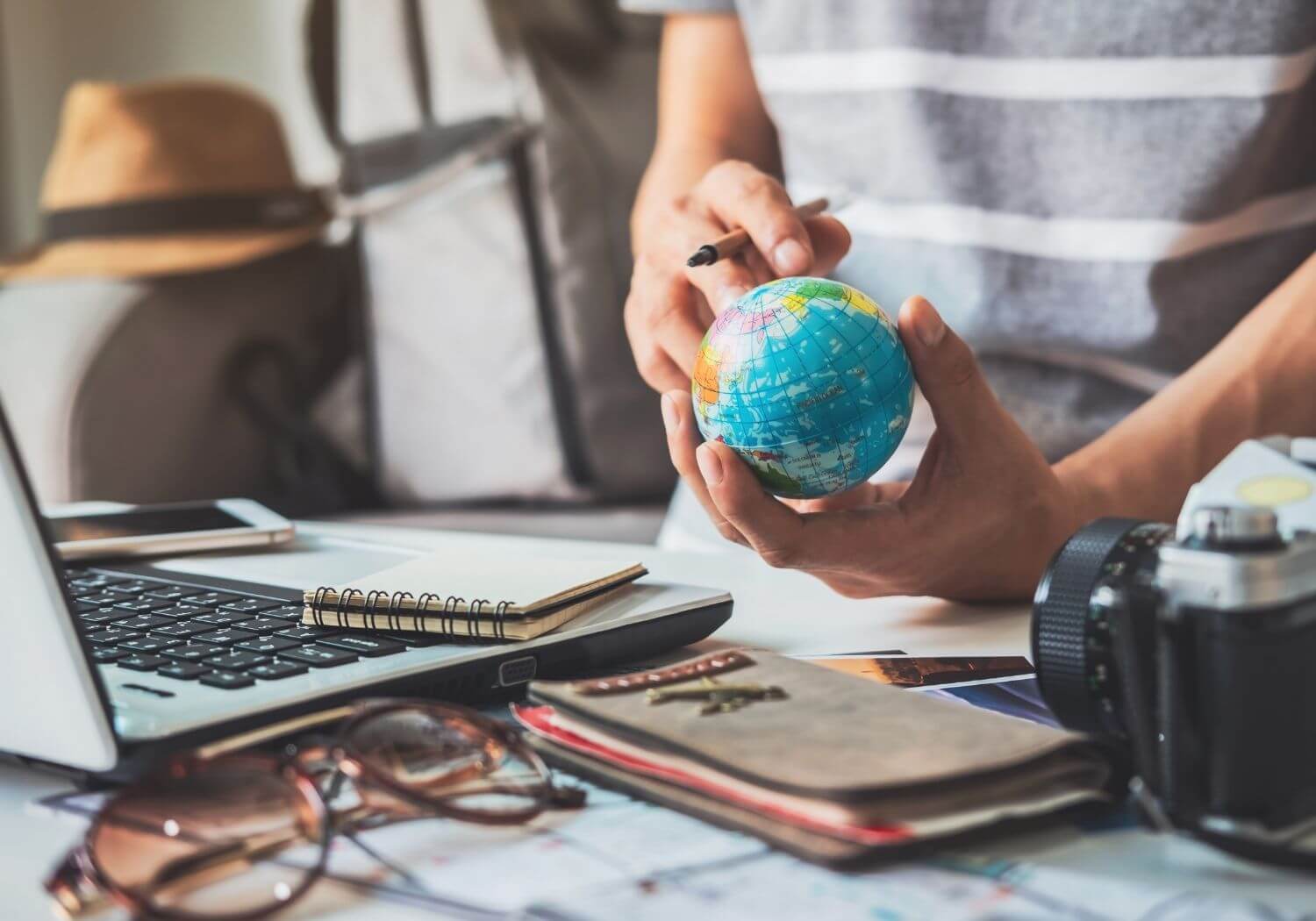 At the office, a man is holding a small globe and on his right hand is a pen with a laptop and other things on the table
Using digital currency when traveling allows you to save money on foreign exchange rates and transaction fees, as well as reducing the likelihood of losing or having your money stolen or lost dramatically. However, the use of paper currency may result in some stress during the money conversion process, as well as an increased danger of theft.
In recent years, an increasing number of travel-related businesses throughout the world have begun to accept cryptocurrencies as a form of payment. These firms include travel agents, airlines, airports, hotels, and tour operators amongst others. This means that you can pay for your trip expenses using your Bitcoin, Ethereum, Litecoin, or Tether cryptocurrency.
With BitPay, you have three simple options for paying for flights with cryptocurrency:
Directly to the airline or booking agent, you can pay with cryptocurrency. BitPay is used by a number of airline firms to take Bitcoin and cryptocurrency payments directly.

When purchasing plane tickets, make use of your BitPay Card. Any airline or booking site that accepts Mastercard will accept the BitPay Card. Load your card with the money you need to pay for the tickets and any further transactions.

With cryptocurrency, you may purchase gift cards for renowned airlines.
Yes, Alternative Airlines accepts bitcoin and a variety of other cryptocurrencies for the purchase of airline tickets. At the checkout, you can search for and pay for flights on more than 600 airlines using bitcoin. Thus, using Alternative Airlines, you may pay for a variety of flights on a variety of airlines that accept Bitcoin.
Companies throughout the world are increasingly embracing bitcoin and other popular cryptocurrencies for use in a variety of financial transactions. Cryptocurrency is becoming a payment method for individuals as well as multinational corporations. The best travel sites that accept cryptocurrency payments were identified by the author and are listed below.
Travala.

The Travala is a blockchain-based travel booking website that accepts cryptocurrency payments in addition to credit and debit cards. It allows customers to book over 2 million hotels, flights, and other services with digital currencies.

Alternative Airlines.

Alternative Airlines is one of the greatest cryptocurrency booking sites. With the addition of crypto payment alternatives, the platform is rapidly expanding and gaining new consumers. Pay in over 160 currencies using 40 international payment gateways.

CheapAir.

The CheapAir guarantees low-cost flights, hotels, and car rentals for its customers. The portal accepts major cryptocurrencies like Bitcoin, as well as pay-over-time options with low APRs and price drop paybacks that give travelers credits if their flights drop after they buy them.

Destinia.

Destinia is a portal that accepts Bitcoins. Travelers can look up flights, hotels, vehicles, trains, and airport transfers. The service also allows users to set budgets and plan themed vacations.

ETravelSmart.

A technology named Unicoin is used by ETravelSmart, an Indian bus ticketing website, to accept Bitcoins. In addition, the platform teamed with Unicoin to provide smart payment solutions that can be accessible via mobile phones.
Cryptocurrency trading is riddled with dangers and difficulties. Market participants who want to experience the long-term rewards of crypto trading must devise methods that are both entertaining and safe.
Day trading. This is a way to trade that involves taking positions and getting out of them on the same day. The goal of a trader who makes this kind of move is to make money while the price of a cryptocurrency changes during the day. For a good trade, many investors use technical indicators to figure out when to buy and sell a certain cryptocurrency.
Scalping. This trading method entails taking advantage of increasing trade volumes in order to book profits. Despite the inherent danger, a competent trader pays attention to the margin requirement and other crucial trading guidelines in order to avoid having a negative trading experience. Scalpers research the cryptocurrency asset, historical trends, and volume data before deciding on an entry and exit position within a day.
High-Frequency Trading (HFT). Quant traders employ High-Frequency Trading (HFT) as an algorithmic trading approach. This entails the creation of algorithms and trading bots that aid in the speedy entry and departure of a crypto asset. The creation of such bots necessitates a thorough comprehension of complicated market principles as well as a solid foundation in mathematics and computer science. As a result, it is more suited to experienced traders than newbies.
"Great deals on booking hotels with bitcoin. Great experience so far. I have finally found a reliable booking website where you can plan your whole trip from buying a plane ticket to booking accommodation and trips in bitcoin and other cryptocurrencies." Agostina Santangelo said
"Best travel deals for cryptocurrencies. The best travel deals for cryptocurrencies. Got a better deal than anywhere else and paid with bitcoin." Wojtek Welman mentioned.
"Awesome that you can pay with bitcoin for booking lodging, attractions, and car rental! Booked for the 7th time with Bitcoin.Travel and as always everything went very smoothly. Awesome that you can pay with cryptocurrency for booking lodging, attractions smoothly, and car rental!" Alicja claimed.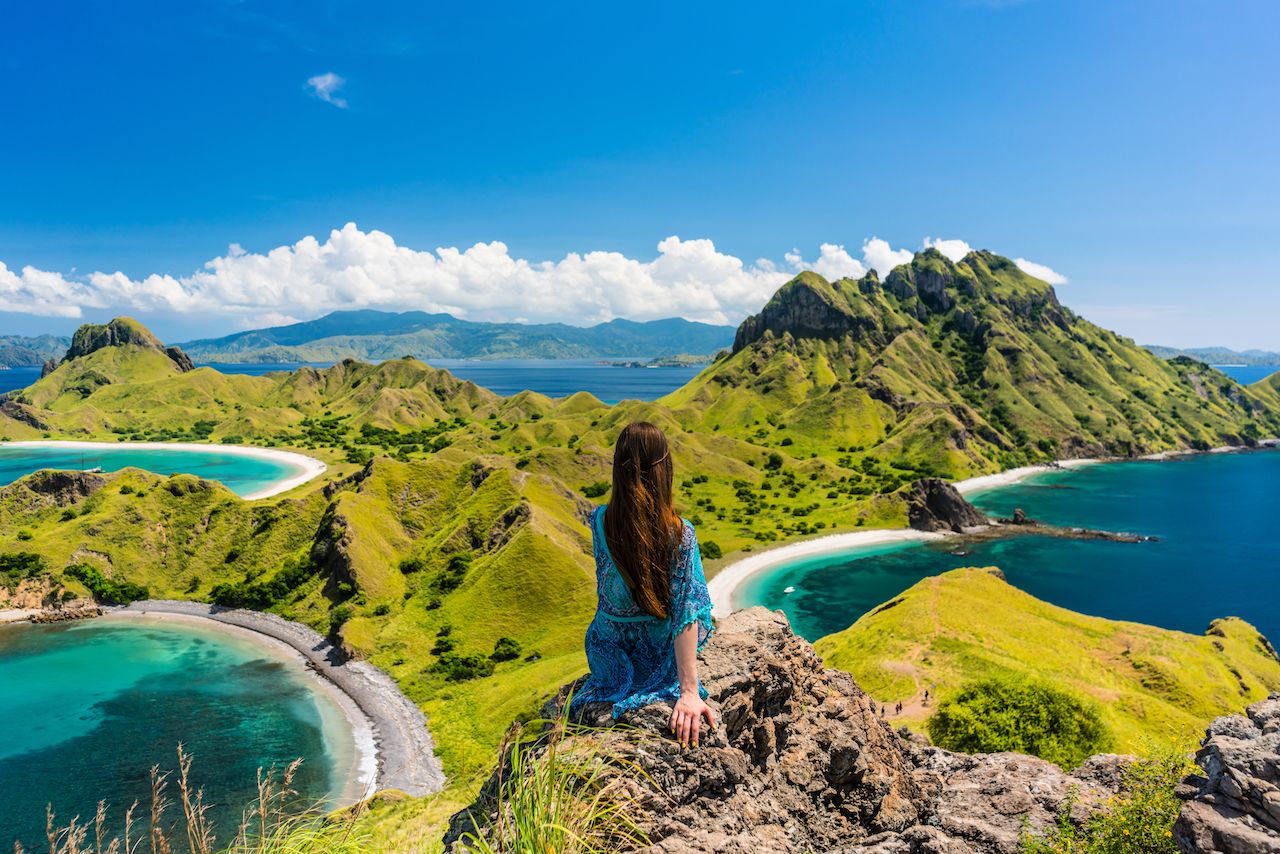 In the middle, a woman is sitting in a stone and looking out at the beautiful bodies of water and the mountains in front of her
There have been a global pandemic and travel restrictions that have closed many countries' borders over the last year, which makes it hard to think about going to other places. As countries open up again, the author of this article brings the best travel destination you should know.
Machu Picchu, located in Peru's Andes Mountains at an altitude of more than 7,000 feet, is the country's most popular tourist attraction. Machu Picchu, a UNESCO World Heritage Site and one of the New Seven Wonders of the World, was built in 1450AD and is a symbol of the Incan Empire.
This Hawaiian island has something for everyone. The West Maui Mountains provide jungle hikes and horseback riding across a dormant volcano. It's one of the world's most gorgeous islands.
Angkor Wat, west of Siem Reap, Cambodia, is the world's biggest religious site. It was built as a Hindu temple and mausoleum for the Khmer monarch in the early 12th century and afterwards transformed to a Buddhist temple. Part of a huge ancient metropolis. Ankor Wat is the temple, Angor Thom the city and palace. Hundreds of other ruins dot the landscape, all part of Angkor's ancient metropolis.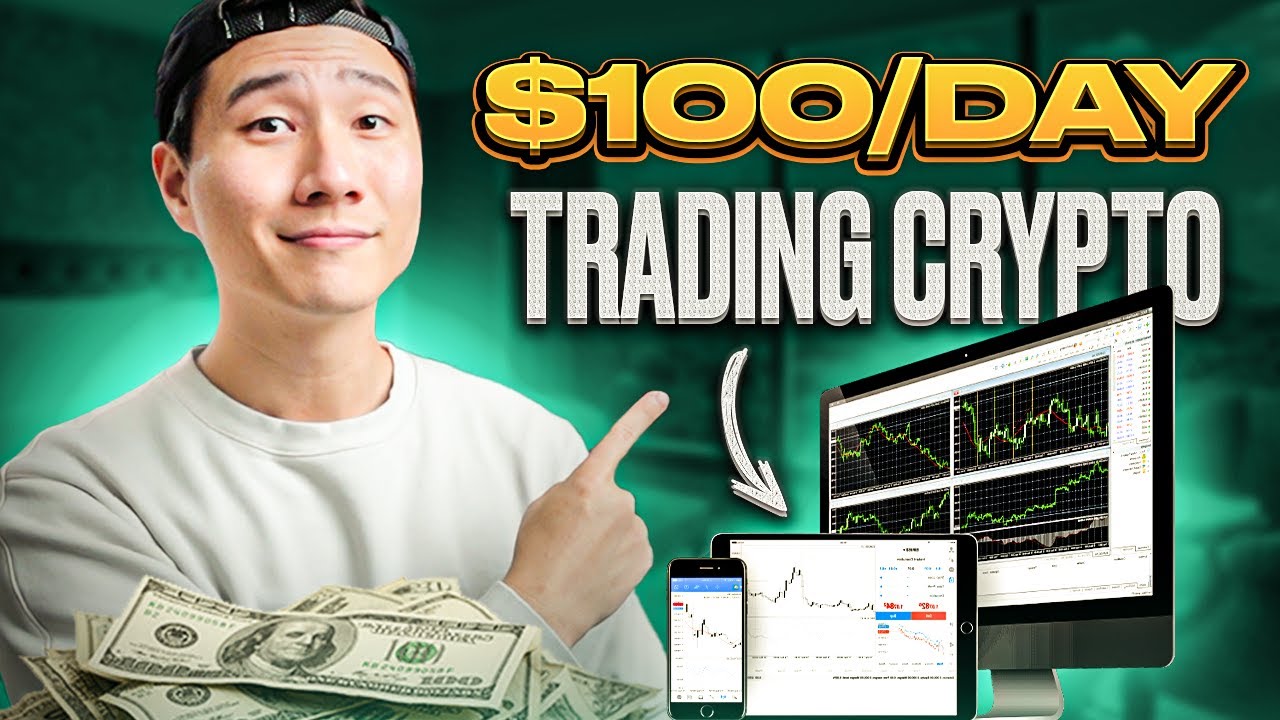 How I Make $100 a Day Trading Cryptocurrency 2022 (I'll Show You How)
The travel in style while trading crypto's new face, you don't have to deal with currency exchange rates or ATM or bank fees, you have a far lower risk of theft or loss of money and you avoid credit card fraud. But remember, you are solely responsible for safeguarding your digital funds in light of the volatile nature of the cryptocurrency market. Make sure you're up to date on the newest security news, attacks, and preventative methods.
Share:
Twitter

|
Facebook

|
Linkedin