Sixth Smallest Nation In Europe - The Sanctuary Of The Pyrenees
You've missed a trick if you've never gone to Andorra and can't even locate it on a map. It's time to brush up on your geography and add another nation to your travel itinerary.
Andorra is a micro-state in Europe, located on the border between France and Spain. It was long considered a tax haven since it is part of Europe but not the EU, but in recent years the economy has diversified away from agriculture and banking to embrace huge growth in tourism.
Mountains and lakes abound, as do ancient buildings and museums, beautiful towns, and year-round outdoor activities, and Andorra is undeniably one of Europe's best kept secrets, with easy access through Barcelona and Toulouse airports.
All you have to do when you arrive is sit back and plan what you want to do with a glass of duty-free champagne in your hand. Here are all the details you need about the sixth smallest nation in Europe.
COPYRIGHT_BUG: Published on https://www.bugbog.com/sixth-smallest-nation-in-europe/ by Velma Battle on 2022-06-11T10:40:55.349Z
Andorrans lived under a unique co-principality administered by the French head of state and the Spanish bishop of Urgell for 715 years, from 1278 to 1994.
The feudal system was reformed in 1993, with the nominal heads of state remaining, but the government of Andorra becoming a parliamentary democracy.
The French claim may be traced back to the Counts of Foix, who passed it on to the Rulers of Navarre, who became French kings in the 16th century.
During the First Republic, France gave up the claim, although it has been maintained since Napoleon's time, even under Republican regimes.
Andorra, which had been isolated and underprivileged for a long time, has prospered thanks to its tourism business after World War II.
Many migrant workers (both legal and illegal) are drawn to the growing economy because of the absence of income taxes.
The Principality of Andorra, as seen on the map above, is a landlocked nation, or microstate, situated in the Pyrenees mountain range, bordered by Spain and France.
Andorra is one of the world's smallest nations, with just 85,000 people, one-third of whom are residents.
Its political system is an unusual co-headed arrangement, with the Bishop of La Seu d'Urgell and the French President sharing powers, thereby making him a Prince.
Andorra may be tiny, but it is well worth a visit for anyone searching for excellent skiing terrain, hiking chances, and beautiful scenery. It is conveniently placed between France and Spain, ensconced in the snowy peaks of the Pyrenean Mountains.
Andorra la Vella, the capital, boasts a thriving arts and gastronomy culture, as well as Europe's biggest spa complex, while the remainder of the country is made up of a scattering of picture-perfect villages and towns set against a background of stunning panoramas.
Architecture buffs will like the plethora of medieval and Romanesque structures, many of which are perched on commanding hilltops or tucked away at the end of mountain paths.
Perfect for investigating at your leisure in order to find as many hidden treasures along the road as possible. Let's have a look at the top sites in Andorra to visit!
Andorra la Vella, the country's capital, is located in the Pyrenees. The city is tiny and tight, with a population of just over 20,000 people, yet there is much to see for discriminating travellers.
Andorra la Vella features a busy major artery in the shape of the main street, which is lined with galleries displaying local art, handicraft stores, and restaurants.
There are guided tours of Casa de la Vell, a historic edifice originating from the 16th century famous for its period artwork and historically important documents, for anyone interested in learning more about Andorra's past.
The Sant Esteve Church, which was erected in the 12th century and includes elaborate woodwork embellishments, is another worth seeing in Andorra la Vella.
To fully appreciate everything that Andorra la Vella has to offer, visit Plaça del Poble, the city's major plaza that lies on the roof of an administrative building, where tourists may climb to the square and enjoy unobstructed views of the city and beyond.
Visit Encamp, which is bisected by the Valira d'Orient River and offers a magnificent setting.
Visitors may tour the town's beautiful historical buildings, as well as small cafés, restaurants providing local food, and stores selling art and crafts.
Encamp's National Automobile Museum, which houses a large collection of historic autos, including steam-powered cars and motorbikes, is one of the city's main attractions.
Encamp is also the starting point for numerous important Andorran destinations, such as the Pic dels Pessons Mountain, and hikers and ramblers may easily tour the region in a day from Encamp.
During the ski season, a ski lift transports guests to Grau Roig or Pas de la Casa, allowing them to enjoy the slopes in elegance.
Pas de la Casa, located near the French border, is one of Andorra's best ski resorts, with 31 ski lifts providing access to all regions below the Pic d'Envalira.
Pas de la Casa, unlike several of Andorra's other ski resorts, caters to intermediate and expert skiers, with a number of red pistes across the surrounding terrain.
Pas de la Casa is also known for its nightlife and après-ski, making it a favorite destination for younger skiers seeking for a lively place to unwind after a hard day on the slopes.
If you wish to do some shopping, there are a number of duty-free warehouses at the border between France and Andorra.
The magnificent Basilica Sanctuary of Nostra Senyora de Meritxell may be seen in Meritxell.
The Romanesque-style sanctuary, which originates from the 17th century, has been meticulously conserved and repaired after a 1970s fire.
The church is notable for its magnificent patron saint sculptures (one for each parish in Andorra), cloisters, and a stunning mirror chamber.
The basilica and the Virgin of Meritxell are commemorated in part of the original chapel, which currently houses a museum with historic artifacts and artwork.
The little town of Anyós, approximately a kilometer outside of La Massana proper, is located in the La Massana parish and offers an excellent day of sightseeing.
If you visit Anyós in July, you may be able to see the town's annual carnival, which includes a carriage blessing in the village square.
The Church of Saint Christopher, which originates from medieval times and pays respect to the village's patron saint, is well worth a visit.
Bird watching and fishing are popular hobbies in the Anyós region, and it's also a great spot to take a walk and see the native Alpine flora and animals.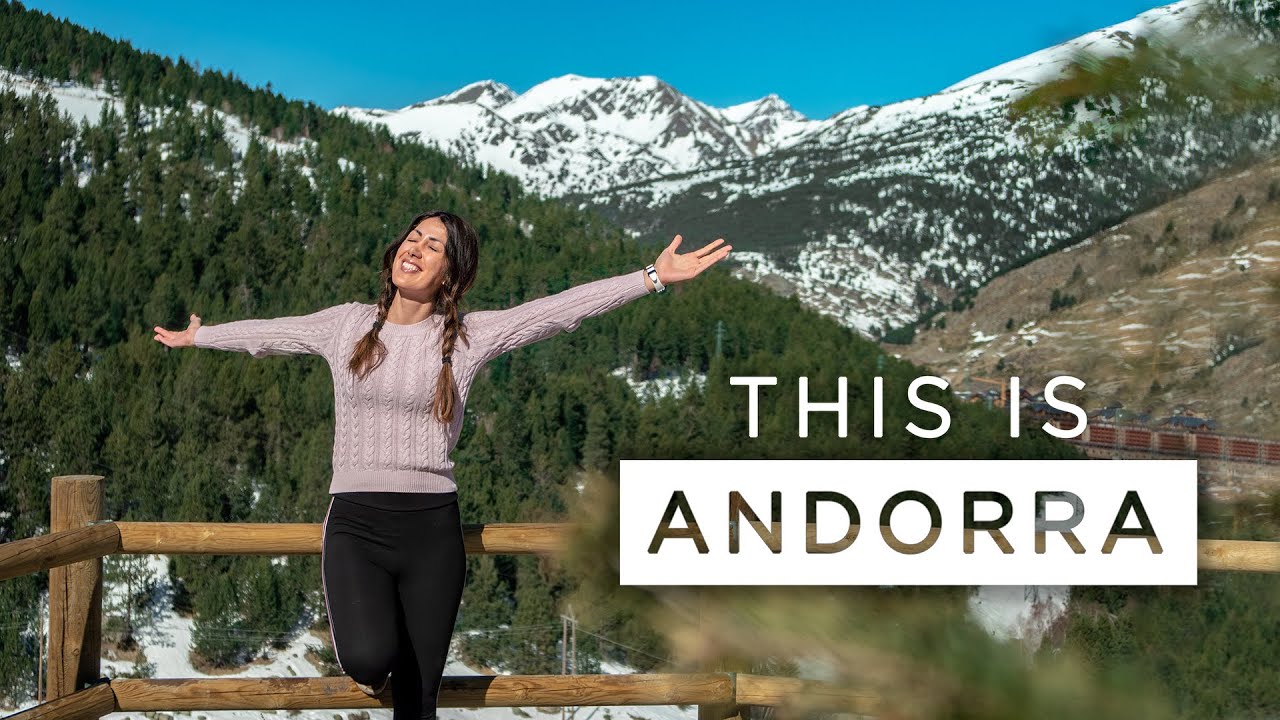 Things You SHOULD KNOW Before Visiting ANDORRA
Andorra is home to the Caldea Spa Center, a large natural and thermal spring complex with indoor and outdoor swimming pools, jacuzzi and hydrotherapy offerings, massage, Turkish baths, and other relaxation spaces, in addition to tax-free shopping, which is one of the main reasons visitors stop in the principality.
Despite its small size, Andorra is well-known in Europe for its excellent ski resorts, while hiking and mountain biking are popular summer activities.
Andorra is a European tourist attraction. Soldeu/El Tarter and Pal/Arinsal are two of Andorra's biggest ski resorts.
These are especially popular with visitors from Spain, France, and the United Kingdom, owing to its comparatively easy slopes, which are great for beginners and families.
Andorra: One of the World's Smallest and Most Beautiful Countries | NUVO.
Andorra's economy is based on banking, retail, and tourism, and it has a developed and free market economy.
In 2007, the gross domestic product (GDP) of the nation was $3.66 billion dollars. Andorra has developed busy summer and winter tourist destinations, making it appealing to consumers from France and Spain.
Andorra is a tiny nation located high in the eastern Pyrenees mountains between France and Spain, providing beautiful alpine beauty that is sometimes ignored on travel itineraries.
Despite its small size, Andorra is well-known in Europe for its excellent ski resorts, while hiking and mountain biking are popular summer activities.
Andorra, which is made up of various tiny towns and villages set between steep mountain peaks, is just three hours' drive from both Barcelona and Toulouse, making it a great day trip if you're short on time.
Share:
Twitter

|
Facebook

|
Linkedin