Rhodes Wildfire Causes Thousands Of Evacuations
Rhodes wildfire causes thousands of evacuations and people to leave their homes. On Sunday, when wildfires threatened resorts and coastal towns on the island of Rhodes in Greece, thousands of residents and visitors evacuated to schools and other shelters for safety.
Many of the people who left the island did so on private boats as the fires approached the coast. Thousands of people spent the night on beaches and streets as part of what the Greek government described as the country's largest operation to safely evacuate residents and visitors during an emergency.
Overnight, around 19,000 people were evacuated from their houses and hotels as fires that had been blazing since the previous Wednesday gained momentum and tore through the island's woodlands until they approached seaside resorts on the south-eastern coast of the island.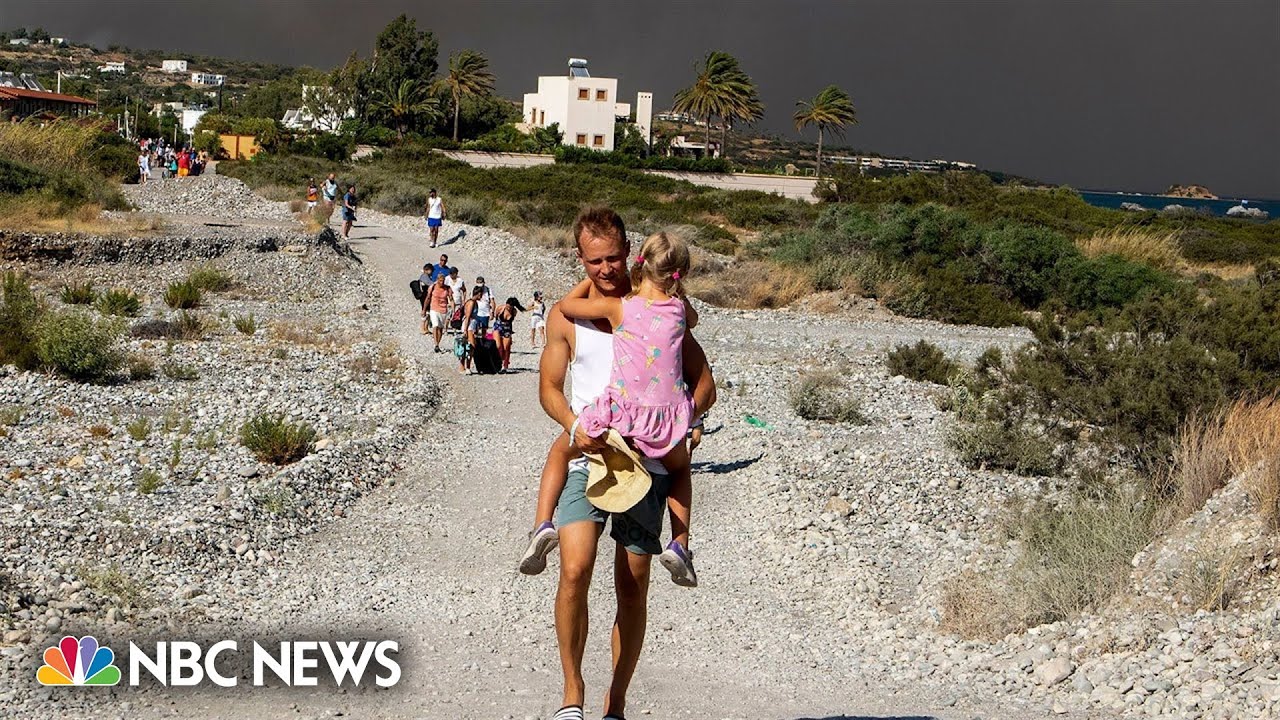 Thousands forced to flee Greek Island of Rhodes as wildfire spreads
Some travelers reported that in order to reach safety, they had to trek for kilometres in the sweltering heat. The flames caused the trees to become charred and skeletonized. Animals that had died were scattered over the road next to wrecked vehicles.
COPYRIGHT_BUG: Published on https://www.bugbog.com/rhodes-wildfire-causes-thousands-of-evacuations/ by Velma Battle on 2023-07-25T05:52:09.555Z
The Greek island of Rhodes is located southeast of mainland Greece and is well-known for both its beaches and its historical treasures. As a result, tour operators Jet2, TUI, and Correndon canceled flights that were scheduled to depart for Rhodes.
A British tourist said:
"

"

The smoke was coming. So we all set off on foot. I walked 12 miles (19 km) in this heat yesterday. It took me four hours.- Chris Freestone
In Rhodes Town, the island's capital and largest city, which was spared from the destruction caused by the flames to the south, he gave his speech from inside a sports hall where evacuees were laying on mattresses.
In response to what TUI described as "a difficult and evolving situation," the company stated that its employees were doing everything in their power to serve clients and that more workers had been deployed in.
Another traveler, Fay Mortimer from Cheshire in northern England, who was on vacation, described the experience as being really frightening.
"

"

I've never been so scared in my entire life.- Fay Mortimer
According to the Greek transport ministry, TUI and Jet2, which handle the majority of tourism to Rhodes, have 14 scheduled flights from Rhodes airport, carrying around 2,700 passengers until 0300 am local time (2400 GMT). According to the government, all TUI and Jet2 planes will land empty to pick up holidaymakers.
Fires are common in Greece, but climate change is causing increasingly intense heatwaves in southern Europe and other areas of the world. Temperatures in several places of Greece have risen beyond 40 degrees Celsius (104 degrees Fahrenheit) in the last week.
In addition to Rhodes, emergency services were dealing with flames on the islands of Evia, east of Athens, and Aigio, southwest of Athens, as well as on the island of Corfu, where officials ordered the evacuation of five minor communities as a precaution.
According to a fire department spokesman, the flames on Rhodes have impacted 10% of the island's hotels in the center and southeast regions. The areas to the north and west were unaffected.
On Saturday, more than 3,000 visitors were evacuated off beaches by coastguard vessels and private boats. When massive flames reached the beach communities of Kiotari, Gennadi, Pefki, Lindos, Lardos, and Kalathos, many people left hotels. Crowds gathered in the streets against a crimson sky, while smoke billowed over abandoned shorelines.
Another British visitor, John Bancroft, 58, thanked the islanders for their assistance and stated that police had ordered the owner of the Cosmas Maris hotel in Lardos to leave after the fire approached a neighboring treeline. visitors' social media posts showed locals loading visitors onto trucks and pick-up vehicles to transport them to safety.
A fire scorched the hillside and houses at Lindos, famous for its acropolis on a large rock surrounded by medieval walls. Thanasis Virinis, Rhodes' vice mayor, told Mega television on Sunday that between 4,000 and 5,000 people were in temporary shelters. Authorities claimed evacuees were transferred to conference centers and school facilities where they were provided food, drink, and medical help.
Tourists from the United Kingdom, the Netherlands, France, and Germany were among those who visited Rhodes, which, according to one hotelier, may get up to 150,000 visitors per day during peak season.
The island's population is estimated to be approximately 125,000 people. In an interview with Greek television, one British visitor commended locals for their compassion, saying businesses rejected payment for water and food and tiny boats took women and children to safety first, before returning for the males.
According to the German travel group DRV, over 20,000 German visitors were on the island, although only a small percentage were impacted by the evacuations. More than 250 firefighters, aided by 18 aircraft, created firebreaks to protect a dense forest and more residential areas. Nonetheless, visitors continued to arrive.
Share:
Twitter

|
Facebook

|
Linkedin