It's Time To Make Instagrammable Portugal Beaches A Part Of Your Post-Pandemic Travel Plans
Have you ever browsed the internet for Portugal beaches? The beaches in Portugal are among Europe's best, and it's easy to see why, because it's not just the beauty of these beaches that's remarkable, but the sheer variety of them. Many jaw-dropping bodies of water await you here. Keep reading this article while the author features the finest beach you will discover in Portugal. Pack your belongings and choose from our list of the top beaches in Portugal to relax on a lovely length of coastline.
Located in the western Algarve, Camilo Beach is one of the nicest beaches in southern Portugal. It is located near the bustling seaside town of Lagos. The beach itself is a little sandy cove that may be reached by climbing 200 wooden steps. The crystal blue seas of Praia do Camilo make this a great place to go swimming in the summer. Because the bay is protected from the prevailing winds, it is an excellent place for families with children.
On this length of breathtaking coastline, the sandstone rock formations here are among the most spectacular on the planet. As a result, this spot is ideal for capturing those perfect Instagram vacation photos. The serene location of Praia do Camilo, surrounded by warm, shallow, blue waters that are popular with snorkelers, emanates an impression of peaceful exclusivity.
COPYRIGHT_BUG: Published on https://www.bugbog.com/portugal-beaches/ by Velma Battle on 2022-04-10T14:34:08.117Z
Tourist's Review
Ruth said: "Absolutely beautiful beach. There are a lot of steps though. Very Instagramable! Definitely worth checking out if you're in the area."
Vinisch exclaimed: "Don't fool yourself by thinking that this is just a crowded beach surrounded by rocks. Take your time to explore the surroundings. We had just a big inflatable, but it was enough to get a bit further and check the beach from the sea. Some small caves in between the sand areas make it breathtaking. The kids could explore the caves and go on small adventures around it. Really amazing scenario."
Beatriz M. commented: "One of the most beautiful beaches I visited in the Algarve, definitely a must! However, in the summer, I heard it gets extremely crowded. I went in April after Portugal opened up from lockdown so it was not so full, on the contrary. It has a good location between Dona Ana and Ponta da Piedade, two other amazing spots. The stairs are very long but it is worth it and it was not so tiring to go back up."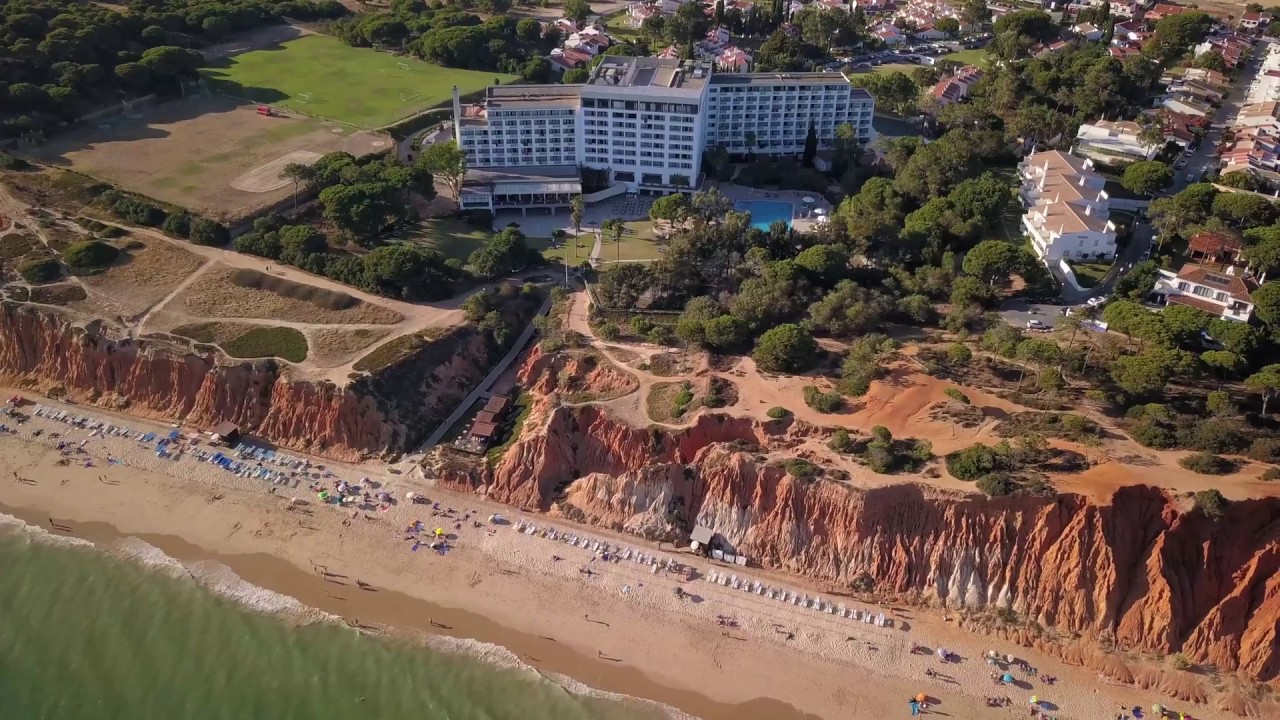 Falesia Beach | Albufeira, Portugal | 4K
Praia da Falesia has one of the longest beaches in Portugal, ranging from Vilamoura in the west to Olhos do Agua in the east. Locals refer to this peach as "beach town," and it has managed to retain aspects of its traditional Portuguese culture. The beach is accessed through steps that lead down from a clifftop parking lot and is backed by cliffs (Falesia is Portuguese for cliff).
Even during the hottest months of the year, you may find a peaceful location to unwind and sunbathe on Falésia's long shoreline.
Tourist's Review
7458russn said: "Absolutely fabulous walking from Vilamoura down to Praia do Barranco das Belharucas where there is a fabulous beach restaurant Un spoilt cliff walks, no health and safety just common sense. The views and formations are incredible. Make sure you have water and sun cream as there are long sections where there is nothing. The best coastal walk I've had!"
Simcocd mentioned: "Nice beach, great for long walks or just chilling, lots of access points and a few places to catch a drink and a sunset!"
Martin S. expressed: "A long walk at the beach. The sand is very fine and clean. The rocks behind are also worthwhile to explore."
Family vacationers go to the isolated Martinhal Beach in Portugal because it is just a short walk from the Martinhal Sagres Beach Family Resort Hotel, which serves up delicious seaside cuisine and drinks.
The golden sands of Praia do Martinhal form a natural harbor that is distinguished by picturesque outcrops of limestone rock. These islands are teeming with marine life, making them ideal for diving expeditions. A variety of water sports are available, and swimming is completely risk-free. Windsurfing is possible when the north wind is blowing.
Tourist's Review
Mn said: "Beautiful beach with fine sand. The 1st kayaking experience made it even more memorable. Very easy to reach by foot from Baleeira port."
Chris B commented: "There are many beaches in the Algarve and they are all incredible in their own way. The development behind this beach looks pretty upmarket, so not sure how it will be in summer, but the beach is worth a stroll along when visiting Sagres."
Eric C admitted: "We were there on a cold and sunny day in January so there were hardly any people on the beach. The sand is super soft and the views are amazing. We worth checking out."

Senhora da Rocha Beach (Lady of the Rock) - Porches - Portugal HD
Prária da Rocha is one of the best-known beach names in Portugal because it is near Portimo, which is the Algarve's second city. Rocha is a huge swath of sand that can be reached by a lot of boardwalks and walkways. It's a popular summer vacation spot for both locals and tourists.
The beach can be reached from seafront avenue, which is a busy road with a lot of hotels, cafes, restaurants, and other things to do. There are a lot of people at Praia da Rocha because of the party and the big beach. It's called Avenida Tomás Cabreira, and it's next to the beach. There are a lot of restaurants, bars, shops, and clubs there. It is a lot of fun to go there. During the summer, you'll see a lot of people here in the evening.
Tourist's Review
EnglandTraveller2007 expressed: "Great beach and interesting rock formations. The beach and marina-side are a good place to stay on holiday."
Rofekamp Wim mentioned: "Very large beach with restaurants along the landside. Waves of the ocean roll continuously and have a nice view during the sunset. There is a higher point of view. Altogether an attractive place to pay a visit."
Michelleduerden admitted: "Fabulous town. Beaches are stunning. Great restaurants with plenty of choices. Humbertos is my favorite, the lamb chops are to die for but pre-order the night before. You won't be disappointed!"
In reality, when compared to the seas of the Mediterranean Sea, the waters off the beaches of Portugal are quite cold. To enjoy a swim in the waters of the beaches of Portugal, it is important to put in some mental and physical preparation beforehand. However, there are some areas where the water temperature is getting warmer and warmer all of the time.
The cause of these lower temperatures is a weather phenomenon that is characteristic of the Portuguese coast and is referred to as upwelling by meteorologists. Because of the winds, warm surface water is channeled deeper into the ocean, resulting in the upwelling of deeper and cooler ocean waters.
It is slightly cooler than the Mediterranean, yet it is still enjoyable and refreshing during the summer months. Swimming is a great way to cool off after a long day of sunbathing, and it is also incredibly convenient and safe. The North West coast of Portugal is typically 3–4 degrees Celsius colder than the South coast, and the waves are larger, but there are still plenty of opportunities to enjoy delightful days at the beach.
The water is very clear, which makes for a nice, if not refreshing, plunge in the ocean during the summer months.
Yes. In terms of shark catches, Portugal is rated third among the EU Member States, with the majority of the catches consisting primarily of blue sharks, followed by rays, makos, and deep-water species, among other species. Oceanic sharks are becoming increasingly popular with Portuguese fishermen, who claim that they account for more than 80 percent of the country's surface longline catch.
However, sharks along the coast of Portugal are distant from the water and are considered to be harmless animals. And of course, there are potentially deadly sharks in all oceans across the world, including the Mediterranean Sea which has white sharks.
The beaches of Portugal are truly blessed with breathtaking bodies of water. The beaches of Portugal have lifeguards on duty year-round, so even during the busiest times of the summer, you can relax and enjoy yourself without fear. Make sure you have sunscreen before heading to the beach. Also, don't wait until you arrive at the beach to buy it, as costs are likely to be substantially more expensive at that point.
Share:
Twitter

|
Facebook

|
Linkedin