Thailand's East Coast's Top Pattaya Beaches
Pattaya Beach, on Thailand's east coast, is a must-see destination. This place offers so many activities that visitors will never be bored. Located on the highly industrialized eastern shore, Pattaya draws millions of tourists from all over the globe. Pattaya is known for its lively nightlife and has a lot to do for visitors to Thailand.
Pattaya Beach is known for more than just sand and water. The beach is home to several speedboats, jet skis, parasails, floating restaurants, and dive boats. So, guests will never be bored at this place due to the abundance of experiences.
Pattaya, a modest fishing hamlet, grew rapidly in the 1960s as an American military retreat during the Vietnam War. Pattaya's fishing huts were eventually replaced by stores and hotels, including the Central Festival Pattaya Beach Mall, which is Asia's largest beachfront mall.
Travelers to this eastern beach generally engage in certain activities. Besides sunbathing on one of the numerous beach chairs, seekers may parasail, jet ski, or windsurf. The Underwater World Aquarium is a great site to learn about the marine environment, particularly if you are traveling with kids.
COPYRIGHT_BUG: Published on https://www.bugbog.com/pattaya-beach/ by Velma Battle on 2022-04-05T07:44:03.593Z
Some Pattaya nightlife spots are family-friendly. The city offers a wide range of venues, many of which are within walking distance of each other. This guide will help you plan your Pattaya night out.
Walking Street is certainly familiar to Pattaya residents. From 6 p.m. every night, this half-kilometre stretch of seaside road is blocked to motorised traffic and quickly flooded with party-goers. There are nightclubs and bars on both sides of the road and in several of the neighbouring little sois.
From the enormous screen above the Walking Street sign to Mixx Discotheque, there are plenty of options for a fun night out. Among the greatest in between are "808" and "Lucifer 2.0."
Tiffany's Show is one of several cabaret acts in Pattaya. Other shows are Kaan and the Colosseum. Hundreds of attractive dancers, comedians, and other entertainers provide a fun, vibrant, and diverse night out. While most episodes are family-friendly, some do include mature comedy.
Pattaya offers more options to experience Thai kickboxing than most. There are amateur leagues, professional shows, and championship fights on Sukhumvit Road, or you can watch a battle over a drink on Walking Street, which has a few rings surrounded by beer bars. Finally, daring bettors may enter the ring and face the house combatants. It's a fast-paced, combative sport best appreciated as a bystander.
Pink-neon-lit beer bars in Pattaya are infamous for being sleazy, but it depends on where you go. Soi 7 (between Pattaya Beach Road and Second Road) is mostly about having fun and drinking. Drinks here are much cheaper than on Walking Street. This makes the area popular with backpackers, locals, and young expats looking for a drink before hitting the clubs.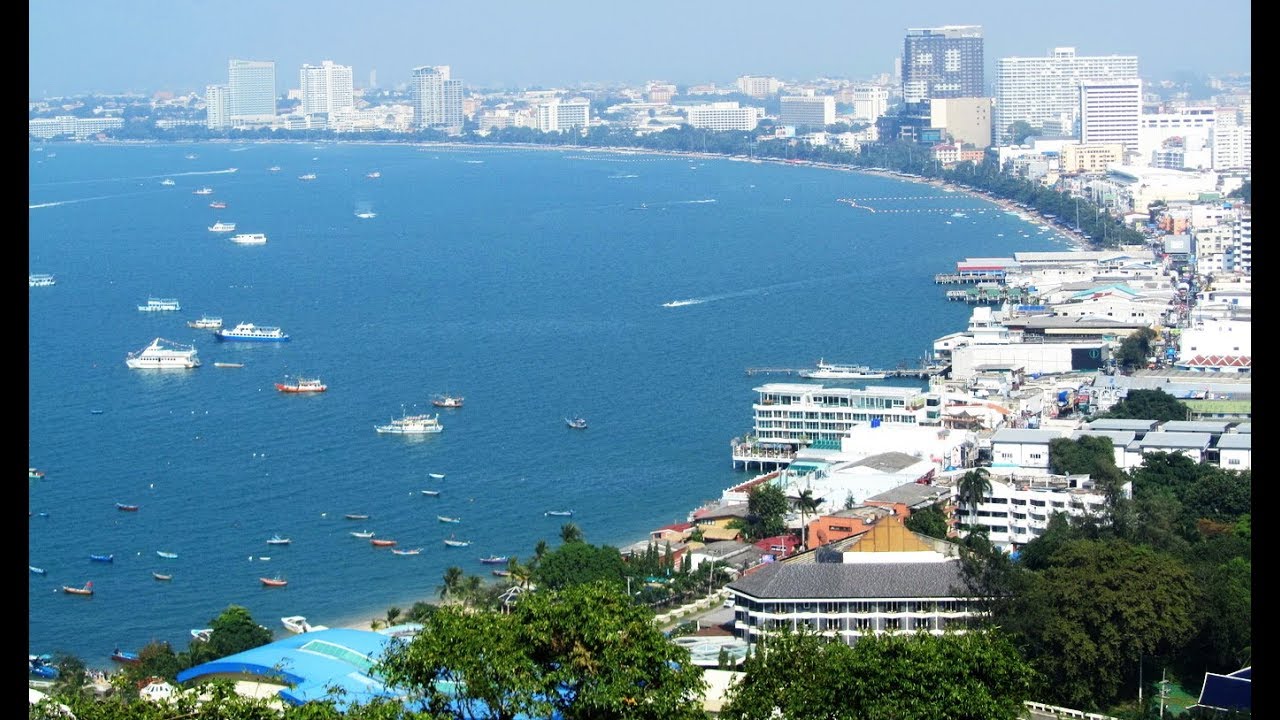 PATTAYA BEACHLIFE- PATTAYA BEACH & BEACH ROAD SCENES. PATTAYA, THAILAND
Although Pattaya's famous nightlife scene is currently closed, we may still visit one of the city's beach clubs for a much-needed tropical break.
Papa Beach Pattaya is a famous beach club among Thais from all over the country, and it's a destination in and of itself. Check. There's a flower field. Check. A mermaid bathtub. Check. A perch for a bird. All things gorgeous, this photogenic site is ideal for a day trip and, of course, an excellent Instagram location.
This polychromatic expanse is designed to brighten your mood and your day. It's tropical, stylish, and fashionable. The tropical-themed Fat Coco has a pool surrounded by coconut palms, cacti, and attractive lounging areas. Day-trippers may prolong their holiday by staying at the A-ONE Pattaya Beach Resort, which is also a hotel.
At Alexa Beach Club Pattaya, you can relax and unwind in a Mediterranean-style setting. This beach-adjacent establishment in south Pattaya is an Ibiza-inspired beach club that emphasizes calm and simplicity, delivering terrific music, spectacular sunsets, and delicious seafood. So, Alexa, please make a reservation for this weekend at Alexa Beach Club Pattaya.
This Hawaiian beach café is an amusing small establishment to add to your list of things to visit, despite not being a traditional beach club. Tutu Beach wears pink every day, unlike the Mean Girls who only wear it on Wednesdays. Pink beanbags, pink umbrellas, pink drinks—everything about this restaurant screams pink, and they do it well. After its popularity in Pattaya, Tutu Beach has opened a pop-up in Bangkok's Emquartier.
This all-day eating venue, which includes the resort's restaurant, two bars, and a VIP club, is a wonderful combination of outdoor and indoor settings and serves local and international favorites. Make sure to take a picture of the famous beach swing. For a tropical day excursion, visit the beach club at Pullman Pattaya Hotel G.
November to February: November to February is the best season to visit Pattaya since the weather is neither too hot nor too cold and is typically nice. This is also the busiest tourist season, with most beaches and other attractions filled to capacity. Aside from this time, the weather may be extreme, either cold or hot.
Enjoy shopping, designer golf, busy nightlife, and even some culture while on vacation here. However, a luxury hotel with beach access will guarantee that your time in the city is completely pleasant. Check out our list of the finest luxury Pattaya beach hotels for some ideas.
The Central Festival Pattaya Beach Shopping Mall is less than a five-minute walk away.
The Cadillac Café delivers American comfort cuisine, Asian favorites, and even Latin delicacies.
There is an outdoor pool, a Cabana Pool Bar, comfortable seating, and a 24-hour front desk.
The art-deco-style rooms have modern entertainment, gourmet mini-bars, terraces, and luxurious bathrooms with scented amenities.
This hotel is one of the most contemporary and fashionable hotels in the neighborhood, with a Miami-chic ambiance.
This 18-key boutique hotel is situated in the heart of Pattaya.
There are three restaurants on-site, one of which is the beautiful Caprice.
Royal Cliff is the only resort in Pattaya with two private beaches for guests alone.
Among the hotel's amenities are a salon, spa, sports center, outdoor pool, wine club, and cookery school.
Luxurious bathrooms, private patios or balconies, hot tubs, flatscreen TVs, and fridges are standard.
There are 85 suites with a mix of classic and contemporary characteristics.
It's a magnificent all-suite resort with breathtaking views of the Gulf of Thailand.
This resort has everything, but the pleasant people and good service truly make it stand out.
A diverse breakfast buffet is served each morning, and a pool restaurant serves lunch and dinner.
There's also a 24-hour reception and a communal lounge and garden.
An outdoor pool with a sun deck is ideal for a refreshing swim and sunbathing.
The area is peaceful, and guests have access to a tiny private beach.
The iPod docks, satellite TVs, and free WiFi will keep you amused.
The rooms are lavish, with swish beds and balconies or patios.
This lovely resort is about 450 yards from Pattaya Beach.
The main beach is modest, with poor sand and murky, unappealing water that is relatively clean. Jomthien, a much larger beach farther south, is accessible only by a long walk or a taxi/bike ride. Although it's a great site for windsurfing, the beach is still gritty, the sea is unappealing, and high-rises flank the coast. The north end of Jomtien, as well as areas of the town, is lined with gays. Pattaya town is a mishmash of pink-lit girlie and boy clubs, half-completed buildings, and monstrous hotels. This isn't a location for serious beachgoers.
The most well-known beach in Pattaya is Pattaya Beach. For those who come to relax, it is a hub of maritime activities such as sunbathing and water sports. The beach is lined with hotels, restaurants, and souvenir stores for the whole three kilometers.
A seven-day vacation to Pattaya costs an average of $2,127 for a single traveler, $3,820 for a couple, and $7,162 for a family of four. Hotels in Pattaya vary in price from $18 to $96 per night, with an average of $35, although most vacation rentals cost between $90 and $300 per night for the full house.
According to recent statistics, a surprising number of non-Thais still live in Greater Pattaya and the remainder of Chonburi.
Pattaya has no clean beaches. The water is discolored. In Pattaya, there are no clean beaches or good-quality seawater. Jomtien is bad to average at best.
Although Pattaya is renowned for its nightlife and for Pattaya beaches, the city has much more to offer. Indoor and outdoor entertainment complexes, including movies, retail malls, and indoor and outdoor eateries, are available.
Although Pattaya is a terrific destination for everyone, it is advised that if you have a family and want to visit the region, you stay in Jomtien, which is more family-friendly while still being close to Pattaya city.
Share:
Twitter

|
Facebook

|
Linkedin