Papua New Guinea Map - Explore The Land Of A Thousand Cultures
If you are curious how the Papua New Guinea map looks like, then you came to the right place.
Papua New Guinea comprises of more than 600 gorgeous islands, atolls, and coral reefs, and its population speaks more than 800 distinct languages, earning it the nickname "Land of a Thousand Cultures."
On land, it boasts the greatest amount of unbroken tropical rainforest outside of the Amazon, and the seas surrounding it are a Superyacht owner's paradise, brimming with breathtaking beauty and ideal conditions for a variety of activities.
COPYRIGHT_BUG: Published on https://www.bugbog.com/papua-new-guinea-map/ by Velma Battle on 2022-07-22T10:29:14.435Z
Over 852 distinct languages are spoken in Papua New Guinea, and each of these communities has distinct ethnic groupings with their own cultures and customs.
With 600 islands and terrain geographically separated by volcanoes and mountains, many settlements have evolved in absolute isolation and share few commonalities.
The majority of these tribes are thousands of years old and have resisted colonization and other enormous pressures to preserve their original traditions and languages - a monument to their incredible endurance and persistence.
Papua New Guinea is reported to have one of the highest rates of violence against women on the planet outside of combat zones.
According to the Australian Federal Police, gender-based violence is a pandemic, with nearly 70% of women having suffered abuse from their spouses or husbands.
MSF reports that two-thirds of patients hospitalized for domestic violence were injured with weapons such as knives, machetes, or blunt instruments, indicating the seriousness of the abuse.
Papua New Guinea has an exceptionally diversified assortment of flora, fauna, and natural resources due to its many islands evolving in isolation for thousands of years.
The matrilineal province of East Pomio, for example, has a thriving agricultural economy that is the principal source of income for many people.
However, land in East Pomio is also a prime target for developers; logging and sea-bed mining are progressively depleting natural resources, and women are being silenced and excluded from choices that affect their lives and communities, despite their ancestral rights.
Papua New Guinea is an island nation in the southwest Pacific Ocean. It includes the eastern half of New Guinea, the world's second largest island (the western half is made up of the Indonesian provinces of Papua and West Papua).
Papua New Guinea runs from just south of the Equator to the Torres Strait, which separates New Guinea from the southernmost extremity of Australia, Cape York Peninsula.
Along its western boundary with Indonesian Papua, Papua New Guinea has a maximum north-south breadth of about 510 miles (820 km).
The boundary is almost completely straight, created mostly by longitude 141° E, and curves very briefly westward to follow the Fly River for almost 50 miles (80 km), beginning immediately southwest of Kiunga.
The terrain tapers from the western boundary to a fingerlike shape that points southeast toward the D'Entrecasteaux Islands and the Louisiade Archipelago, with a significant dip in the south coast caused by the Gulf of Papua.
A number of tiny islands and island groups are distributed to the north and east of the mainland, as well as Bougainville Island and the Bismarck Archipelago, which forms a crescent arc from the Admiralty Islands in the north to New Britain and Umboi Island off the mainland's Huon Peninsula.
The islands that make up Papua New Guinea were colonized over a period of 40,000 years by a diverse group of people known as Melanesians. Since attaining independence in 1975, one of the country's main difficulties has been regulating hundreds of distinct, once-isolated local civilizations as a viable unified nation.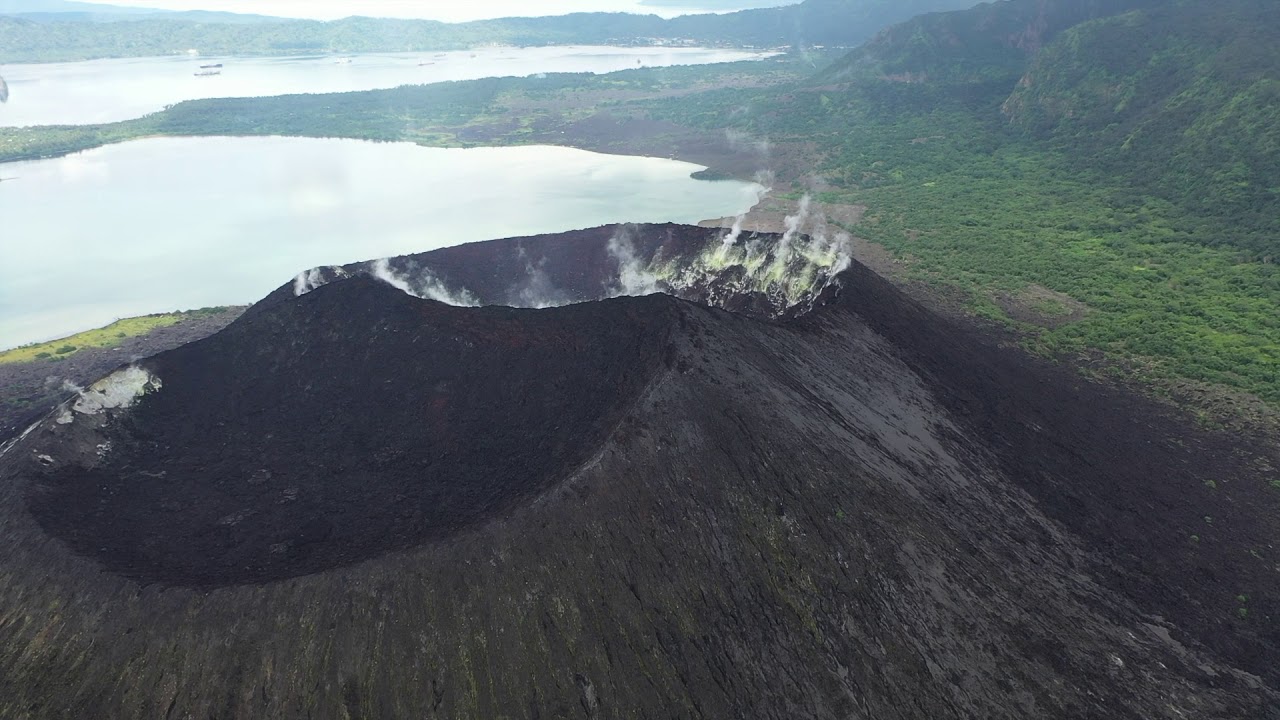 Tavurvur, Rabaul Volcanic Complex, East New Britain, Papua New Guinea
Tavurvur

Varirata National Park

The Rainforest Habitat

Parliament Haus

Tari Basin

JK McCarthy Museum

Volcanology Observatory

Muschu Island

Port Moresby Nature Park

Lae War Cemetery
New Guinea is a huge island in the Pacific Ocean, north of Australia and south-east of Asia. It is a portion of the Australian Plate known as Sahul, which was formerly part of the supercontinent Gondwana. The majority of New Guinea's biodiversity may be traced back to Australia.
Papua New Guinea is a resource-rich nation with a nominal GDP of $21.6 billion USD in 2015. Papua New Guinea is the largest and most populated Pacific Island country, with a land area of 463,000 km2, an Exclusive Economic Zone (EEZ) of 2.4 million km2, and an estimated population of 7.6 million in 2015.
The African, Caribbean, and Pacific (ACP) forum includes Papua New Guinea as a member country. Africans who have chosen to make this country their home and place of employment form a strong community there.
Papua New Guinea has a beautiful mountainous landscape that pierces the skyline. The landscapes are very different and dramatic. It's one of the least-visited countries in the world, so it hasn't been changed by mass tourism or built-up areas. This has helped it keep its rugged, natural beauty.
Share:
Twitter

|
Facebook

|
Linkedin