Norman Island - An Island At The Southern Tip Of The British Virgin Islands
Norman Island is a privately owned island that does not have any permanent occupants. Located near the southernmost edge of the British Virgin Islands archipelago, it is said to have served as inspiration for Robert Louis Stevenson's pirate tale 'Treasure Island.' This little island has a population of 2. Sir Francis Drake Channel is 7 miles (11 kilometers) from Tortola and is 5 miles (4 kilometers) long and 6 miles (9 kilometers) broad. The island's unique feature is its 'Bight,' a wide-sheltered harbor that is one of the safest and most picturesque anchorages in the British Virgin Islands. Additionally, the island is well-known for its hiking routes, brilliant white sandy beaches, and world-class scuba diving and snorkeling opportunities.
Henry Jarecki owns the island, which is deserted and privately held by him. It has a total land area of around 600 acres (242.8 hectares) and a total length of approximately 2.5 miles (4.0 km). It is possible to find one of the most sheltered anchorages in the vicinity at the Bight, a vast harbor known as the Bight. It is one of the "Little Sisters," along with Pelican Island, Peter Island, Salt Island, Dead Chest Island, and Ginger Island, that form a group of islands known as the Little Sisters. In comparison to the islands to the north and west, this group is smaller, lower, and drier in climate.
COPYRIGHT_BUG: Published on https://www.bugbog.com/norman-island/ by Velma Battle on 2022-04-10T15:06:24.081Z
Norman Island, on the southern coast of the British Virgin Islands, is the ideal spot for seeing the Caribbean's natural beauty and having a calm and pleasurable day. This privately owned island said to be the basis for Robert Louis Stevenson's book Treasure Island, is great for a relaxed day out. If you're looking for a dream home in the British Virgin Islands, Norman Island is the place to go to see unspoiled Caribbean nature.
With over 100 moorings for sailors all year, in quiet, clear water and near to a magnificent white beach, this is one of the nicest and safest harbors in the BVI. The Pirates Bight bar and restaurant on the beach are in charge of the anchoring. Even though their service has been criticized, the location is beautiful, the mood is relaxed, and the food is West Indian.
The infamous William Thornton (aka Willy-T), an old schooner morphed into a floating bar and restaurant, is permanently berthed off the coast of the Bight. After a hard day of sailing, this is a nice location to relax with some bar cuisine and beverages. It's a must-see for partygoers, albeit it may get a little out of hand at times.
The hearties believed it was overrated. A fabled spot from the "Treasure Island" story, apparently wonderful for snorkeling.
"After that, we all went into the cave." It was a vast, open space with a little spring and a clear-water pool surrounded by ferns. The ground was made of sand. Captain Smollett reclined in front of a large fire, and I saw vast mounds of currency and quadrilaterals made of gold bars in a distant corner, just duskily flickering over by the flame. That was Flint's treasure, which we had traveled so far to find and which had already claimed the lives of seventeen Hispaniolans.
One of the most popular snorkeling and diving areas in the BVI is around the four pinnacles off small Pelican Island. It is home to a large variety of reef fish and a fantastic site for macro life forms, with giant sea fans and corals on the walls.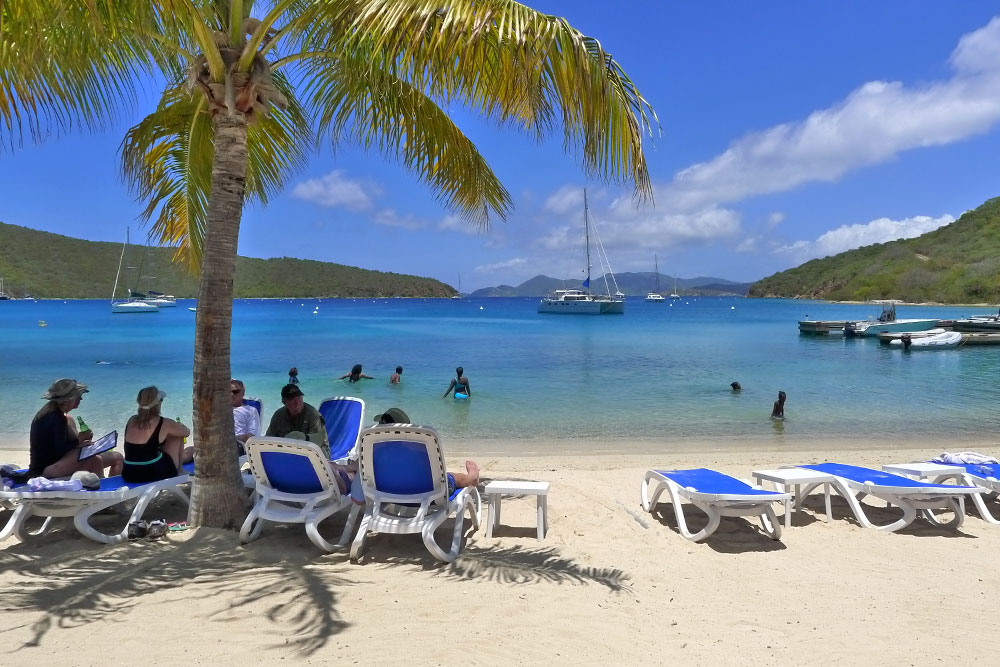 Pirate's Bight beach, sea view, Norman Island with people sitting on beach chairs and some are swimming
The Untold Story, although the short version is that 55 chests of money were concealed on the island when the crew of the Spanish galleon Nuestra Senora de Guadalupe mutinied. The treasure attracted hopeful seamen from all around, frequently risking harsh storms and battling for a portion of the reward. Most of the loot has been retrieved over time, although some are still believed to exist for determined treasure seekers. The treasure is estimated to be valued between $25 and $30 million.
Norman Island is a natural gem as well as a hidden one. A beach for explorers that offers more than just sand and palm trees. The area's cliffs, caves, hidden bays, and shipwrecks are perfect for snorkeling or SCUBA diving. Begin at the Bight, with its tranquil seas. Once ready, the Treasure Point caverns will beckon. Tropical fish, coral gardens, and ducks are hidden among the rocky outcrops and mild wind.
The Norman Caves are said to be the location of hidden pirate riches and are an excellent snorkeling spot. Norman Island is a small island off the coast of England. Their cavernous mouths rise from the water, inviting the curious snorkeler to investigate. You'll come across cup coral and lovely, colorful sponges.
A restaurant is on Norman Island, even though there aren't any permanent residents there at the moment. Guests can come ashore for great food and fun, even though there aren't any people there.
The most popular place in the British Virgin Islands has reopened after Hurricane Irma, and it is now safe to go.
By ferry, there are two options for getting from Saint Thomas to Norman Island by ferry.
From Charlotte Amalie, take the boat to Cruz Bay.

To get to Norman Island, take the ferry from Cruz Bay, St. John.

Guide to the British Virgin Islands: Norman Island
The Caves are one of the most popular diving spots in the British Virgin Islands, located on Norman Island at the western end of The Bight.
Dr. Henry Jarecki, the owner of Norman Island, says the goal is to construct a magnificent resort that is also eco-friendly. On Norman Island, he noted that "maintaining the greenness of that island would be one of the crucial things." He said it would help the country's worldwide reputation and long-term success. Assuming these ideas come to reality, Norman Island will go from a tiny beachfront eatery to a full-fledged luxury resort. There is no indication of the project's schedule or start date.
Share:
Twitter

|
Facebook

|
Linkedin