Mallorca Map Spain - Discover The Crown Jewel Of Spain's Balearic Islands
Mallorca map Spain is one of the most searched places in Europe. Mallorca is a lovely Mediterranean island and considered one of Spain's treasures.
With its magnificent coastline and spectacular landscape, it is easy to see why this Balearic island has established itself as one of Spain's most popular places for investors searching for a holiday home or permanent residence.
The island has a profusion of picturesque bays with crystal clear waters, championship golf courses, 25 marinas, and a myriad of local and foreign eateries. Mallorca has drawn a slew of celebrities in recent years, notably Claudia Schiffer and Sir Richard Branson, who built the spa/hotel 'La Residencia' in the town of Deià.
Mallorca is an island located in the Mediterranean Sea. It is the largest island in the Balearic Islands archipelago, in Spain.
COPYRIGHT_BUG: Published on https://www.bugbog.com/mallorca-map-spain/ by Velma Battle on 2022-07-13T00:35:11.245Z
The island's area is 3,640 sq km, and around 780,000 people live there, nearly half in the capital. The island's autonomous government, the Consell Insular de Mallorca, is responsible for culture, roads, railways and municipal administration.
Mallorca is the largest of the Balearic Islands, an autonomous community and Spanish province. Official languages are Spanish and Mallorcan, the local variety of Catalan. Palma is the capital city of Mallorca, and of the Balearics.
Mallorca and the Balearic Islands are an extension of Andalusia's Betic Cordillera. They're mostly Mesozoic Tethys Sea deposits. These sea deposits formed calcareous, fossiliferous rocks.
The Betic Cordillera and Mallorcan mountains were folded when the African and Eurasian plates collided. Late Tertiary tectonic processes caused various elevation and lowering zones, severing the connection to the mainland at sea level.
Mallorca's water-soluble limestones have created vast karst zones. Dolomitic rocks are found in Mallorca's mountainous regions, Serra de Tramuntana and Serres de Llevant. Serres de Llevant has marl, whose quick erosion lowered the island's southeast mountains.
Marl is clay-rich limestone. Eroded debris washed into the sea or deposited in the Pla de Mallorca, bright marls in the north-east, and ferrous clays in the middle, giving the soil its characteristic reddish color.
The summers in Mallorca are brief, hot, humid, dry, and mainly clear, while the winters are lengthy, cold, windy, and partially cloudy.
Mallorca consists of winters that are pleasant and somewhat rainy and summers that are hot, dry, and bright. There is a discernible increase in the amount of precipitation that falls in the Serra de Tramuntana.
In the plains, summers are scorchingly hot, and winters are pleasantly warm. The climate in the Tramuntana range, on the other hand, is considerably chillier and wetter, and it is not unusual for there to be a dusting of snow on the mountains during the winter months, particularly in the Puig Major.
October and November are the months with the most average rainfall on Mallorca. In the fall, it is not unusual for there to be severe storms and a lot of rain.
The temperature rarely drops below 33 degrees Fahrenheit or climbs over 94 degrees Fahrenheit during the course of a year, but it regularly ranges from 40 degrees to 87 degrees.
It seems that the end of June through the end of August is the time of year to go to Mallorca if you want to participate in activities that require hot weather.
There are numerous gorgeous beaches on Mallorca. This Balearics region has approximately 260 sandy beach strips, 29 of which have been awarded the coveted Blue Flag for their remarkable water quality and commitment to maintaining the coastal ecosystem.
On Spain's largest island, there is something for everyone. Whether you like a secluded cove accessible only by foot or a vibrant resort strip lined by restaurants and sophisticated beach clubs, there's a beach on this wonderful Mediterranean island that's just right for you.
You'll have to pinch yourself at Es Trenc to believe the island's gorgeous white sand and shallow blue waters aren't in the Caribbean.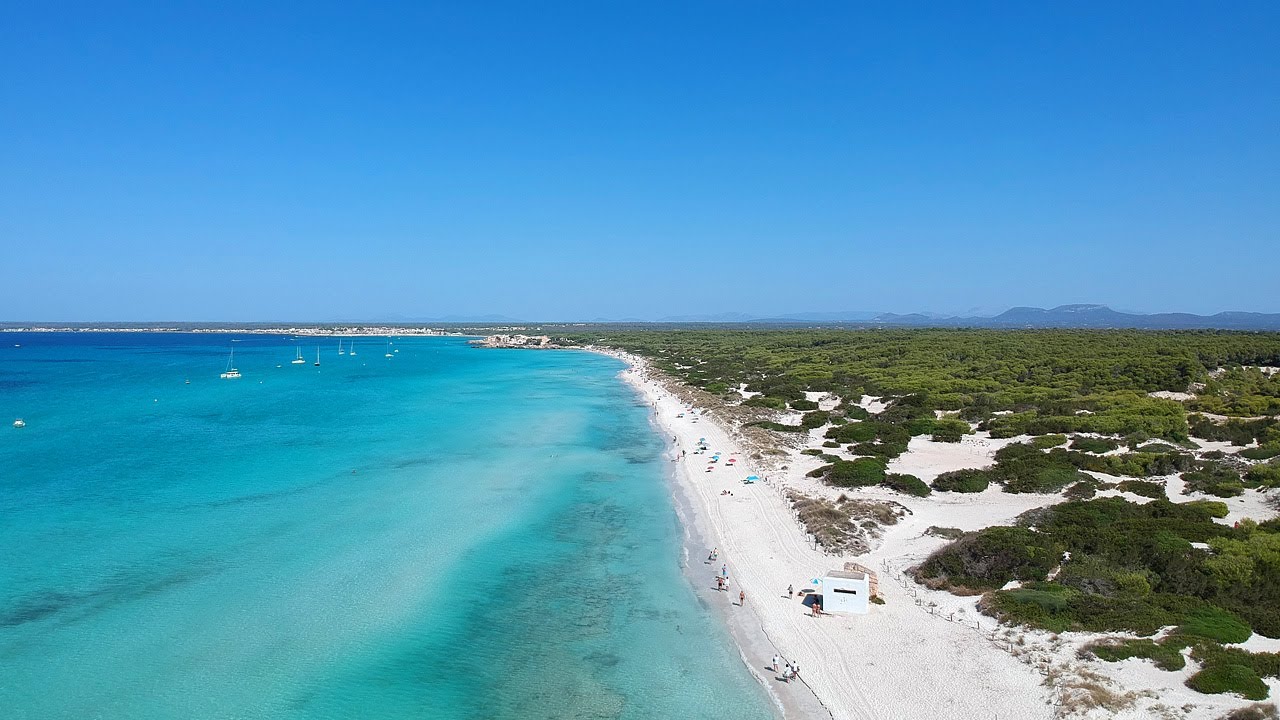 Es Trenc | Famous beach in Mallorca
This breathtaking length of coastline is complemented by a magnificent hinterland of pine trees, sand dunes, and salt flats.
The beach is located in southern Mallorca, between the towns of Ses Covetes and Colonia Sant Jordi. It also has the advantage of not being immediately connected to any resort, making you feel more isolated than you actually are. Bring your own snacks and drinks because all chiringuitos (casual Spanish beach bars) have been removed from the beach.
Families visit Playa d'Alcúdia for a variety of reasons. This 7-kilometer-long stretch of fine white sand is the island's longest beach, so there's plenty of space for the youngsters to run around.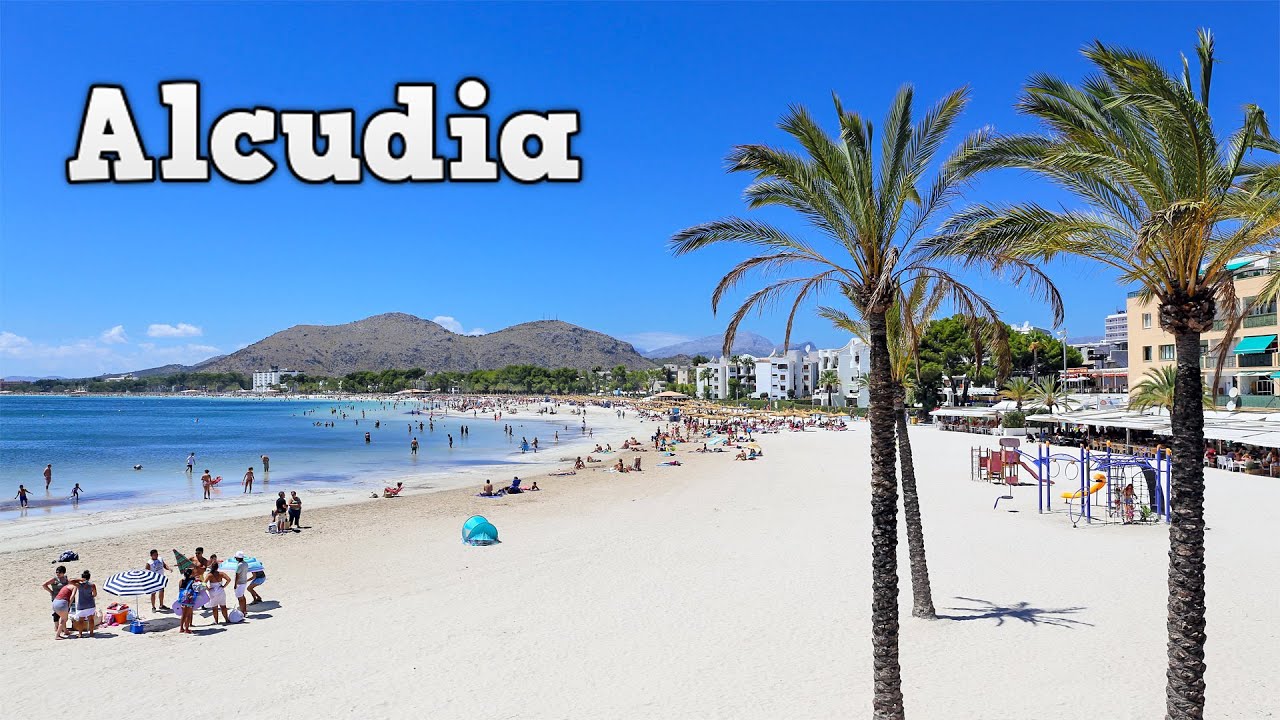 Alcudia sightseeing - Port d'Alcudia in Mallorca
This Blue Flag beach has activities for people of all ages, including waterslides, banana boat rides, and pedalos. Teens looking for adventure can attempt windsurfing or parasailing.
If that seems like too much work, you can rent a sunbed and parasol and rest while the kids play on the sand. There are a number of family-friendly restaurants nearby, as well as lifeguards and parking spots.
Calvia Beach is Mallorca's party epicenter, proving that Ibiza does not have the Balearic monopoly on good times.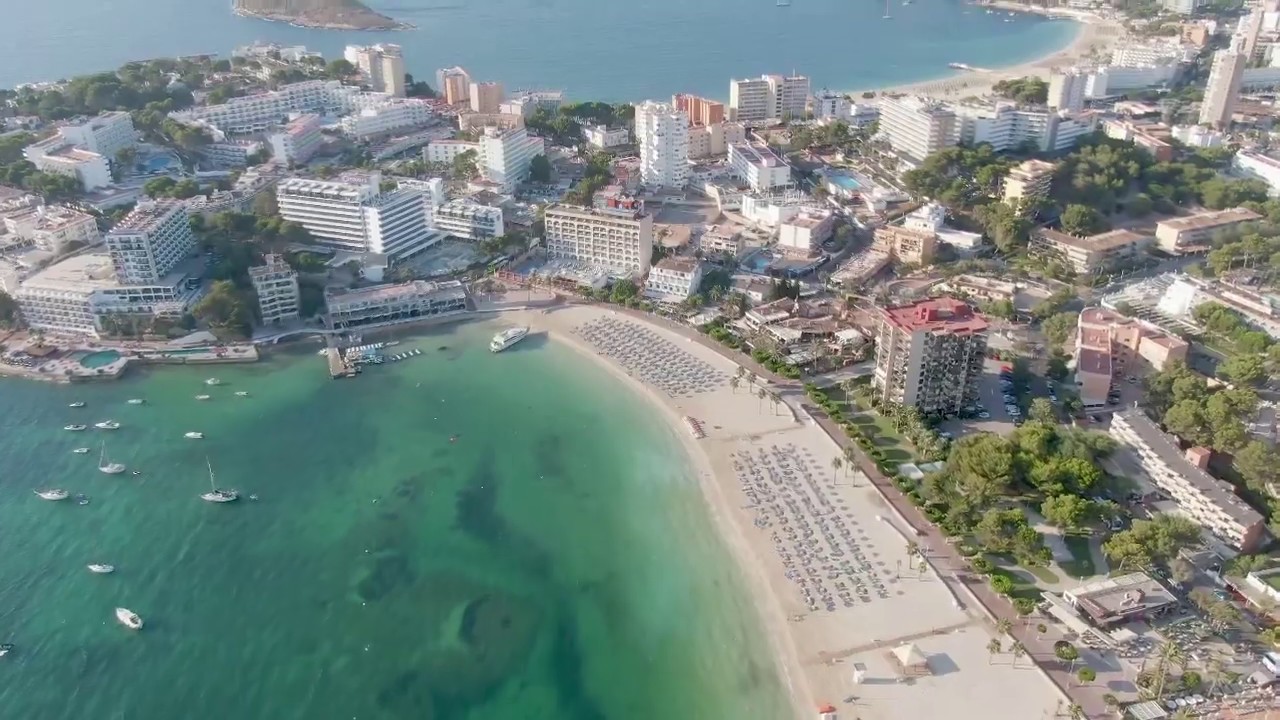 Calvià Beach aerial promo
If you like your beach to be wild, colorful, and loud, this is the place to be in Magaluf. By day, relax poolside, and then, as night falls, turn up the volume and dance the night away.
This beach is home to some of the most luxurious beach clubs on the island. Sip a beverage by the pool or take a dip in the sea at Zhero Boathouse. A few doors away, the classy Nikki Beach offers views of the Illa de sa Porrassa across the bay. The stylish sun loungers and luxury cabanas are an Instagrammer's dream.
You may get the best of both worlds at Platja de Can Pere Antoni: the beach and Palma's rich history.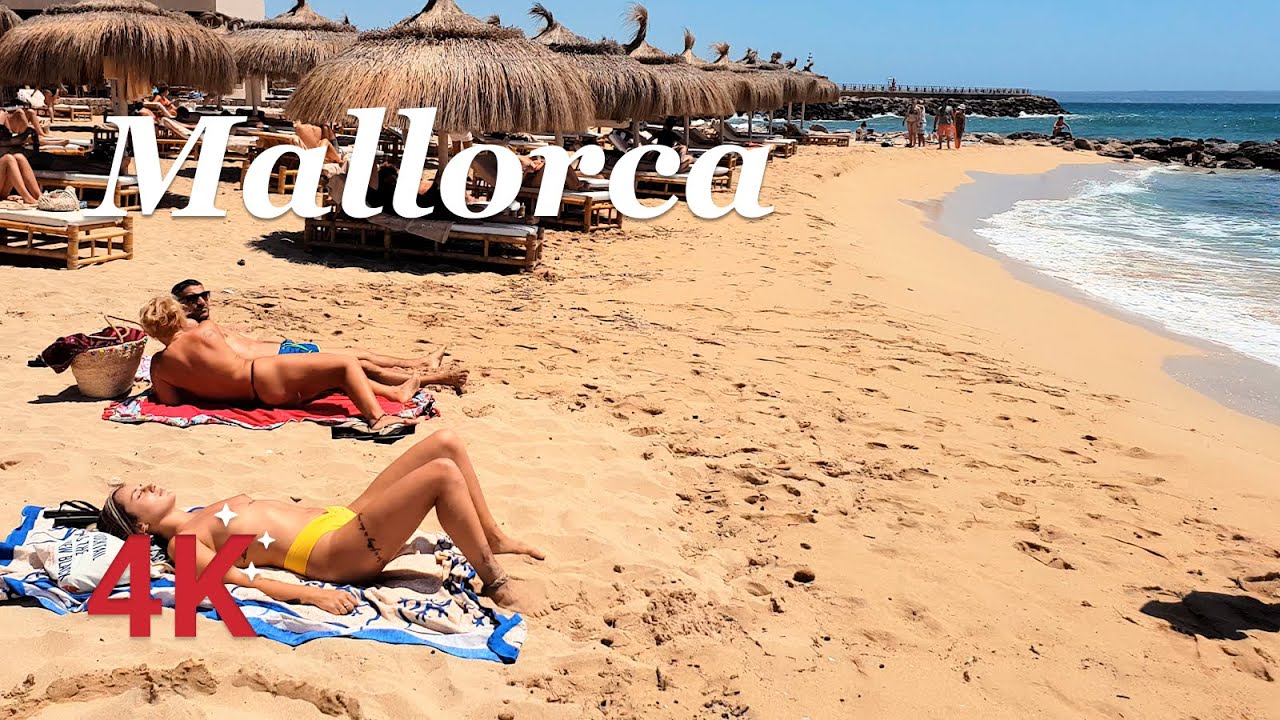 Walking tour Platja de Can Pere Antoni, beach walk, Mallorca, Spain 4K
Discover Mallorca's charming city, including its 13th-century church and the Moorish-style Almudaina stronghold.
Wander down to this palm-fringed city beach, only one kilometer from the cathedral. From a distance, you may view this Gothic masterpiece from your sun lounger. The beach isn't vast, and because it's close to the city, you won't have it all to yourself. But with a view like this, that wouldn't be too difficult.
The cove that contains Cala Llombards is located in the southeast of Mallorca.

Mallorca Cala Llombards 4K
It's almost hidden away, with steep cliffs and a tiny beach that some compare to a Norwegian fjord (with considerably better weather). The beach extends about 150 meters from the shore, with pine trees providing a natural barrier.
The bay's narrow girth keeps stronger waves at bay, and the water is calm inbound from the headlands, making this a good snorkeling location. Tropical fish schools dart about in the Tiffany-blue water. It comes as no surprise that Cala Llombards is a local favorite.
No journey to Mallorca is complete without a stop in Palma. Palma is a lively but relaxed city with street cafés, high-end shopping, and stunning Spanish architecture. The Cathedral of Santa Maria of Palma - or La Seu, as it is more widely known - is also located here.
The city may get fairly hot during the day, so go exploring early in the morning or late in the afternoon. By dusk, the city's square comes alive with outdoor restaurants, craftsmen selling their wares, and street music.
A must-do in Northwest Mallorca is to rent a car and drive along the picturesque Sa Calobra road.
The route weaves through the highlands, with each small hairpin curve more spectacular than the previous. There will be roaming animals, seashore panoramas, mountains, cliff walls, and sparkling lakes. You'll be stopping frequently to take photos or simply appreciate the panoramic views.
Allow yourself a whole day to complete this route because cars travel very slowly and traffic might build up.
A night out for some drinks and dancing will undoubtedly add some excitement to your schedule if you desire activities more than relaxing on the beach and admiring the attractiveness of local communities.
Magaluf has the best nightlife options. Over 50 different bars, nightclubs, tattoo parlors, and fast food alternatives can be found on the main strip, known as the Punta Ballena. Piano Bar, Oceans Beach Club, and the reopened world-renowned BCM Planet Dance are all popular places to visit.
Restaurants and some bars are open all day, but the strip really comes alive once the sun goes down, with nightclubs often beginning at 11 p.m. and closing at 6 a.m.
It's best to visit Mallorca during the months of March through May, when the average temperature is between 60 and 70 degrees Fahrenheit and the summer throngs haven't yet arrived.
In spite of the fact that Mallorca is known for having exceptionally low crime rates and provides a secure environment for families, children, and businesses just starting out, it is important to exercise caution during the island's busiest tourist season because the island is flooded with visitors from all over the world.
To get to Mallorca, you can either fly or take a ferry. To get started on your vacation, you can arrive at the airport in Palma de Mallorca from any location in Europe. There is also the option of using a ferry to reach the island. Traveling to Mallorca by ferry from either Barcelona or Valencia will take about three hours of your time.
Each region of Mallorca is unique. In the north we have Alcudia's history, beauty, and beaches. The East coast has several lovely coves and settlements. Situated on Mallorca's South coast is Es Trenc, one of Europe's best beaches. Mallorca's West coast is noted for its big resort, and Palma de Mallorca which is known for its history, culture, and shopping.
Share:
Twitter

|
Facebook

|
Linkedin