What Makes The Province Of Krabi Beach In Thailand Outstanding?
Krabi Beach In Thailand is known for its warm water and weather, delicious food, friendly and laid-back locals, and pleasant accommodations. In comparison to the Caribbean, the Indian Ocean, or Pacific islands, which are not dissimilar to Thailand, though less crowded, of course, Thailand is extraordinarily economical. If you are searching for peace and quiet, take a visit to the beaches of Krabi Province, which overlook the towering limestone monoliths and caves that jut out of the emerald seas.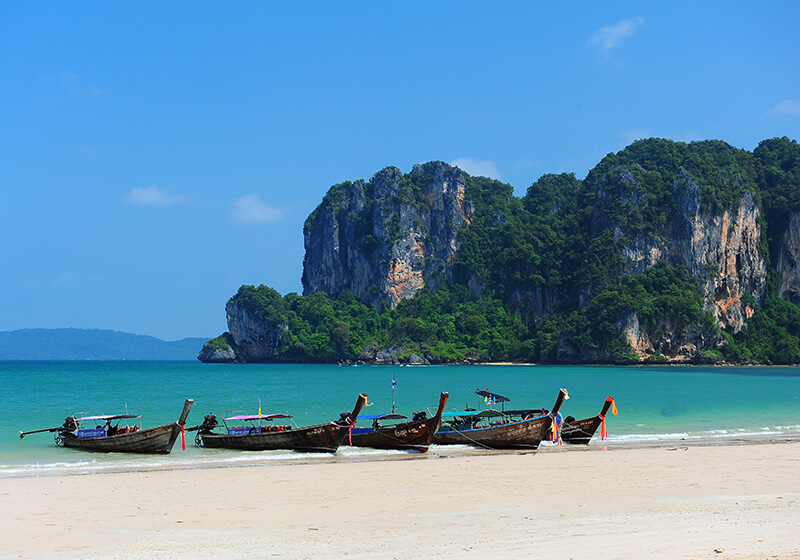 There are five boats that are drifting in the sea, as well as a large chunk of rock called limestone
With its beautiful sand and warm water, Ao Nang beach is the most popular of all the beaches on the Krabi mainland, making it a wonderful site to spend a few hours swimming and sunbathing in the sun.
COPYRIGHT_BUG: Published on https://www.bugbog.com/krabi-beach-in-thailand/ by Velma Battle on 2022-04-07T02:44:18.130Z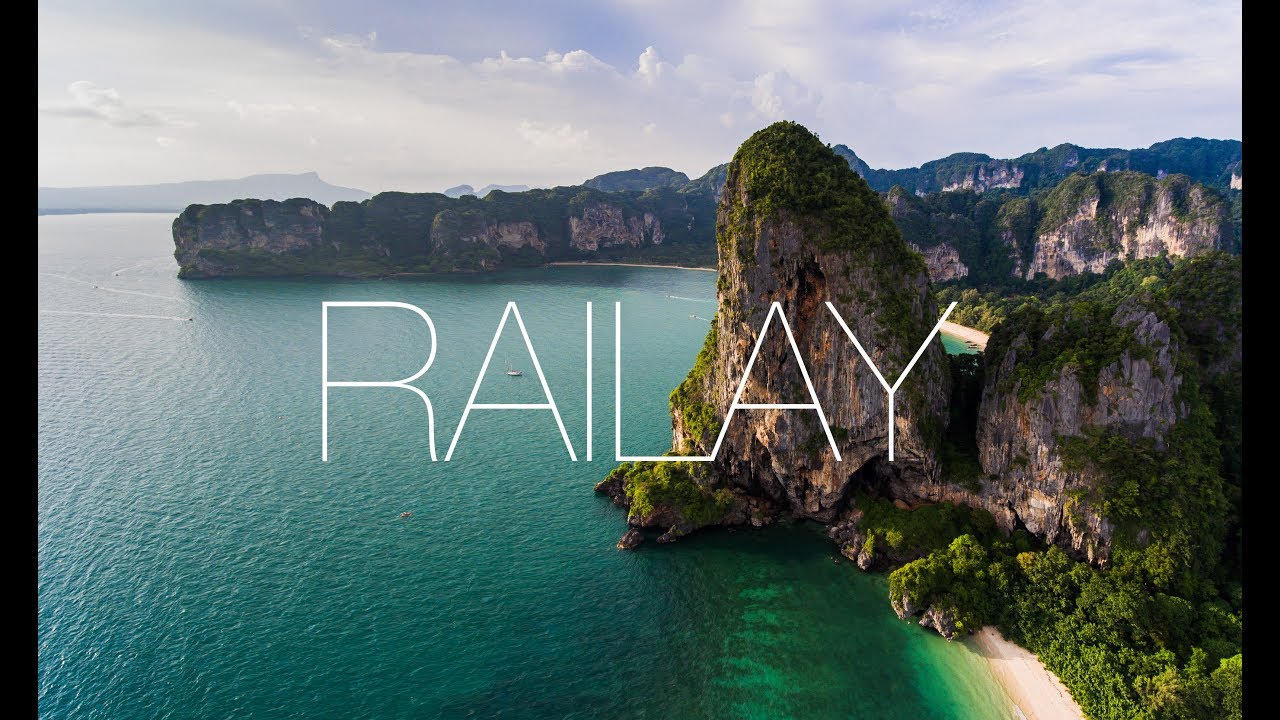 Railay Beach | Krabi | Thailand
West Railay Beach is a beautiful spot to relax and enjoy the environment. The beach at West Railay is an enticing arc of fine sand with a backdrop of magnificent limestone cliffs. Despite the fact that lodging in this area is often more expensive than in neighbouring Ao Nang and East Railay, there are still some good value options.
If money isn't an issue, the Rayavadee is in a prime location, straddling West Railay and Phra Nang beaches. If the Rayavadee appeals to you but your budget does not, Ao Nang is a fantastic alternative, with a wide selection of lodging and food alternatives. Railay is only a 10-minute boat trip away from Ao Nang, and this portion of the peninsula is a fantastic base for seeing not only Railay but also the outlying islands.
The beach at Phra Nang is definitely the most beautiful of the group. Featuring blue seas that are only interrupted by limestone karst that rises from the ocean floor, this is a wonderful area to soak up the sun and relax while surrounded by the beauty of nature. During your visit, don't miss the strange phallus shrine embedded in the cliff with offerings believed to aid fertility and the opportunity to experience some of the best rock-climbing the country has to offer.
Except for the peak vacation periods of Christmas and New Year, when the problem is overcrowding and overpricing rather than the weather, the ideal time to visit Thailand's beaches is mid-December to March. High temperatures of roughly 27 degrees Celsius are forecast in December and January, climbing to 30 degrees Celsius in March.
Outside of this season, beaches on the east and west coasts have different best/worst times to visit, so see Thailand Beaches Information for more information.
Box jellyfish can be a problem in this area, and they have killed people, especially in the Gulf of Thailand and Phuket. It's common for people who swim or snorkel in Australia to wear "stinger suits." if you swim in deep water and come across a toxic box, you will have the most painful experience of your life. These are the most toxic creatures in the sea.
Can a box jellyfish kill you?
The tentacles of box jellyfish are covered in biological booby traps called nematocysts, which are little poisonous darts. People and animals who are bitten and receive this venom may endure paralysis, cardiac arrest, and even death within minutes of being stung.
What is the treatment for jellyfish stings?
The following steps can be used to cure mild jellyfish stings:
If you were stung at the beach or in the ocean, pour seawater over the stinging region of your body. Freshwater should not be used.

Remove any tentacles you see on your skin with tweezers.

To stop the burning sensation and the release of the poison, apply vinegar or rubbing alcohol to the affected area.

Apply shaving cream or a mixture of baking soda and seawater after you've put vinegar on the area. Scrape the mixture off with a credit card once it has dried.

Apply calamine lotion or hydrocortisone cream to assist relieve pain. An ice pack or hot water can also be used to relieve pain and swelling.
There are a lot of people who come to Phuket because it is the biggest island in Thailand and the best place to go for sand and the sea. A lot of it is package tourism, though. Beaches are mostly the same, with soft sand and clear, warm water in pretty bays. Largest and busiest: Patong is next to the lively but brash, noisy, and unappealing town of Patong, which is full of people and noise.
A few beaches are south of Patong that are popular with wealthy tourists. Beaches in the north of Phuket become less crowded and less well-equipped as they get away from Patong, but they're still popular with people who want quiet, low-cost beach vacations. Sand, on the other hand, gets grittier and waves get rougher.
South of Myanmar and west of Thailand and Malaysia, the Andaman Sea is a large body of water. A lovely collection of islands with wonderful endlessly long beaches beneath palm trees, as well as a fascinating underwater environment, await visitors to the Andaman Sea.
Island hopping is possible on many of the Andaman Sea's many islands, which are accessible by boat or plane. The stunning beaches of Krabi, as well as dozens of islands, including the well-known Phuket, Koh Phi Phi, Koh Lanta, and Koh Lipe, provide practically limitless opportunities for relaxation and recreation during your vacation in the Thai islands. Along with the popular tourist locations, there are a plethora of lesser-known gems that are well worth the trip.
Klong Dao beach, Ko Lanta, Thailand

Ao Nang, Krabi, Thailand

Ko Phi Phi Don, Thailand

Khao Lak, Thailand

Phuket, karon beach, thailand
The largest and central island of Phi Phi Island is Phi Phi Don. There are hotels, a pier, restaurants, and other service facilities on the island. It is divided into two bays by a narrow plain. From the crest of the hill, a lovely view of the beach and coconut trees is seen. February-April is the greatest time to travel because it allows you to see the entire island. However, after that time period, due to weather conditions, you will be able to visit only a limited number of locations.
Pattaya, Thailand

Hat Sai Kaew beach, Ko Samet, Thailand

Chaweng Beach, Ko Samui, Thailand

Ao Bay on Ko Similan, Similan Islands, Thailand

Rin Nok Beach, Ko Phangan, Thailand
There are over 2,000 miles of coastline and 8,000 islands to pick from in Thailand, with many of them boasting magnificent white sand, inviting warm water, and breathtaking landscape. Travelers from all over the world rush to Thailand for the beaches it has to offer.
beaches on Koh Samui, for example, have been recognized as having the cleanest seawater in Thailand. Prachuap Khiri Khan and Koh Samui topped the list of Thailand's cleanest seawater beaches, according to the Ministry of Natural Resources and Environment's 2021 Environmental Quality Audit of the country, which was just completed.
In general, Thailand's standards of safety and security are comparable to those seen in other Southeast Asian countries, such as Malaysia. Thailand beaches, as well as the rest of the country, are very safe locations for both families and solo travelers.
Why visit Thailand? Thailand becomes one of the world's most popular tourist destinations. Why do people prefer to travel to this unique location? Whether it's the lovely beaches, delectable cuisine, breathtaking landscape, or rich history and culture, there's something for everyone in this fascinating locale.
Share:
Twitter

|
Facebook

|
Linkedin