Japan Travel Guide - A Comprehensive Guide To Modern And Traditional Japan With Emphasis On Travel And Living
Japan is an island country located in East Asia. With the Sea of Japan to the west, the Sea of Okhotsk (also known as the Bering Strait) to the north, and the East China Sea (which includes Taiwan to the south), it occupies a region in the northwest Pacific Ocean.
Japan is truly timeless. It is a country where old traditions and modern life coexist as if it were the most natural thing in the world. In this article, we have given a Japan Travel Guide that will help a lot while in Japan.
This is a fantastic, confusing, interesting, crowded, and funny country. It's full of contrasts, not least the juxtaposition of cutting-edge technology with old-fashioned traditions.
Apart from religious architecture, there are few 'large' sights, but lots of intriguing 'tiny' sights, ranging from the omnipresent white gloves of service people to dream eating locations in Tokyo, musicians in Yoyogi Park, quirky old Akachochin eateries, and strange otaku (geek) customs. In terms of crime, Japan is one of the safest places to visit on the planet.
COPYRIGHT_BUG: Published on https://www.bugbog.com/japan-travel-guide/ by Velma Battle on 2022-04-05T08:12:06.523Z
Japanese food is great, except for bread and the disgusting traditional Japanese breakfast. It's always beautiful and not very expensive, and there are a lot of options. Eco-conscious people will be disappointed by the excessive packaging, though. Traditional inns (Ryokan or Minshuku) are both affordable and intriguing.
Domestic transportation systems are well-organized, clean, efficient, and almost always on time; visitors to Tokyo will almost certainly use the sophisticated metro system, while visitors to other parts of the country will almost certainly use the Shinkansen super-train.
Finally, a small but valuable asset: all stations, parks, and other public locations have clean, contemporary public restrooms.
Japan may be pricey at times, and it is constantly packed and stressful.

Tokyo does not have a central business district, but rather four or five high-activity zones, such as Shinjuku, Shibuya, Harajuku, Roppongi, and Asakusa, which will require transportation to get between.

There are many boring, never-ending suburbs with overhead power lines, plasto-wood, mock-European architectural nightmares, and concrete block dwellings. Unfortunately, good vernacular or fascinating contemporary architecture is hard to come by.

Traditional clothing, such as Japanese kimonos, is rarely seen outside of formal occasions. The most probable places to observe them are shrines, temples, and celebrations.

Because Japan is not particularly tourist-oriented, English-language signage is not common in some areas, but it is becoming more common.
Because most visitors will be spending most of their time in Tokyo and Kyoto, the ideal seasons to visit are probably late April, May, October, November, or January if you're reasonably cold-tolerant, as it's typically dry with a blue sky and few other foreigners.
To borrow a Japanese proverb, spring and autumn skies are like a woman's heart (to borrow a proverb), in that they are unpredictable. They may be beautiful, or they may be chilly and damp, or they may be both. The wettest months are June and September, with August being the warmest.
Winter in Hokkaido will be snowy, with excellent skiing and a spectacular snow celebration in Sapporo in early February, while summer will be nice.
June, July, and August (rain, heat, humidity). At the New Year (December 29-January 6), Golden Week (April 27-May 6), and O-bon, be wary of vacation accommodation issues (midsummer).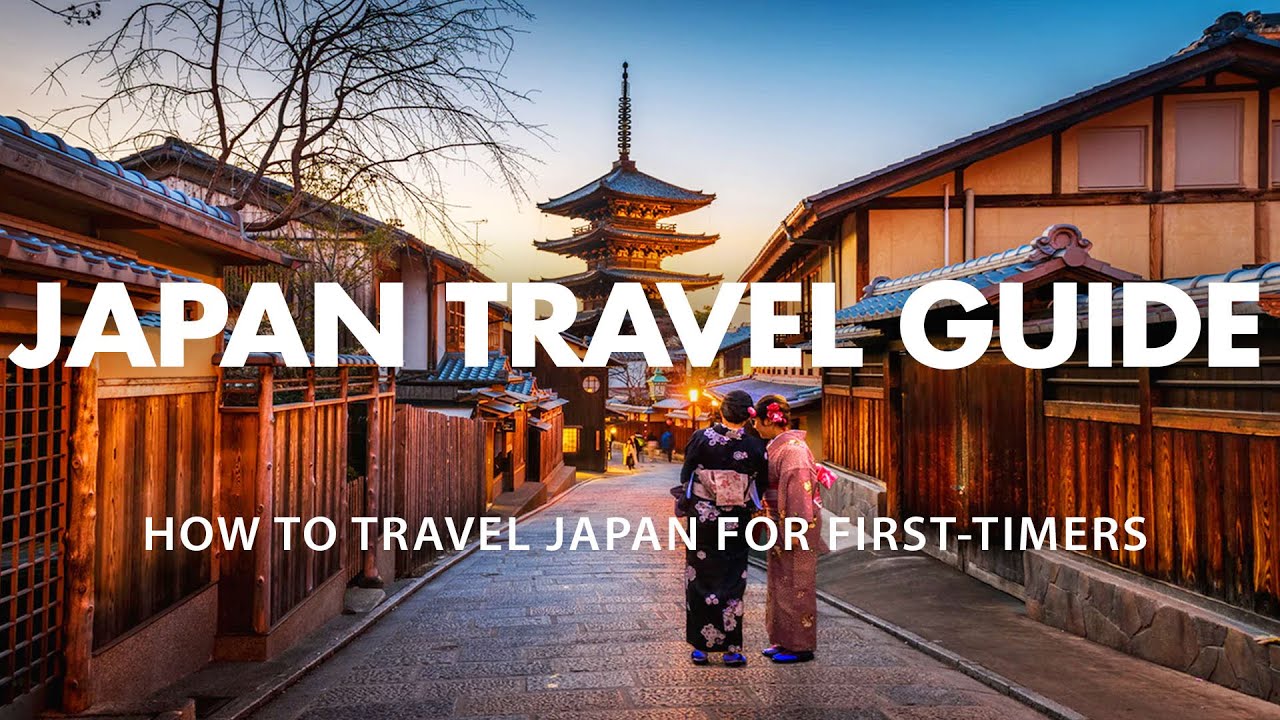 Japan Travel Guide - How to travel Japan
The bare minimum for a good stay, excluding airfare, is four days in Tokyo. Two weeks in Tokyo and Kyoto are recommended.
A giant ant nest of a metropolis, strewn with neon-lit retail malls, majestic shrines and temples, gorgeous shopping and dining, and a slew of oddities. Harajuku, Shibuya, and Shinjuku are our top three must-see places.
Shinjuku is known for its vibrant nightlife, bars, restaurants, and activities. The Yakuza are visible, but they do not bother visitors. The ludicrous geek zone of Akihabara Ginza/Nihonbashi is a historic theatrical zone with old-fashioned premium shopping
Shibuya, which is uncommon in Tokes since it is within walking distance to Harajuku, has fantastic shopping and is very colourful and bustling at night.
The Imperial Palace is a significant attraction, but it doesn't take long to see; from there, you may go to Ginza. Asakusa abounds with temples and customs.
Tsukiji Fish Market is a fish market in Tokyo, Japan. The world's largest wholesale fish and seafood market, as well as one of the most popular and greatest sushi restaurants. However, to do it right, you must get there really early, like 6 a.m.
Roppongi is a newer, more upscale neighbourhood with wonderful clubs and nightlife, but far too many intoxicated gaijin (foreigners). Odaiba is Tokyo Bay's newest amusement island.
Harajuku/Omotesando is a young, ultra-trendy shopping district that is only two minutes away from the crazy Yoyogi Park scenes on the weekends or the beautiful Meiji-Jingu Shrine at any time.
Inside Kamakura's many temples, shrines, and zen attractions, outsiders can't help but be amazed by the beauty and elegance. It's about an hour by train from Tokyo, and it's often full of tourists and their buses.
After an hour on the Odakyu line, you'll arrive at a classic samurai fortification with a modest weapons museum.
Another popular mountain, leisure, and hot spring region, particularly in the fall, with spectacular views of Mt. Fuji and a fantastic futuristic museum. From Tokyo, it's a 1.5-hour train ride.
Nikko National Park is a favorite weekend getaway from Tokyo, featuring the magnificent Toshogu temple complex, which is famed for its ornate decorations, gorgeous mountains, lakes, waterfalls, hot springs, and delightful treks. Toshogu's features include Yomeimon's main entry gate, a five-story pagoda, and the samurai Tokugawa Ieyasu's tomb. Tokyo is 2 hours away by rail.
Nihon Teien is meticulously-groomed gardens designed to idealise natural landscapes in a variety of styles, but they always include water; even dry rock gardens use raked white sand or gravel to replace water.
The gardens' designs are appealing not just physically, but also spiritually and intellectually. The Zen rock garden of Ryoan-ji and the moss garden of Saiho-ji are two of the best gardens in Kyoto.
Japan's three most renowned gardens are Kairaku-en in Mito, Kenroku-en in Kanazawa, and Koraku-en in Okayama. In Tokyo, Rikugi-en and Hamarikyu Gardens are also worth seeing.
The Shinkansen travel time from Tokyo is 2.5 hours. After seeing Tokyo, every traveler to Japan should visit Kyoto, which has hundreds of ornate temples, shrines, and zen gardens (many of which are World Heritage Sites), as well as a few delightfully tiny old Japanese alleys in the center, hidden within Kyoto's contemporary urban sprawl and congestion.
The most fascinating locations in Kyoto are spread out and will take a long time to see. The golden temple of Kinkakuji, for example, is around 40 minutes by "express" bus from Kyoto station.
Nara, on the other hand, is a peaceful, green, and compact day excursion from Kyoto that has more magnificent religious architecture.
Visitors may also want to witness a tea ceremony, a Geisha show, Katsura Imperial Villa (and gardens), and Himeji Castle, which are all located in the southern part of the city.
Kyoto is so time-consuming, expensive, and hard to get around that even seasoned solo travellers might find a trip there pleasant and educational.
Takayama is a tiny merchant city in Gifu prefecture, featuring a historic Edo period district in the centre with clusters of wooden buildings and cobblestone alleys, and several temples and shrines on the periphery. The city has a similar landscape and vibe to Kyoto.
The Takayama Spring Festival, one of Japan's top three events, takes place in mid-April and includes the rolling of a dozen massive, old, colourful temples, as well as parades, music, and a night procession. The first day of the two-day event begins at about noon.
Shirakawago and Gokayama (Toyama Prefecture) are two charming tiny villages in the Hida area with traditional thatched roof homes to see.
Due to its beauty and old architecture, it is known as "Little Kyoto." Ceramics, lacquer-ware, and dyed silks are what it specialises in. It has a great garden and a lot of smaller attractions that can be reached by a hop-on, hop-off bus that runs from the main station.
The Kenroku-en gardens (together with those in Mito and Okayama, one of Japan's top three gardens) are located directly across from Kanazawa Castle and were once the castle's private park. For garden-control freaks, this is a must-have.
It's a magical place, especially when the sun is shining, the cherry trees are blossoming, and you have a small glass of saké in your hand. A grown-up bonsai arrangement with trees that have been carefully shaped and supported, mossy ground with streams and rocks, and stone lanterns that are placed in the right places.
Otherwise, the Castle Park is worth a stroll; the Higashi Geisha district is quaint (but don't expect to see geishas there); the Nagamachi Samurai district's mud walls and canals are calm and evocative and make for a great stroll; and the Teramachi Ninja hideout, Myoryu-ji, is located in the narrow streets of Teramachi.
There are a lot of great museums in the city, like the 21st Century Museum of Contemporary Art.
The first atomic bomb was dropped on Hiroshima. The city's most notable feature is the Peace Memorial Park, which is now ranked among Japan's top ten international tourist attractions.
For generations, the island of Itsukushima, also known as Miyajima (Shrine Island), off the coast of Hiroshima in the Seto Inland Sea, has been one of Japan's three most recognised attractions, with its unique watery tori gate.
In the south, there's an excellent replica of an ancient European dwelling, while in the north, there's a full-scale, lived-in Dutch village.
Yokohama, Osaka, Kyushu, Hokkaido, and Okinawa are some of the cities in Japan. It's only worth seeing if you're attending a festival, have a specific interest, or have a lot of time.
A group of 49 inhabited and 111 uninhabited subtropical islands located between Kyushu, Japan's southernmost major island, and Taiwan, boasts beautiful beaches and pristine coral reefs. This southernmost prefecture is not just a beautiful beach resort, but it also has a rich Ryukyu Kingdom local culture, from architecture to cuisine.
If you visit Japan on a budget and go outside of the busy season, you may save a lot of money on both international and local transportation.
Unless you're traveling with a tour group, you'll have to use both local and long-distance trains on a regular basis.
Due to the absence of a central city centre, the Tokyo Metro subway system is complicated, although most signage is in English as well as Japanese, and some lines even feature English announcers.
If you can get beyond the first shock of alien data overload, the system is colour-coded, well-organized, and straightforward. Information about the Tokyo Metro system
• The JR Yamanote sen (line) offers a convenient circular route that connects our top three must-see destinations: Harajuku, Shibuya, and Shinjuku.
• Obtain an English-language metro map.
• Get a handy PASMO card (or a Suica, which is operated by a different company) at Narita or Haneda airports, as well as almost any station, and top it up as needed. This card keeps your savings and may be used as digital money to buy items at participating establishments just by brushing it against the illuminated blue PASMO sign on the entrance, even if it is still in your wallet or handbag. Tourists will no longer need to purchase tickets over and over again, but this is a convenience, not a discount card!
Finally, if you are genuinely perplexed, station personnel will be eager to assist you and may speak English. You'll be OK if you speak slowly and clearly, or simply mention your destination. Don't be alarmed!
Most tourists outside of Tokyo will need to travel great distances by rail, including the high-speed Bullet (Shinkansen) trains. A Japan Travel Card is a very cost-effective way to travel on these and other JR (Japanese Railways) lines over several days or weeks (including Tokyo's useful, circular Yamanote line but not the inter-city, super-speed Nozomi trains that are a little faster than the Shinkansen), but it must be purchased outside of Japan, either online or at a Japanese tourist office.
Asia welcomes visitors, but Japan says no for the time being. Tourist-friendly countries throughout the region are reopening their borders while Japan continues to send them away. And the nation is not in a hurry to change.
Hotels that provide double rooms for short periods of time are known as "love hotels" (also known as boutique or fashion hotels). Typically, you may hire a room for one to three hours during the day, referred to as a "rest," or for the whole night, referred to as a "stay," which typically begins after 10 p.m.
Although debit cards are not generally recognised in Japan, they may be convenient for withdrawing cash from an ATM. There are likely to be fees for withdrawing money, fees for using ATMs outside your home country, and a bad exchange rate if you use a debit card that comes from your own bank.
In Japan, using a fork instead of chopsticks is not considered impolite. Restaurants that cater to large numbers of visitors are accustomed to doing so. Your waitress may even gently ask if you want a fork if you don't seem Asian or if you appear to be struggling with your chopsticks.
Japan is the most incredible tourist destination on the planet, with numerous unique experiences that you won't find anywhere else. This country's culture is a mix of Eastern traditions and Western modernism that can be seen all over.
Share:
Twitter

|
Facebook

|
Linkedin