Travel Iceland Guide - The Top Places To Visit In This Beautiful Country
Iceland, which floats alone where the North Atlantic and Arctic waters converge, is home to spectacular natural wonders, friendly people, and unique attractions. Even a short visit is worthwhile, as it's a short drive from Reykjavik's capital to some of Iceland's most memorable day-trip excursions: the famous Golden Circle route, which is studded with geysers and thundering waterfalls; the South Coast, which is home to glaciers, black beaches, and a jagged volcanic landscape; and, of course, the Blue Lagoon thermal baths. The 800-mile Ring Road that encircles the whole island is a must-see for anyone with extra time.
Iceland's strange allure comes not from its many natural wonders, but from its people's close relationship with their surroundings, where every rock has a thousand-year-old name and a story to go with it. This makes the country look like it's from another world. Let's check the more details in this travel Iceland guide about this beautiful country.
As of February 25, 2022, there are no COVID-19 limitations for travellers at the border or inside the nation. You are not required to provide proof of vaccination or a negative test result.
We nevertheless advise you to double-check that your travel insurance covers COVID-19 medical costs.
COPYRIGHT_BUG: Published on https://www.bugbog.com/iceland-travel-guide/ by Velma Battle on 2022-04-05T09:16:46.389Z
It's also a good idea to get trip cancellation coverage in case you get sick before your trip (purchase a policy when you book your flight).
In many respects, Iceland is a place of extremes, and the ideal time to visit depends largely on how you choose to spend your vacation. The northern lights are best seen from September to March, but it's also the coldest time of year in the nation, with only around five hours of sunshine. The months of early June to late August have pleasant weather for exploring natural wonders and driving the full Ring Road, but pack a sleeping mask because the sun only sets for three hours during the summer.
In our point of view, Because of the midnight sun and milder temperatures, summer (June to August) is the best season to visit Iceland. Hikers should plan their trips around July and August when all of the trails are available. Winter, on the other hand, should not be overlooked; the ideal months to visit Iceland for the Northern Lights are February, March, September, and October.
It's impossible to keep track of all the things to do in Iceland. It's a world full of opposites. It's a beautiful island with rivers running across deserts and hot lava erupting from ice.
It's a land where the natural elements dance between the poles of fire and cold, with unending nights in the dead of winter and a sun that never sets in the summer.
Making decisions on what to do and where to go in Iceland might be difficult. There's a lot to think about before you plan your vacation.
So let's discuss some of the best must-visit places in Iceland.
The twin-peaked Snaefellsjokull glacier rises atop a volcano on the peninsula's tip, surrounded on three sides by jagged lava fields and stunning shoreline. People who visit some of the area's other well-known attractions, like the almost-abandoned village of Budir, can see it.
In 2001, Icelanders named the glacier a national park because it holds such a unique place in their hearts. Only two other places in the country have the same distinction (both featured on this list).
The Snaefellsjokull glacier has inspired many works of art, notably literature. The science fiction novel "A Journey to the Center of the Earth," by Jules Verne, is the most renowned. The Snaefellsjokull glacier is a terrific place to visit in Iceland if you're looking for something to do.
On a clear day, it can be seen all the way from Reykjavik across Faxafloi Bay, but nothing beats viewing it up close.
It is feasible to travel to the glacier and back in a single day, but you will most likely want to stay longer. It's a must-see destination in Iceland, and it's included in many self-drive tours, such as a six-day winter self-drive trip of Iceland's Golden Circle & Snaefellsnes since you'll need more than a day there!
You may choose from a variety of Snaefellsnes excursions and packages, including ones that include a snowcat ride on the glacier's ice surface. In the national park, you may also go caving in the Vatnshellir lava tube.
One of Iceland's most stunning sights is Kirkjufell Mountain, one of the most impressive. Kirkjufell is one of Iceland's most photographed peaks. You might remember it as the Arrowhead Mountain in the Game of Thrones TV series, which is located north of The Wall.
Kirkjufell Mountain, which translates to "Church Mountain," is a popular self-drive tour location. The river in front of the mountain adds to its beauty. In the winter, it either provides a mirror image or a beautiful white covering of ice and snow. If you're a skilled hiker, you can also trek up to it.
Reynisfjara isn't the only beach worth seeing on the South Coast. Next to Diamond Beach lies the Jokulsarlon Glacier Lagoon, dubbed "the crown treasure of Icelandic nature."
The lagoon is filled with icebergs that break off from a glacier tongue every year and slowly make their way to the ocean. The waves drive them onto the beach as they reach the sea, and the effect is breathtaking.
Diamond Beach is especially gorgeous, with the blue of the ice and the white of the sea contrasted against the black sand, making it one of Iceland's top locations to visit.
When you add in the colors of the northern lights or the dramatic colors of the midnight sun, you get a scene that seems like it was crafted by a fantasy book.
As if that weren't enough, seals may be seen playing in the lagoon and out to sea on occasion.
The Blue Lagoon is a geothermal spa in southwest Iceland, located on the Reykjanes Peninsula. It is Iceland's most popular tourist destination, attracting visitors from all over the world.
The Blue Lagoon is only a fifteen-minute drive from Keflavik International Airport and a thirty-minute drive from Reykjavik, making it convenient for anyone renting a vehicle or taking a Blue Lagoon trip. It is frequently visited upon arrival in the country or immediately prior to departure, particularly by people participating in guided tours and self-drive tours, such as this 6-Day Vacation and 10-Day Road Trip.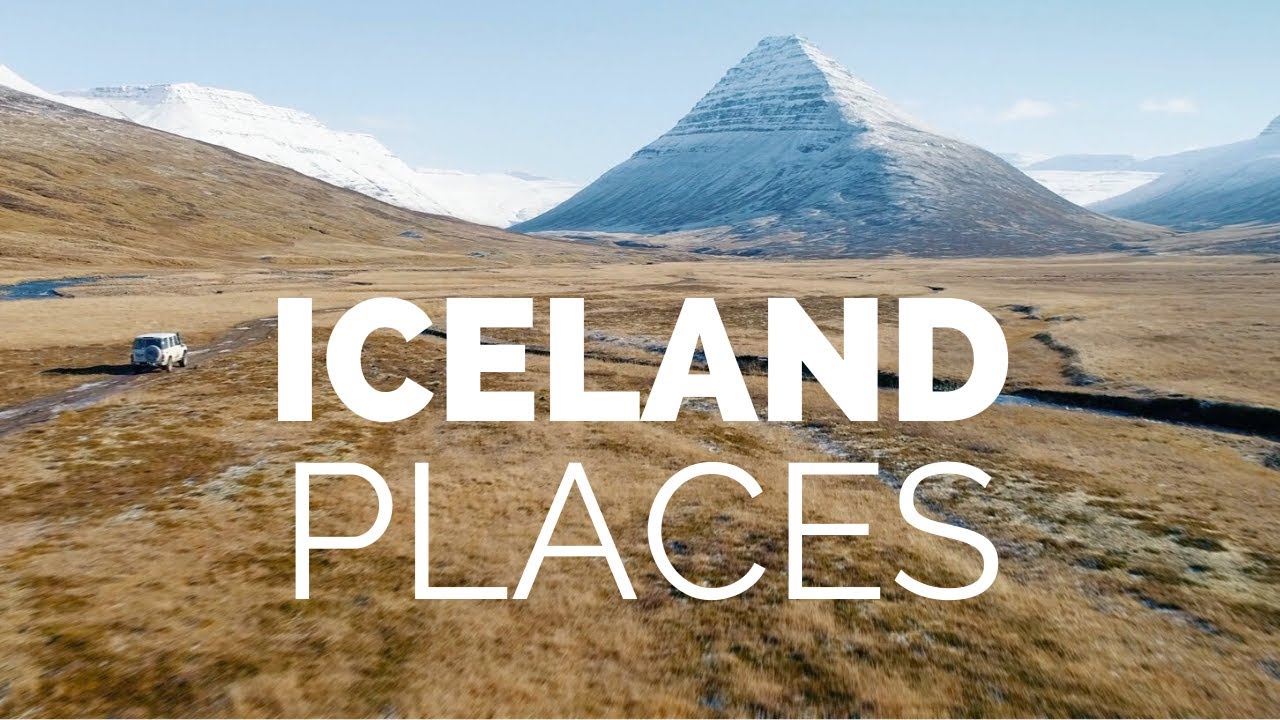 10 Best Places to Visit in Iceland - Travel Video
On this 3-hour spectacular adventure, you'll see whales, dolphins, and seabirds in their native environment while taking in the natural splendor of Skjálfandi Bay.
Hsavk is a marine lover's dream, with a whale-seeking success record of over 97 percent over the previous three decades! The tour's main goal is to observe and appreciate the presence of marine animals. Perhaps you'll witness curious minke whales, breaching humpbacks, playful dolphin pods, or perhaps blue whales, the world's biggest animal! Despite this, each tour is distinct. If you're lucky, you might even see killer whales, fin whales, and other species. These incredible creatures come to the bay to feed on the abundant krill and plankton.
Hornstrandir Nature Reserve is an isolated habitat in Iceland's West Fjords' northwest claw. Hornstrandir is a natural treasure of verdant slopes, snow-capped glacier peninsulas, and slate-blue bays that are entirely deserted and only accessible by daily boat during the summer. It's because of these characteristics that it's one of Iceland's best-preserved areas, with nothing but verdant valleys, patches of dandelions and angelica, and pebbled coasts for kilometers. You could even see a flying goose or an Arctic fox if you're lucky.
The Golden Circle is a 300-kilometre (186-mile) path that connects Iceland's three most famous natural wonders: the Geysir Geothermal Area, Gullfoss Waterfall, and Thingvellir National Park.
Due to its popularity, the path is included in many guided packages, such as this intensive 6-Day Winter Package, and self-drive excursions, such as this 10-Day Road Trip. Those who take a Golden Circle trip or rent a car may complete it in less than half a day.
Many of these trips include extra activities like snorkeling or skiing, or they are done in a unique way, like by helicopter or in the middle of the night, so they are more interesting.
Some of the clearest evidence of Iceland's unique geological forces, gorgeous landscapes, and rich culture may be found inside the Golden Circle's three sites.
Asbyrgi is a spectacular horseshoe-shaped canyon encircled by towering rocks. Throughout the year, a considerable number of people go to this glacier canyon. The captivating beauty of this site is enhanced by the steep cliffs, which reach a height of roughly 90 metres, and the massive crag to the right. The most popular idea for the creation of Asbyrgi Canyon is that it was formed as a result of a catastrophic flood from the Jokulsa Glacier. According to one explanation, it was produced when seawater completely covered an already covered lava field. Around 10–12 thousand years ago, the lava of Sbyrgi and the adjacent areas spilled from the Stóravti, a volcanic crater. Among a group of people, it is also known as the capital of Iceland's Hidden People. When exploring the area, Botnstjörn Lake may be found inside the canyon.
Skaftafell Nature Reserve was established as a national park with a 500-square-kilometre size and was enlarged twice before becoming a part of Vatnajökull National Park. The park, which is now part of the reserve, is an Icelandic paradise where you may hike among waterfalls, woods, glaciers, and other natural wonders. Exploring Skaftafell Nature Reserve is a thrilling experience in and of itself! A broad array of Iceland's landscapes and other popular landmarks are engulfed in beauty. Skaftafell Nature Reserve is home to around 250 distinct plant species and over 30 different bird species. Flora, birds, weather, and hiking paths are just a few of the factors that contribute to the magnificent park's beautiful vista. These aspects of the park combine to make it one of Iceland's "must-see" attractions!
The lake Mvatn, formed thousands of years ago by a basaltic lava eruption, is one of northern Iceland's natural wonders. This tiny lake is one of Iceland's fourth-largest water bodies, making it distinctive and spectacular. It attracts people throughout the year due to its size, which is 36.5 square kilometers. Many aquatic birds, particularly ducks, call Mvatn Lake and the adjacent marshes home. The volcanic landforms, lava pillars, and rootless vents that surround this magnificent lake give an amazing vista. This location offers not only a view of the enormous lake but also a variety of geological characteristics. The nature and animals of this location will captivate you.
The lake is not surrounded by glaciers or mountains, as it is in other parts of Iceland. Mvatn is a perfect destination for you if you are tired of going up in the mountains and want to feel the depths of nature.
Icelandic food is a one-of-a-kind experience. It is safe to assume that the country's great cuisine matches the exceptional scenery. The fact that there was a long-running shortage of food and resources on the island during the early stages of colonization adds to the uniqueness of Icelandic delicacies. Given the lack of natural availability of foods, restricted hunting opportunities, and the rarity of importing commodities because Iceland is a stranded island in the Arctic Circle, Icelanders have maintained a relatively basic diet for a very long time.
The traditional cuisine, which mostly consists of seafood, grew with the expansion of the fishing sector later in the century, as well as technological advancements that brought about the utilisation of geothermal and hydropower. In conclusion, Iceland has produced a magnificent cuisine with a variety of delectable dishes made entirely of local products, making it one of the most unique traditional cuisines.
Taking in the sights beneath the Midnight Sun
In a natural hot spring, take a bath.
Camping is the most effective way to keep in touch with nature.
Buy food from a farmer.
Attend a festival in a tiny town.
Rent a vehicle and make your own itinerary.
Cooking your own meals is a great way to save money.
Get to know the people that live there (Iceland is considered to be one of the most peaceful and friendly countries).
Make your own way around Iceland.
8–12 days is a good length of time to spend in Iceland since it allows you to see the country's many areas. The Ring Road can be driven in a full circle to reach the many corners of Iceland, from the South Coast to the Eastern Fjords, across North Iceland, and over to the Snfellsnes Peninsula.
Iceland is now the world's third most expensive country, according to Numbeo's Cost of Living Index. The basic costs of travel for visitors have also been looked at by local banks, and the results are very interesting.
For a seasoned tourist, a first-time solo traveller, or an adventurous family wishing to road drive throughout the island, Iceland is the ideal location. With friendly folks, breathtaking landscapes, plenty of adventure, and a thriving tourist sector, Iceland is a must-see destination.
We have tried to give a detailed glimpse of this beautiful country in this travel Iceland guide. Hope you will like it.
Share:
Twitter

|
Facebook

|
Linkedin