Thailand Pictures Of Beautiful Places To Visit
If you run an image search on the Internet for "Thailand pictures," you'll notice that particular images keep popping up. There appear to be certain images of the Land of Smiles that people simply cannot resist taking. To be fair, they're beautiful photos, and many of our photographers have succumbed to the same urge.
We're willing to guess that if you've been to Thailand previously, you've taken at least one of the classic photos you can't help but shoot in Thailand. Because it is such a beautiful place, it doesn't even take the talents of a professional photographer with expensive equipment to get stunning photos. All you need is a smartphone and a trip to Thailand.
November through February is Thailand's peak season when the weather is often at its finest around the nation. The dry season in northern Thailand is between November and May; substantial rainfall occurs from June to October, and temperatures are colder between October and January.
The south may be divided into two sections: the wettest months on the west coast are April and October, while the wettest months on the east coast are September through December. Throughout the rest of the year, dry, sunny weather is the norm.
Thailand Pass registration is now open, and new applications for the Test and Go, Sandbox, and Quarantine entry programs are being accepted.
Travelers who have been vaccinated and who left from a country that is not Thailand will be allowed to enter the country with or without quarantine.
Travelers from any nation who are fully vaccinated are permitted to enter Thailand without being quarantined. The following are the requirements: Must have been fully vaccinated for at least 14 days before traveling; must book a SHA+ hotel for Day 1 while awaiting the results of the RT PCR COVID test; must have COVID-19 insurance.
Travelers who are fully vaccinated and enter Thailand from any country are not obliged to undergo a mandatory quarantine. They may only enter Thailand through the Phuket and Samui Sandbox programs. Before they may go to other regions of Thailand, visitors must stay for seven nights at an approved SHA Plus hotel in Pattaya, Phuket, Khao Lak, Krabi, Samui, Koh Phang Ngan, or Koh Tao. As of April 1, 2022, The sandbox stay will be reduced to 5 nights.
International tourists who are not completely vaccinated or who are unvaccinated will be compelled to spend 10 days in a designated quarantine hotel in Bangkok, Samut Prakan, Pattaya, Phuket, or Samui before being allowed to travelto other regions of Thailand. The obligatory quarantine period will be shortened to 5 nights as of April 1, 2022.
Thailand, being one of the world's most popular tourist destinations, is home to some genuinely stunning sights. Many people associate Thailand with white sand beachesand palm trees, but the country also has tropical rainforests, mist-covered mountains, and fascinating historic ruins. Here are a few of the most stunning sights to view.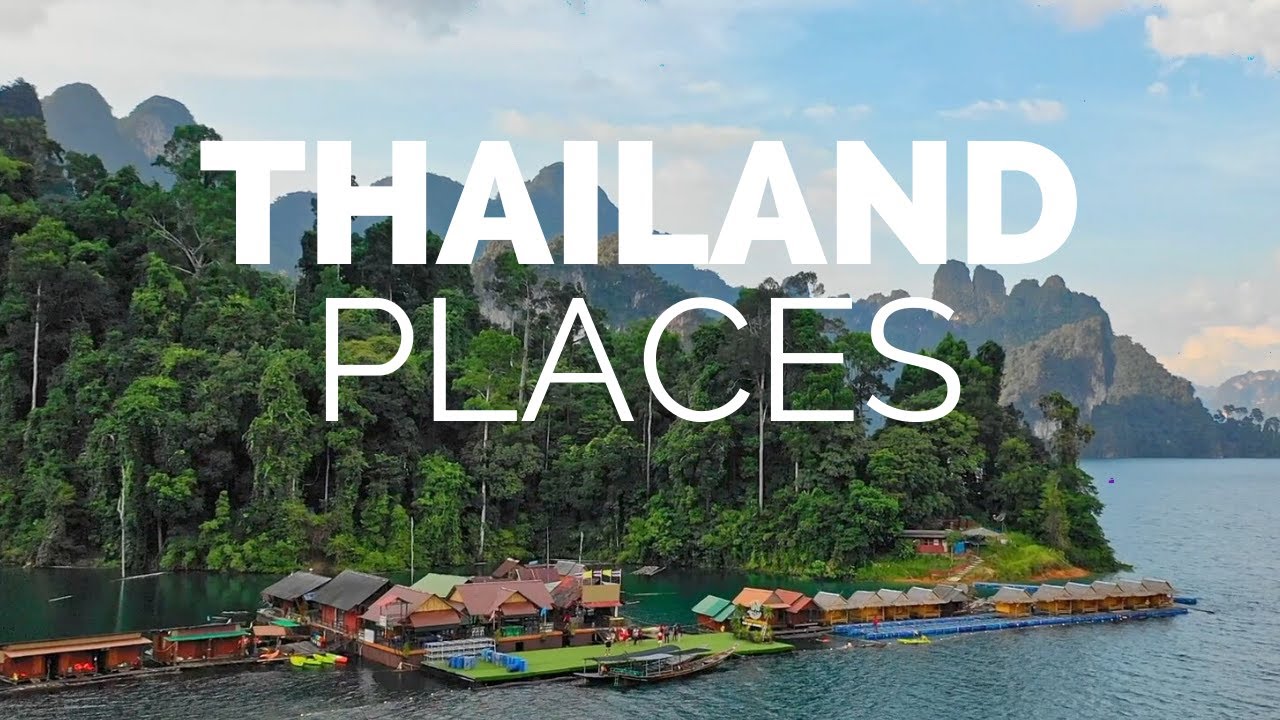 10 Best Places to Visit in Thailand - Travel Video
So many people recommended Koh Tao when I was trying to figure out where I wanted to go island hopping in Thailand. This lovely little island is well-known for its fantastic open-water diving and low-cost diving certification training.
Beaching, hiking, stand-up paddleboarding, and just plain relaxing are among the greatest things to do on Koh Tao, aside from excellent snorkeling and diving. It doesn't have the same party atmosphere as Koh Phangan, so it's a more laid-back island getaway.
The Ang Thong National Marine Park is a beautiful and well-protected archipelago of 42 tiny islands. You'll need to plan an organized day excursion to view the top attractions in the park. The majority of visitors arrive at Koh Samui, Koh Tao, or Koh Phangan.
Koh Mae Ko, the Green Lagoon, and Ko Thai Plao are among the top sites to visit in Ang Thong. On a boat excursion around Ang Thong, take in stunning views while snorkeling, kayaking, and more.
Koh Phangan is a backpacker's paradise and is regarded as one of Thailand's greatest islands. It is well-known for its famed full-moon celebrations, which take place on Sunrise Beach every full moon. If that's your thing, the beach becomes crazy packed with intoxicated people, and I've heard it's a lot of fun!
If you're not into loud partying, there are also some peaceful beacheson the island's north shore. For a little tranquility, I recommend staying near Hat Khuat and Hat Thian, and if you're seeking to avoid crowds, you might want to forego a visit around the Full Moon.
This peninsula of limestone crags, only accessible by boat, is a lovely spot for a relaxing break in the middle of your Thailand vacation. Railay is a one-of-a-kind destination for adventurous diving, kayaking, and rock climbing, as well as simply resting at your resort.
This 250-meter-high limestone waterfall cascades down from Huai Klotho into the UNESCO-designated Umphang WildlifeSanctuary. The Thi Lo Su Waterfall is said to be Thailand's largest and tallest waterfall.
It is Thailand's most extensive wildlife sanctuary, as well as Southeast Asia's most intact virgin forest when combined with the reserves and national parks. A rubber boat ride or a cave inspection is also available to visitors.
For a spectacular and immersive experience, visit this prehistoric cave, which is one of Thailand's largest. The Tham Lot Cave is a magical underground site that can be explored on a raft in the Pang Mapha District, northern Thailand.
It is noted for the Nam Lang River running through it. People come to Tham Valley for the Column Cavern, Doll Cave, ancient clay ceramics, and Coffin Cave with carved teak wood coffins, in addition to the spectacular stalactites, bats, and swifts.
The Ko Phi Phi Islands are a group of tiny islands located off the coast of Phuket, Thailand. They boast some of the world's most beautiful beaches, notably Maya Bay, which was featured in the film "The Beach."
Relaxing on the beaches, taking boat excursions, or participating in water sports like diving, snorkeling, and kayaking are just a few of the activities available on the islands. The day doesn't finish at night at the beach bars, where you may enjoy fire dances, music, and other forms of entertainment.
The Ko Phi Phi Islands have a wide range of places to stay, from hostels to mid-range hotels to more remote luxury resorts.
Bangkok, Thailand's capital, is a popular starting point for visitors to the nation. The city's nightlife, marketplaces, gorgeous temples, and historic landmarks are all well-known. The Grand Palace, for example, is home to Thailand's priceless Emerald Buddha. Bangkok has a lot of markets, street food, and other things to do that appeal to a wide range of people.
Getting about the city is quite simple, utilizing the MRT subway, taxis, or tuk-tuks. However, you should allow plenty of time for traffic on the day of your departure flight.
Phuket is located on the country's southwest coast and offers visitors over 30 gorgeous white-sand beaches as well as several luxury resorts. Patong, a beach resort town where you may relax in the sun during the day and then go out at night to one of the hundreds of bars, restaurants, and nightclubs, is one of the most popular.
In Phuket, you have the option of staying in Phuket Town, the province's capital. It's a good place to stop and explore the town, as well as observe the colorful facades along Thalang Road, before traveling to the islands of Ko Phi Phi.
Visitors may walk among the eerie yet enchanting remains of Ayutthaya, which provide a wonderful glimpse into ancient Thailand's splendor.
The historic palaces and temples at Ayutthaya testify to the fact that it was once Thailand's most prominent metropolis. The park has over a hundred wats, chedis (Thai-style stupas), prangs, and hundreds of Buddha sculptures. Some places, like the temple with a 12-meter-long reclining Buddha and tree roots around a Buddha's head, are very beautiful and should not be missed when you're in Japan.
Ayutthaya is only a short bus or train ride from Bangkok, making it ideal for a day excursion if time is of the essence. If you have more time on your hands, plan on spending a few days in the historic capital and renting a pushbike to visit both the old and modern cities.
From November to early April, the cold and dry season, when temperatures vary from 84°F to 97°F, is the best time to visit Thailand. However, because of the climate changes around the country, you may come at any time of year.
For those who employ common sense, Thailand is a pretty secure nation. Those who do not comply risk being conned, becoming ill, being detained, or suffering serious injuries. Thailand's roadways are the most hazardous in the country.
Thailand's palm-fringed beaches and blue waters are well-known, but this tropical paradise has a lot more breathtaking beauty to offer beyond its boundaries. Thailand is a traveler's paradise, with everything from island hopping to gold-tipped Buddhist temples and ruins to rough beaches.
Pack your camera and be ready to capture the Thailand picturesof a lifetime, whether you're seeking jungle-topped islands, a glimpse of the rural heartland, or the warm feel of sand between your toes.
Share:
Twitter

|
Facebook

|
Linkedin