The Ultimate Galapagos Islands Travel Guide For 2022
The Galápagos archipelago is located about 620 miles west of Ecuador's mainland and has more than 120 isolated islands, islets, and rocks that are ripe for exploration. However, with so much to see and do on this secluded chain of islands, you'll have to be picky about which ones you visit. On Santa Cruz Island, visit El Chato Tortoise Reserve or Rancho Primicias to learn about the Galápagos' distinctive dome-shaped tortoises. After that, head east to the Charles Darwin Research Station for further information on Darwin's work.
If you want to see sea lions, head east to San Cristóbal Island, where the friendly beasts have noisy chats on the powdery white dunes. Hike the active and majestic Sierra Negra Volcano on Isabela Island for a more severe adrenaline experience. Bring your camera with you wherever your Galapagos trip takes you.
Want to know more about the Galapagos islands? Let's dig out more in this Galapagos islands travel guide.
The Galapagos Islands are a year-round location that may be visited and cruised in any month. Each month has its own set of benefits (learn more below). However, experts agree that the best time to visit the Galapagos Islands is from December to May when the islands are less crowded.
COPYRIGHT_BUG: Published on https://www.bugbog.com/galapagos-islands-travel-guide/ by Velma Battle on 2022-04-06T02:11:56.982Z
Why? The ocean conditions are clear, warm, and ideal for snorkelling and diving throughout these months, which coincide with the warm season. Tropical rains break up the strong light, keeping the flora green and the fauna lively.
From June to November, on the other hand, colder, nutrient-rich ocean currents generate a dry maritime effect. Tropical rains are replaced by fog in the cooler months, and trade winds can generate turbulent seas, but it's still a great time to go trekking and see active marine life.
The following is a detailed month-by-month guide with travel tips on Galapagos weather, seasons, water temperature, rainfall, and fauna. The advantages of each month will prompt you to choose the optimum time to visit the Galapagos.
The average flight duration to the Galapagos Islands is 1.5 to 2.5 hours, depending on where you embark from on the mainland (Quito or Guayaquil). But, more significantly, when visiting the Galapagos, bear the following in mind:
All mainland (Quito and Guayaquil) flights to the Galapagos depart in the morning and arrive in the Galapagos at about noon. Flying into the Galapagos Islands will cost you half a day.
All return flights to Ecuador's mainland depart early in the morning, requiring you to be at the airport early. This also implies that you'll have very little time on your last day to do anything. On this final day, most Galapagos cruises and hotels will (at the absolute least) give visitors an early morning breakfast and/or (at the very most) try to squeeze in one more morning excursion. This means you'll be flying out of the Galapagos for nearly a whole day.
In total, simply getting into and out of the Galapagos takes around 1.5 days! As a result, we usually recommend at least 5 days to get a good feel of the Galapagos' diversity and otherworldly landscapes, and a minimum of 7 days to gain an even better and more thorough understanding of the Galapagos' richness and otherworldly landscapes. By combining two or all three of our cruise itineraries for any of our boats, you can get the whole experience.
A one-week vacation to the Galapagos Islands typically costs roughly $774 per person. So, a one-week vacation to the Galapagos Islands for two individuals costs roughly $1,548, In the Galapagos Islands, a two-week tour costs $3,095 for two people. When travelling as a family of three or four, the cost per person frequently decreases since children's tickets are less expensive and hotel rooms may be shared.
Your daily budget will decrease if you travel slower over a longer period of time. In the Galapagos Islands, two people travelling together for a month might frequently have a lower daily budget per person than one person travelling alone for a week.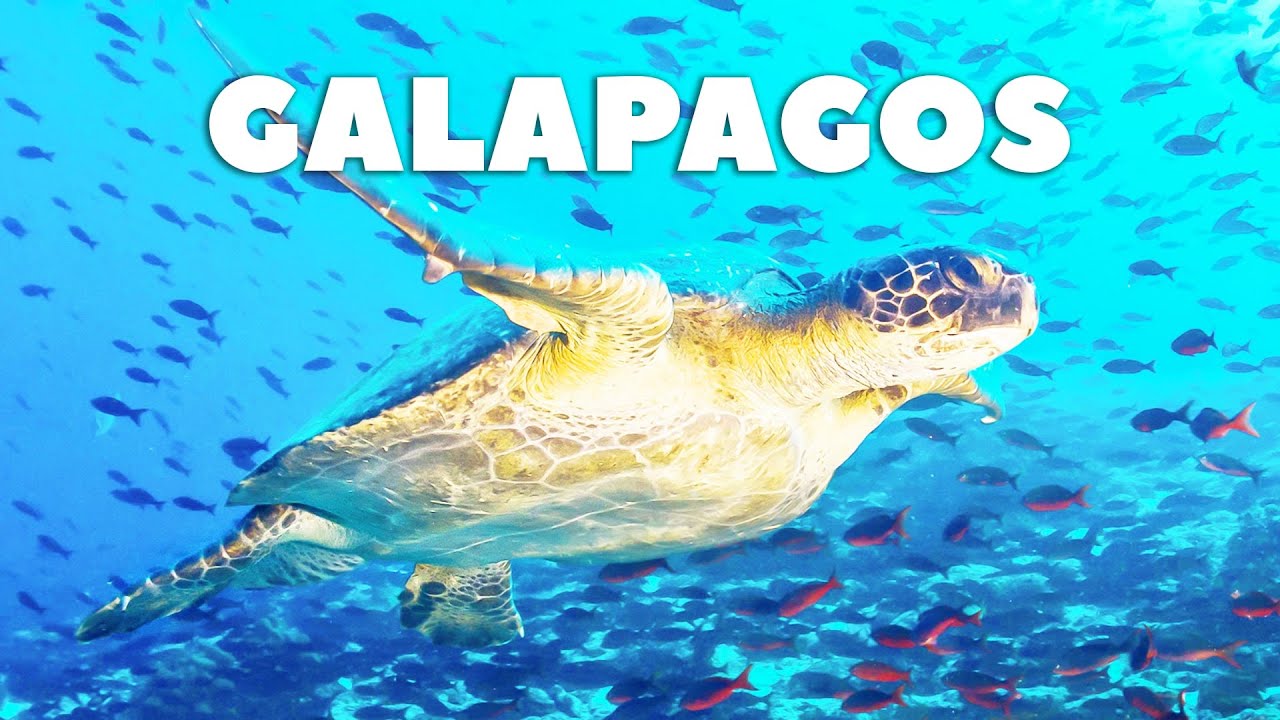 How to get to the Galapagos Islands - All you need to know
The Galapagos Islands are only accessible by plane for visitors. Visitors must fly from Ecuador's mainland to the Galapagos Islands. A tourist-class voyage from the mainland is not possible, and there is no road or ferry service.
When deciding how to go to the Galapagos, you must first decide whether you want to explore by land or by boat once you arrive. The main modes of exploration are Galapagos cruises and Galapagos land trips.
Knowing your schedule can aid you in determining how to go to the Galapagos Islands, as both often demand precise arrival dates and frequently group flights. Second, you must decide whether to fly to the Galapagos from Guayaquil or Quito.
Fish and seafood are plentiful and very fresh in this area, which is home to one of the world's most diverse marine ecosystems. Many people forget or are unaware that the Galapagos Islands are part of Ecuador.
As a result, rice, pork, Andean potatoes, and other Ecuadorian staples are regularly served in homes and restaurants. There's also the fruit. Ice creams, drinks, cocktails, and other delectable concoctions are made using exotic kinds not typically available outside of the tropics, such as lemony naranjilla and sweet yet sour guanabana.
We all have our own comfort foods that we want from time to time. If you're looking for something more familiar, like a piece of pizza or a plate of spaghetti, the Galapagos Islands can accommodate you.
Avenida Charles Darwin in Puerto Ayora is lined with restaurants selling foreign cuisine as well as Ecuadorian classics. Many hotels and cruise ships serve foreign cuisine in addition to local favourites.
The Galapagos Islands are a true adventurer's paradise, with plenty of trekking, sightseeing, diving, and exploration to keep you busy. There is something for everyone, from watching the strange animal life play in the water and high in the sky to contemplating the various scenery that dot the various islands. All that remains is to decide which of the 19 islands to visit first.
Isabela is the biggest island in the Galapagos archipelago, accounting for more than 58 percent of the archipelago's total landmass. The Galapagos Islands are a beautiful place, but not many people go there or live there.
It is one of the Galapagos' newer islands, dating back roughly one million years, and consists of many periodically active volcanoes, one of which is Volcan Wolf, the Galapagos' highest peak at 1707 metres (5600 feet).
The Wolf, Cerro Azul, Darwin, Alcedo, Sierra Negra, and Ecuador are six shield volcanoes (large volcanoes with gently sloping sides) that formed the island. With the exception of Ecuador, all of these volcanoes are still active today, making Isabela Island one of the most volcanically active areas on the planet.
In terms of vegetation and wildlife, it's also one of the most intriguing. Isabela Island lacks the same plant zones as the other islands due to its youth, and it still has huge lava fields and dry volcanic summits.
It is home to the islands' biggest population of wild Galapagos tortoises, which includes many subspecies, as well as a diverse range of wildlife, including the Galapagos penguin, flightless cormorants, and pink flamingos.
San Cristobal Island has a lot to offer tourists, with a diverse range of places to see and activities to participate in. Galapagos fauna may choose from a variety of environments, including pristine beaches and rocky islets, as well as lush, rich highlands.
Visitors may stay overnight, dine, and enjoy the nightlife on San Cristobal, one of the few inhabited Galapagos islands. San Cristobal Galapagos is a wonderful island to include inland trip itineraries, and it is also frequently included in cruise itineraries. The laid-back atmosphere on the island, as well as the nice residents, will make you want to stay longer!
The island of Santa Cruz is part of Ecuador's Galápagos National Park. El Garrapatero, for example, is noted for its sandy beaches. The archipelago's tourism centre is the town of Puerto Ayora.
The Charles Darwin Research Station offers a breeding programme for endangered giant tortoises that dwell in the El Chato Reserve in the wild. Sea turtles and marine iguanas frequent Tortuga Bay. Inland, the volcanic calderas of Los Gemelos and a lava tube may be found.
Santa Fe Island is a favourite among Galapagos travellers since it has everything for everyone. The scenery at Santa Fe is stunning, with a gorgeous blue lake bay and massive prickly pear cactus woods.
Santa Fe Island is home to the most indigenous animal species of any Galapagos island. Trekking, snorkelling, and diving are among the tourist activities available. What's not to appreciate about that?
South Seymour Island, commonly known as Baltra Island, is a tiny island off the coast of Santa Cruz. There is an airport here, but there are no visitor attractions or lodging. Many trips begin here, with passengers being welcomed at the airport and transported to their boats.
During World War II, the US military built Baltra airport to safeguard the Panama Canal from German attack. Much of the island's fauna was wiped off during this time, and land iguanas were just recently reintroduced and may again be spotted near the airport.
Baltra is being used as an Ecuadorian navy facility and is not part of the Galapagos National Park.
According to most experts, the best time to visit the Galapagos Islands is from December to May. Why? The ocean conditions are clear, warm, and ideal for snorkelling and diving throughout these months, which coincide with the warm season.
On several Galapagos Islands, you can spend the night. Santa Cruz, San Cristobal, Isabela, and Floreana are the four islands mentioned. The archipelago's other islands and islets are uninhabited by people and do not allow overnight stays.
A trip to the Galapagos Islands should be one of the most memorable trips you have ever taken! What's not to appreciate about that?
You'll be exploring one of the world's most pristine wildernesses with wildlife that has yet to learn to fear humans. You'll be surrounded by beautiful scenery and have the chance to reconnect with nature away from the stress of modern life while travelling with other people who share your interests.
to guarantee that it is genuinely a once-in-a-lifetime wildlife experience, to reduce the human impact on the islands, and to ensure that the Galapagos' unique environment is maintained, perpetuated, and safeguarded. As a result, avoid engaging in prohibited activities. The Galapagos Islands travel guide is all about that. I hope you found it entertaining.
Share:
Twitter

|
Facebook

|
Linkedin