Music To One's Ears – In Dorset, Bournemouth Beaches Impress
If you're going to Dorset, Bournemouth beaches will make you stay longer.
In addition to that, according to Hotels.com, Bournemouth is famous for having a strong music scene. It has earned the reputation of being one of the greatest venues outside of London to attend major concerts and shows.
A major and popular beach resort in the county of Dorset in southwest England, Bournemouth town is generally green, prosperous, and devoid of both heavy industry and violent crime. According to a bank study conducted in 2007, Bournemouth was the happiest place in the United Kingdom.
A chine runs along the length of the principal promenade of Bournemouth, approaching every couple of hundred yards. They include Alum Chine, Branksome Chine, Durley Chine, Honeycomb Chine, and Middle Chine.
A chine, by the way, is a small river valley formed when a river no longer flows past coastal cliffs to reach the ocean.
COPYRIGHT_BUG: Published on https://www.bugbog.com/dorset-bournemouth-beaches/ by Velma Battle on 2022-04-04T02:51:38.356Z
By rail or the M3 highway, the town is easily accessible and only 100 minutes from London by car.
When in Dorset, Bournemouth beaches will help you forget about the noise in London.
Compared to any other place in the United Kingdom, in Dorset, Bournemouth beaches have earned more accolades for cleanliness and safety than any other. One of them is the "Best Beach In The UK" award given by Environmental Campaigns or ENCAMS (now known as Keep Britain Tidy).
In a massive channel dredging operation carried out by the councils of Bournemouth and Poole years ago, the mud from the bay was sprayed onto the beaches in huge quantities (700,000 cubic meters) and mysteriously transformed into fine sand a few days later.
As a result, in Dorset, Bournemouth beaches are now around 20 meters wider, and the sand is approximately 2 meters deeper.
According to Tripadvisor, the best beaches in Bournemouth include the following:
(a) Alum Chine Beach
(b) Bournemouth Beach
(c) Hengistbury Head Beach
(d) Mudeford Sandbank Beach
(e) Southbourne Beach
These beaches were also mentioned in the list of best Bournemouth beaches by Expedia. It also included Boscombe Beach, Canford Cliffs Beach, and Shore Road Beach.
As previously claimed by this article, in Dorset, Bournemouth beaches will help you feel calm and be relieved from the noise of urban living.
Dorset Travel Guide recommends the following beaches near or in Bournemouth known for their tranquil ambiance:
(a) Avon Beach (Mudeford, Christchurch)
(b) Barton-on-Sea (Hampshire)
(c) Hengistbury Head Beach (Bournemouth)
(d) Shipstal Beach (Arne)
(e) Swanage Bay (Swanage)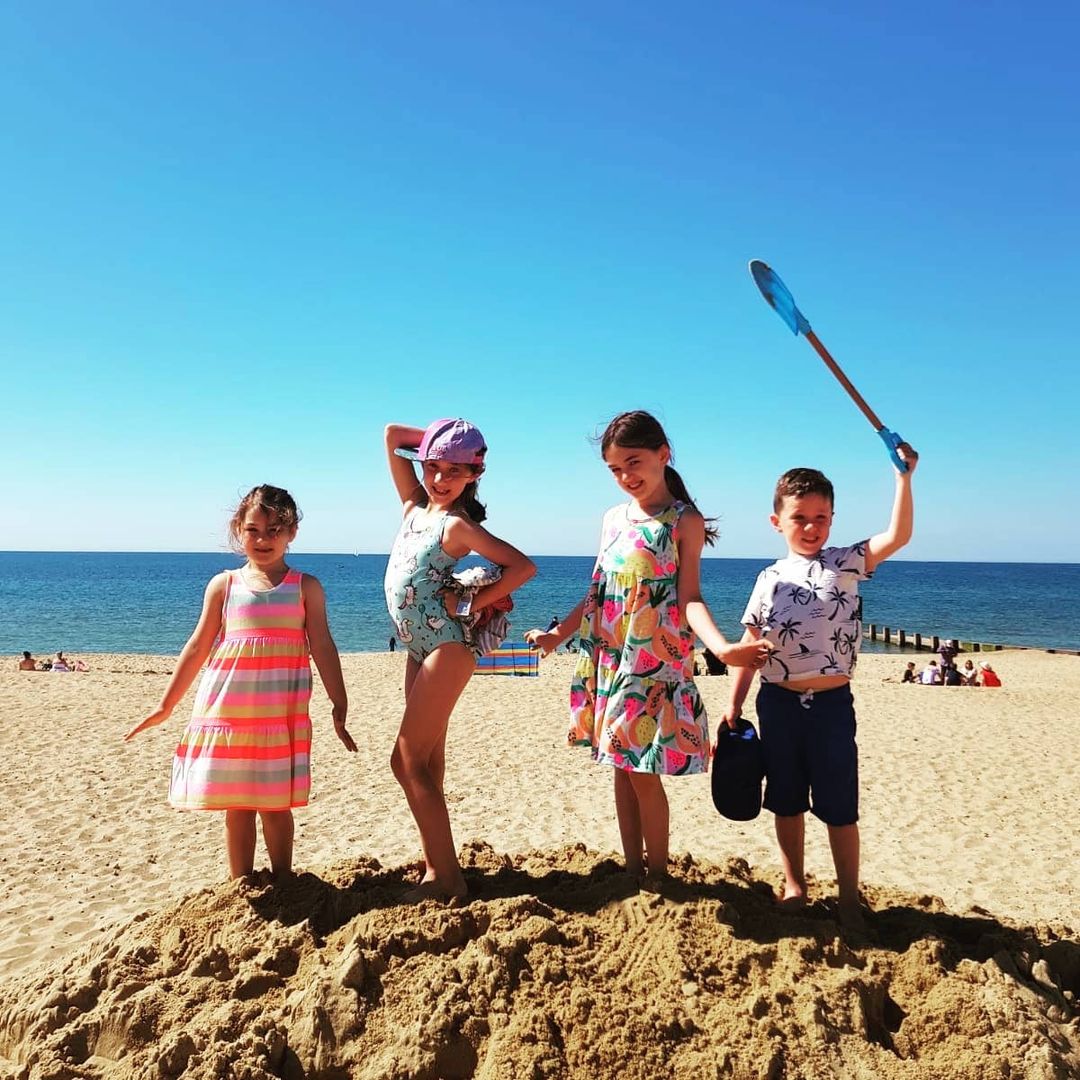 Three female children and a male child strike a pose on top of sand heap at Southbourne Beach in Bournemouth
According to the UK Beach Guide, in Dorset, Bournemouth beaches are mostly sandy beaches that have a coastline that stretches up to seven miles.
The following beaches, according to PicturesofEngland.com, are the sandy beaches in Bournemouth:
(1) Alum Chine Beach
(2) Avon Beach
(3) Durley Chine Beach
(4) East Cliff Beach
(5) Fisherman's Walk Beach
(6) Southbourne Beach
(7) West Cliff Beach
Whenever in Dorset, Bournemouth beaches should not be missed.
In 2018, BBC reported that Bournemouth is the best beach in the U.K. A couple of reasons could be for being a kid-friendly area, where smoking is not allowed.
So, if you're planning to visit Dorset, Bournemouth beaches will definitely make you fall in love with the place as well as with its music.
Share:
Twitter

|
Facebook

|
Linkedin