Angkor Wat - Photos, Facts And Details About The Lost Temple Of Cambodia
The Khmer temple complex at Angkor Wat, only 3.7 miles outside of the busy Cambodian city of Siem Reap, is one of the most stunning archaeological sites in Southeast Asia, if not the globe.
Angkor Archaeological Park, which originates from the 12th century and was designated as a UNESCO World Heritage Site in 1992, attracts over two million people each year.
In 2007, researchers discovered that Angkor, which covered 402 acres, was once the world's biggest pre-industrial metropolis.
The major Angkor Wat site, which is the easiest to get, is a tourist haven, but the surrounding forest is home to a slew of lesser temples and decaying, unrestored ruins.
Here's how to make the most of your vacation to this memorable site, from visas, park admission, and the ideal times to visit to which temples you should see, what to dress, and how to snap the perfect dawn images. Here are the best Angkor Wat photos.
Angkor Wat is devoted to the Hindu deity Vishnu, one of the Hindu pantheon's three main gods (Shiva and Brahma are the others).
He is regarded among them as the "Protector." King Suryavarman II, whose name means "protector of the sun," was Angkor Wat's most important sponsor.
Many academics think that Angkor Wat was designed to function as the king's tomb in death as well as a temple devoted to Vishnu.
Angkor Wat's construction most likely started in 1116 C.E., three years after King Suryavarman II took the throne, and ended in 1150, soon after the king's death.
The architectural architecture and artistic style of the temple and its related sculptures, as well as ambiguous inscriptions, provide evidence for these times.
The construction of temples by Khmer monarchs was a way of legitimizing their claim to political authority as well as claiming the gods' protection and powers.
Hindu temples are not places for religious gatherings; rather, they are the dwellings of the gods.
A king had to establish that the gods did not back his predecessors or adversaries in order to claim his political position.
To do this, the monarch had to construct the most magnificent temple/palace for the gods, one that was more opulent than any prior temple.
By doing so, the monarch could demonstrate his power to harness energy and resources for the temple's construction, as well as declare that his temple was the only spot on earth where a deity would contemplate dwelling.
The construction of Angkor Wat is said to have required the services of 300,000 people, including architects, construction workers, masons, sculptors, and servants to feed them.
The site's construction took more than 30 years and was never completed. The site is completely made of stone, which is astonishing given that practically every surface of the temple has been polished and carved with narrative or ornamental features.
Angkor Wat, the world's biggest religious monument, was built under the command of Khmer King Suryavarman II in the early 12th century.
It is so significant that it appears in the middle of the Cambodian flag. It was designed to be Earth's equivalent of Mount Meru, the sacred abode of Hinduism's most significant deities.
Despite being damaged during regional battles, the complex, which includes over 72 temples and monuments, has endured for centuries and is now a popular tourist attractionin Cambodia.
People go from all over the globe to see the beautiful carvings and creative embellishments that decorate the temples.
The temples were erected by 300,000 laborers with the aid of more than 6,000 elephants, and sandstone was mined and transported down the river on rafts from a holy mountain 31 miles distant.
The complex covers more than 400 square kilometers and served as the capital of the Khmer Empire for many centuries; its name in Khmer means "temple city."
Various magnificent Buddhist temples, as well as ancient Khmer architecture and art, and several hydraulic features including as canals, reservoirs, basins, and a moat, may be found today.
A tourist visa is required for all travelers to Cambodia, which may be obtained online or at the airport.
You may also receive one as soon as you enter the border overland. If you pay the $30 charge in Thai baht or euros, be careful to pay in precise quantities in US dollars, since dishonest authorities may seek for extra money based on fictitious exchange rates.
Note that immigration officers analyze U.S. dollars closely, and only crisp, fresh banknotes will be accepted (any with tears or defects may be rejected). For the visa application, you'll also need one or two passport-sized pictures.
You can buy a one-day pass for $37, a three-day pass for $62, or a seven-day pass for $72 at Angkor Archaeological Park.
You can pay cash (ATMs are available and U.S. dollars are accepted, though change is given in Cambodian riel) or with any major credit card except American Express.
You'll need at least a three-day permit to truly enjoy the monument without hurrying about since there are so many isolated temples and ruins away from the main Angkor Wat tourist site.
Consider hiring a guide or attending a tour to have a better understanding of what you're seeing.
In an ideal situation, you'll have enough time to hire an independent guide for one day, then return to your favorite sites to appreciate them without being rushed.
Guides are meant to be certified and may be hired for roughly $20 per day, but there are plenty of rogue guides eager to take advantage of tourists. Hire someone who has been suggested by your hotel or via a travelagency to be safe.
Grab one of the mapsor pamphlets that describe each place if you want to travel alone. The book "Ancient Angkor," which can be purchased near Angkor Wat (the airport sells pricey versions), is definitely worth the tiny price, as its history and insights will enrich your visit.
If you choose a driver who isn't also a guide, make sure you know where to meet them as you depart a temple - finding the one you hired might be difficult with hundreds of guides waiting outside in tuk-tuks.
Flying into Siem Reap from Southeast Asian cities like Bangkok and Kuala Lumpur might be expensive, but it eliminates a slew of roadside scams, including shady bus companies, taxi rip-offs, and the possibility of being overcharged for your visa by crooked immigration officers.
If you must, the bus ride from Bangkok to Aranyaprathet, Thailand, takes around five hours, depending on traffic.
It may take a long time to clear immigration, and you'll want to avoid being delayed in the region after the border shuts at 10 p.m. (guesthouses are available but are pretty worse for wear).
To go to Siem Reap from Poipet on the Cambodian side, you'll need to take a bus or cab for 2.5 hours.
Siem Reap is a famous tourist destination in and of itself, and also serves as an excellent base for exploring Angkor Wat, which is just around 20 minutes away.
While the main site is close enough to reach by bicycle, those who aren't keen on cycling in Cambodia's sweltering heat can take a tuk-tuk, hire a driver for the day, or rent a motorbike to get between temples - the latter option offers the most flexibility, but you'll need to drive with vigour.
November through March are the finest months to visit Angkor Wat. Following that, the heat and humidity rise until the rainy season starts in May.
Although traipsing about in the wet to view outdoor temples isn't as pleasurable during the monsoon season, you may still travel.
December, January, and February are normally the busiest months, whereas March and April are excessively hot and humid, attracting fewer visitors.
Cambodia's weather is typical of Southeast Asia, hot and dry or hot and rainy with a side of humidity, so expect to sweat and rehydrate often.
Although picking a favorite among the hundreds of Angkor temples scattered over Cambodia is difficult, some are deemed more stunning than others.
Angkor Wat (the main site), Angkor Thom, Preah Khan, Banteay Srei, Bayon, Bakong, and Ta Prohm, which was featured in the "Lara Croft: Tomb Raider" movie, are by far the most popular temples of Angkor Archaeological Park.
Tourists and guides alike travel two major routes to explore the temples. Starting at Angkor Wat and continuing to Angkor Thom and its South Gate, Bayon, Preah Ngok, Baphuon, Phimeanakas, Sra Srei, the Terrace of Elephants, Victory Gate, Thommanom, Chau Say Thevoda, Hospital Chapel, Ta Keo, Ta Nei, Ta Prohm, Banteay Kdei, and Srah Srang, the Small Circuit is a 10-mile loop that The Large Circuit travels 16 miles from Phnom Bakheng (near Angkor Wat) to Baksei Chamkrong, Prasat Bei, the South Gate of Angkor Thom, the Terrace of the Leper King, Preah Palilay, Tep Pranam, Preah Pithu, the North Gate of Angkor Thom, Banteay Prei, Preah Khan, Neak Pean, Kroi Ko, Ta Som, East Mebon, Pre You will not be disappointed with any of the circuits.
More information about visiting Angkor Wat's must-see temples may be found in our article.
Because Angkor Wat is the world's greatest religious monument, remember to be polite in the temples and dress modestly during your tour, covering your shoulders and knees.
Wearing revealing attire or shirts with Hindu or Buddhist religious themes is not recommended (e.g., Ganesh, Buddha, etc).
When you see how many monks prowl the temples, you'll be pleased you dressed modestly.
Although flip-flops are popular in Southeast Asia, the steps to the highest levels of temples are steep and perilous, and paths may be slick, so if you'll be climbing, take hiking boots.
A hat will keep the heat off your face, but it should be removed in particular locations to show respect.
Tattooed people should not be concerned about exposing too much ink, particularly if they cover their shoulders and knees like everyone else.
Unfortunately, like many other important tourist attractions across the globe, Angkor Wat is riddled with frauds. Inside the temples, be aware of anybody approaching you, particularly if there aren't many other people there.
Tourists are sometimes approached by off-duty police officers in uniform who give information about a specific temple or just beg for a bribe. Make every effort to avoid interacting with them.
Some con artists take advantage of the fact that visitors have no idea how things function in this country.
Official tuk-tuk and motorcycle taxi drivers must wear colorful vests, so avoid taking a ride from anybody who is not wearing one.
You won't have to pay extra admission fees after you've purchased an access card, so don't trust anybody who asks for more money at temple doors or to ascend the stairs to the higher floors.
Other con artists take advantage of visitors' desire to assist the community. Allow no incense sticks, bracelets, or gifts to be given to you by monks or anybody else, since they will ask for a contribution following your contact.
Although buying books, postcards, and bracelets from the relentless youngsters pitching them may seem to be a good way to assist, it isn't sustainable and promotes a criminal business (they are compelled to sell by profiteers).
Otherwise, small scams targeting newcomers abound at Thailand-Cambodia border crossings, with many based on the visa procedure and the cash you use to pay.
Most overland bus journeys offered to backpackers from Bangkok's Khao San Road are riddled with scams; some buses have even been known to "break down" in the middle of the night, forcing you to spend the night in an expensive hotel until the border reopens the following morning.
Other bus firms make a pit stop at an office or café before crossing the border, forcing passengers to pay for a visa application (which is free at the actual border).
If you find yourself in this circumstance, explain unequivocally that you will not apply for a visa until you reach the border.
Because it's such a popular place, you'll almost certainly have other people in your photograph and will have to queue for shots at popular locations (for instance, at a tree that was featured in the "Lara Croft: Tomb Raider" movie).
To get the best shot of Angkor Wat at dawn, bring a monopod or tripod, and don't be afraid to experiment with photography aspects like lighting, shadows, or various angles of view to make your travel photos more fascinating. Just in case, pack additional batteries (or a portable charger for your phone).
While the major Angkor Wat complex is frequently bustling with visitors, smaller, more difficult-to-reach temples like as Ta Keo, Neak Pean, Thommanon, Banteay Semre, East Mebon, and Srah Srang may be almost deserted.
With fewer visitors (and signs reminding them what not to do) in the backdrop, you'll have far better picture chances.
You'll need to hire a guide or driver to go to some of the secondary temple locations unless you're comfortable with a scooter rental and map.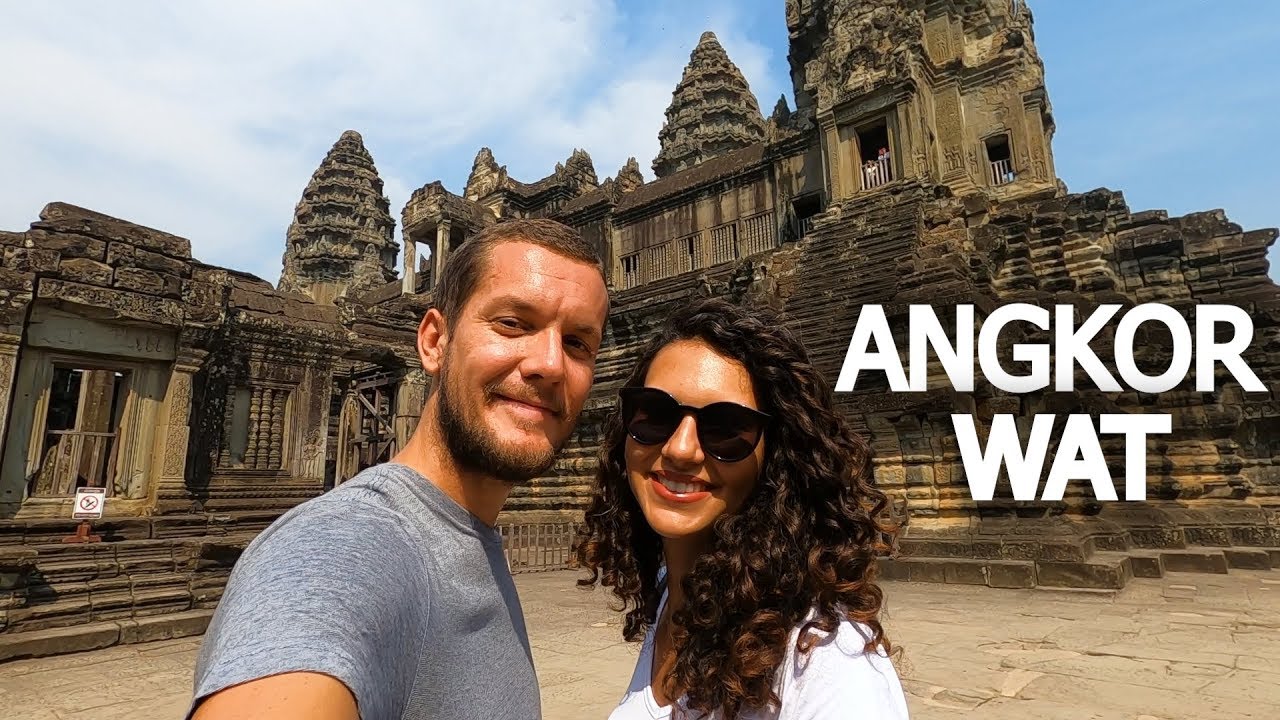 VISIT THIS PLACE BEFORE YOU DIE: ANGKOR WAT (CAMBODIA) 🇰🇭
Angkor Wat is a massive religious complex with over a thousand structures that is considered one of the world's great cultural marvels.
Angkor Wat, at 400 acres (160 hectares), is the world's biggest holy edifice and the pinnacle of Khmer construction.
The reason for the fall of the Angkor kingdom in the early 15th century has long been a mystery.
However, experts have since discovered that heavy monsoon rains that followed a lengthy drought in the area wreaked havoc on the city's infrastructure, eventually causing it to collapse.
The temple is now part of the Angkor World Heritage Site and is regarded one of the world's seven wonders. In Khmer, the word Angkor Wat means "Temple City."
The Bayon Temple, which had towers totally plated in gold, is still one of Angkor's most stunning structures.
The Preah Khan Temple alone was claimed to be stocked with 60 tons of gold, worth billions in today's money!
Angkor Wat was completed in the first part of the 12th century, in the years 1110-1150, by Khmer King Suryavarman II, making it about 900 years old.
The temple complex, which was erected in the Khmer Empire's capital, took around 30 years to complete.
Sunrise viewing of Angkor Wat's spectacular temples is a particularly popular pastime among tourists, owing to the gorgeous lighting and the fact that the sun is quite powerful in the afternoon.
To skip the pre-dawn ticket lineups, purchase your tickets the day before. Expect to be surrounded by people numbering in the hundreds or possibly thousands, particularly at the main Angkor Wat temple, which is the most popular viewing site.
Head to the adjacent Pre Roup, Phnom Bakheng, or Srah Srang temples, which all open at 5 a.m., for a less crowded alternative.
The remainder of the temples don't open until 7:30 a.m., so get a bite to eat or a cup of coffee from a nearby vendor and enjoy the moment while you wait.
Share:
Twitter

|
Facebook

|
Linkedin