Natures Valley Beach - Five Things You Should Try
The Natures Valley Beach is a holiday resort along South Africa's Garden Route, which runs along the country's southern Cape coast. It is located between the Salt River, the foothills of the Tsitsikamma Mountains, the Indian Ocean, and the Groot River Lagoon in the Nature's Valley region of South Africa. Nature's Valley is bordered by forested cliffs and encircled by the breathtaking natural beauty that makes it very popular in South Africa. Let's take a tour of this stunning beach and don't miss the five amazing things to do while enjoying the climate here.
A gully is a trench cut into the ground as a result of the erosion of a fast-moving water stream. You may explore this gully here on Natures Valley beach. A number of unique shark species can be discovered here including spotted gully sharks, also known as Sharptooth Houndsharks. These sharks can be found on sandy coasts, rocks, crevices, and in shallow bays, as well as in shallow, inshore seas up to the surf line. They are mostly nocturnal animals, but during the summer, they may cluster in large numbers in shallow water, most likely for the purpose of reproduction.
The Western Cape's coastline is home to a huge population of spotted gully sharks. On inshore sandy beaches, kelp forests, and rocky reefs, among other things, crabs, lobsters, tiny fish, and occasionally other sharks are preyed upon. In captivity, this shark is exceptionally powerful and versatile, making it an attractive addition to public aquarium exhibitions.
COPYRIGHT_BUG: Published on https://www.bugbog.com/natures-valley-beach/ by Velma Battle on 2022-04-10T14:41:40.782Z
This shark is strong in captivity and is highly adaptable, making it a desirable addition to public aquarium exhibits. The Spotted Gully Shark, also known as the Sharptooth Houndshark, has been classified as a non-threat to humans.
Nature's Valley is considered to be one of South Africa's natural wonders. Its serene atmosphere and breathtaking beauty are both humbling and awe-inspiring, and they serve as a tribute to South Africa's abundant natural resources.
The Kalander Kloof Hiking Trail is approximately 4.8 kilometers in length and begins directly across the road from the entrance to the de Vasselot camping site. The track leads hikers up Kalanderkloof Mountain, but it is not particularly challenging, requiring only a moderate level of physical fitness to complete. There is no charge for this hike, and you may complete it in approximately 2 hours.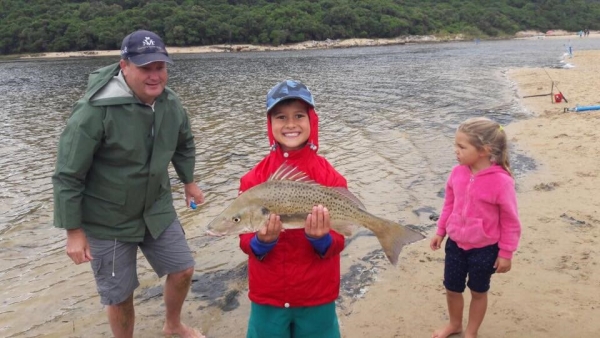 A family enjoying their stay at the natures valley and a male child is smiling at the camera while holding a large fish
Taking your children fishing in Nature's Valley's estuary is a wonderful experience! It is lovely and safe because it is not subjected to the vigor of the ocean waves. During the summer and Easter vacation programs, the management organizes fishing tournaments on the estuary's waters. The only thing you'll need to fish and bait here is a legal fishing and bait permit, which you can get from the local post office. This will teach you how to fish in a safe and responsible manner. This event is incredibly appealing and thrilling to both children and adults, and it is a wonderful family activity.
The Valley is home to Chacma Baboons, Vervet Monkeys, Bush Bucks, and Bush Pigs. Please do not feed the animals: they are cute and curious, but they are wild animals and can be aggressive. If you feed them, they will learn to associate your land with free food, causing long-term issues.
Often, people think that baboons and monkeys are bad animals, but if you keep an eye on them and close doors and windows when they aren't in use, you and your family can live peacefully with them.
Bird ringing (in the United Kingdom) or bird banding (in the United States) is the attaching of a small, uniquely numbered metal or plastic tag to the leg or wing of a wild species in order to allow for identification of that particular bird. This aids in the tracking of the bird's movements and the documentation of its life history.
Bird-ringing exemplifies how Nature's Valley Trust (NVT) engages the public through a combination of research and education. This is an excellent opportunity to become a part of the team and observe how they operate. Come up close and personal with the fluffy fynbos feathery buddies. Discover this spectacular, unique area, its amazing birdlife, and why it must be conserved and protected.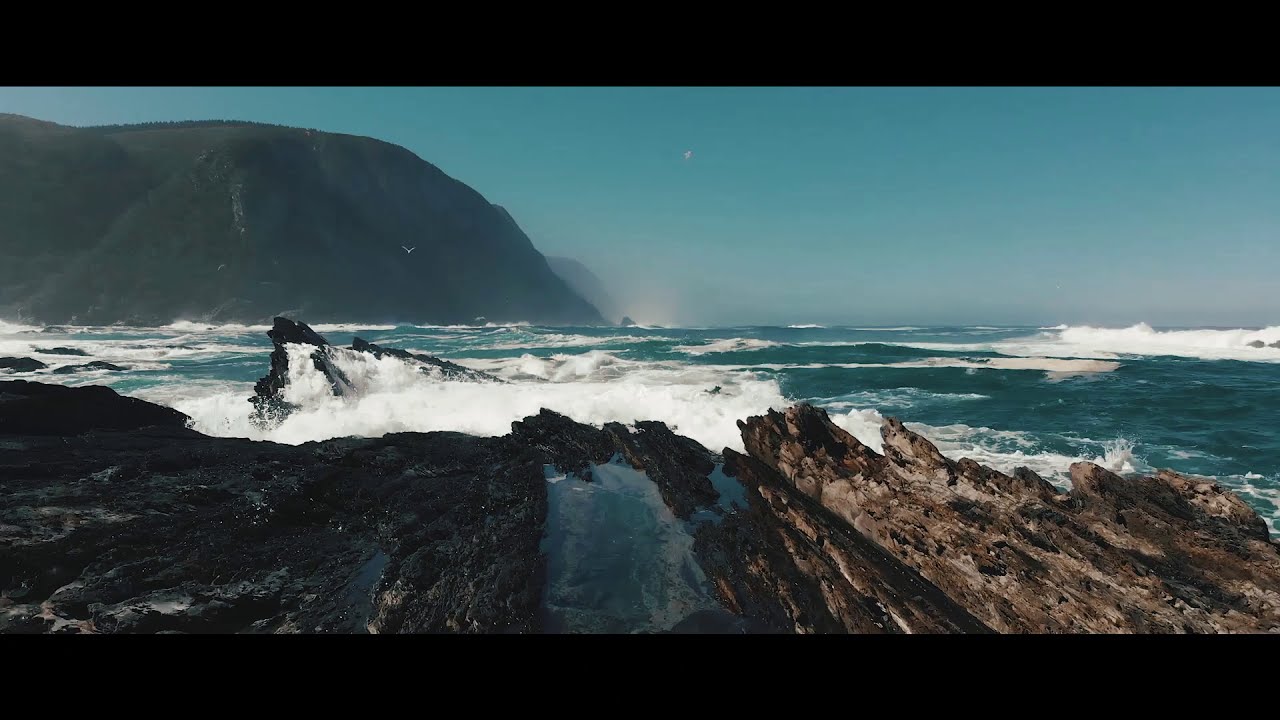 Come and Explore the Tsitsikamma
Environmentally, the Tsitsikamma forest is an amazing place to visit. It can also be called a coastal temperate rainforest or an Afromontane forest. On Platbos Reserve, there are many or all of the trees that are unique to this area, like the Real Yellow wood.
It is very quiet, but the sounds of the birds are very clear and enchanting. It lets dappled light through the forest canopy, but it also keeps the air moist enough to make it smell like earth and humus. The forest and open meadows are home to several bird species. If you are a bird watcher, you will enjoy the exquisite and extremely rare tauraco, which is commonly known as the Knysna lourie (Tauraco corythaix) in the forest, as well as several species of colorful sunbirds in the fynbos
Andrew C said: "A broad, long beach, great for exercising and relaxing. Listen to the sand as you walk; apparently, it squeaks."
Been a few places mentioned: "We visited Nature's Valley beach while hiking the Grootrivier trial, which starts near Nature's Valley Rest Camp. The circular hike of approximately 6km is wonderful, starting off in the forest before coming to a relatively easy river crossing (shoes off, trousers rolled up and about 30m of crossing-there is a chain rope to help if you need it-lots of fun) before arriving on the beach and heading back to the rest camp. The beach itself is rugged, long, and beautiful with a backdrop of cliffs, woods, and rocks. There's a lovely little lagoon too. The beach was being used by plenty of families when we visited and looks like a really relaxed place to spend the day. The hike itself was superb and highly recommended."
Uhleka commented: "This beach is amazing in so many ways. Uncrowded, warm, clean, and great to swim in. Stunning views and friendly locals."
RoelR admitted: "This beach is perfect for an easy and quiet day out. At any given moment there will be no more than ten people here! Big waves crashing down, beautiful mountains around, and the little lake at the far end side make a perfect playground for kids. Our rental house was just opposite the dunes, just a one-minute walk. Nature's Valley is a bit of heaven on earth!"
Nectar Cottage
Nectar Cottage is a self-catering accommodation in a South African National Park. Nectar Cottage is in Nature's Valley, the only settlement within a South African National Park, surrounded by woodland, a lagoon, and stunning beach, and the Indian Ocean. Nectar Cottage is fully equipped and sleeps 8. An excellent restaurant and supermarket are 250 meters away. Nectar requires a 3-night stay.
Natures Valley Guest House
Nature's Valley Guest House is only 30 kilometers from Plett, in the little hamlet of Nature's Valley, the only residential sector inside the Tsitsikamma National Park. It's completely unspoiled. Nature's Valley is made up of 400 residences, most of which are hidden among the woods, and offers unrivaled natural beauty, including 5 km of pristine beach, two lagoons, forest, and mountain treks, and is the starting and ending point for the famous Tsitsikamma and Otter Hiking Trails.
Kamma-Otter
For small groups visiting this beautiful portion of the Garden Route. Kamma-Otter is a self-contained unit connected to the main home by an exterior staircase. It contains 3 beds and 2 baths. The spacious lounge contains a TV with DStv and a well-equipped kitchen. The exterior balcony includes more seats and a barbecue. Enjoy a wonderful dinner while admiring the beautiful surroundings. Guests can also enjoy the adjacent beach or drive to Knysna and Jeffreys Bay.
For exhausted bodies and feet, this lovely beach is a wonderful vacation. Natures Valley beach is truly a fantastic area for surfing, swimming, sunbathing, and hiking.
Share:
Twitter

|
Facebook

|
Linkedin