Maiden Castle Dorset - A Fascinating Iron Age Hillfort That Is The Largest And Most Complex In Europe
Maiden Castle Dorset isn't a castle in the Disney sense of the word. There are no battlements, stone walls, dungeons, dragons, or keeps in this castle. From afar, it seems to be a vast, strangely flat hill, yet it is the largest hill-fort in Britain, covering 45 acres.
There are hundreds of these hill-forts in Britain, mainly in the south, that date back to the Iron Age and were built approximately 500 BC. Some, such as Maiden Castle, were built on top of ancient Neolithic towns that had been in the region for thousands of years. 20 acres of Neolithic defensive structures have been found near Maiden's eastern end. They date back to about 3,000 BC.
The concentric rings protected the strong Celtic tribal settlement of the Durotriges, who ruled the region now known as Dorset, as seen in the aerial image on English Heritage's signboard (see above). The Durotriges aristocracy and their dependents would have resided at Maiden Castle, while commoners would have lived in the fields surrounding the hill.
COPYRIGHT_BUG: Published on https://www.bugbog.com/maiden-castle-dorset/ by Velma Battle on 2022-04-12T04:27:04.636Z
Although Iron Age men used this hill as early as 3,000 BC, Maiden Castle did not become a real stronghold until 500 BC, when it expanded until the hilltop was entirely inhabited in about 250 BC.
Despite being a formidable defense against warring Iron Age tribes, Maiden Castle could not stand up to the superior weapons (catapults, leather armor, helmets, and so on), training, and tactics of the Roman Army under Vespasian for long. A storm of 40,000 stones (carried up by the Durotriges from Chesil Beach) was thrown at them, but the Romans took the hill in 43AD.
The defeated Celts seem to have been treated with respect by the Romans. In 1937, a mass grave of defenders was discovered, with all of them put to rest with wine and meals, ready to go on their last and greatest trip. The last Durotrige tribespeople was relocated to Durnovaria, a new settlement (now Dorchester, the picture below).
Maiden Castle is encircled by several kilometers of 6m (20ft) earth/chalk walls that encompass roughly 45 acres. The name "Mai Dun" comes from the Celtic language, and it means "Great Hill" or "Principal Fort."
The English Heritage organization maintains the site, which is accessible 24 hours a day, 7 days a week, and is completely free to visit. The only on-site restriction is the barbed wire fence, which keeps muppets from rolling down hills and destroying thousands of years of hard work.
Flint tools and bronze age pottery found on Maiden Hill are in the Dorset County Museum in Dorchester. The bodies of Durotrige warriors who were killed by the Romans are also in the museum. Maiden Castle is located in Dorset, England (on the south coast). It's a mile from Dorchester (picture below), off the A354, and there's a car park nearby that's always open and free to use.
On Maiden Hill, a popular local workout spot, it's just a 20-minute walk or 5-minute drive from Dorchester, which is located just north of Weymouth on the map and is easily accessible from Bournemouth through Poole.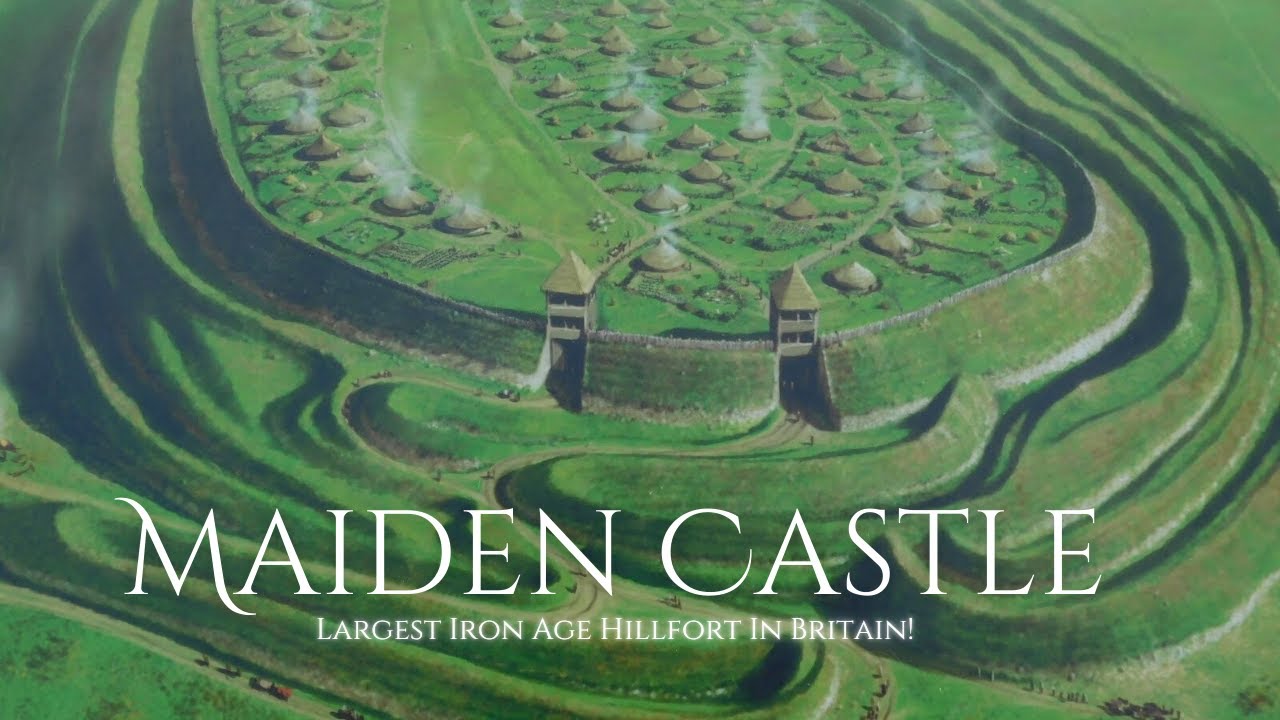 Visiting Maiden Castle - The Largest Iron Age Hill Fort In Britain
Dorchester is a peaceful rural town and the seat of local government. It was also the home of Britain's most renowned "hanging" judge, bloodthirsty Judge Jefferey, who was featured in local Thomas Hardy's classic, "The Mayor of Casterbridge."
Aside from a few pleasant Georgian buildings, Hardy's home, "Max Gate," and the County Museum (Maiden Castle relics and Thomas Hardy's study), there's not much in Dorchester to keep a tourist interested, but it's a good way station en route from the Stonehenge/Avebury area to Maiden Castle, one mile south, and the Cerne Giant, eight miles north, or to Dorset's "Jurassic" Coast.
The Cerne Giant is a famously rampant, naked 60-meter man carved into the chalk hills near Dorchester. It is about 8 miles from Dorchester.
Following the Roman invasion of AD43, commander Vespasian led his II Augusta legion into Dorset, establishing Roman dominance over the region. The Durotriges, who were only armed with slings and stones, were killed by the Roman Army's much better troops in the fight for Maiden Castle.
The Durotriges tribe inhabited modern-day Dorset, as well as sections of Wiltshire, Somerset, and Devon. Maiden Castle has a lengthy history of prehistoric activity before this. Archaeological investigations in the 1930s and 1980s discovered this.
The Romans did, however, leave their stamp on the location of Maiden Castle. They built a temple there in the 4th century, and the foundation stone is still there. It was probably used by the Minerva cult.
Following the Roman invasion of AD43, commander Vespasian led his II Augusta legion into Dorset, establishing Roman dominance over the region. The Durotriges, armed only with slings and stones, were slain by the Roman Army's considerably superior troops in the fight for Maiden Castle.
The 4th-century temple was progressively abandoned, and Maiden Castle was mostly utilized as a pasture. A few post-Roman or Anglo-Saxon graves, some perhaps Christian, show that the hillfort was utilized as a settlement, but the hillfort was not renewed as a habitation.
Share:
Twitter

|
Facebook

|
Linkedin