Germany Travel Guide - A Comprehensive Guide On How To Explore Germany
Germany is one of the most popular travel destinations in the world. This Germany travel guide will show you the best places to visit in Germany, including the must-see attractions and top restaurants.
This Germany travel guide is for anyone who wants to travel to Germany and explore its rich culture and history. It's also for those who are already living there and want to learn more about their new home or share some of their favorite spots with friends and family back home.
Germany has a lot of great things going on, but it can be overwhelming if you're trying to plan your trip from scratch. This guide will help you figure out what you want out of your trip, how to get there, and what's worth seeing along the way!
COPYRIGHT_BUG: Published on https://www.bugbog.com/germany-travel-guide/ by Velma Battle on 2022-04-07T03:22:38.778Z
Apart from any interest in Germany's enormous historical and industrial impact on the world, particularly on Europe, the country has a lot to offer tourists: lovely rustic towns with well-preserved traditions; sophisticated cities with avant-garde art; spectacular castles; vast forests and mountains [one-third of the country is wooded]; and plenty of classic art and culture to fill in the gaps.
Music is big in Germany, with local sons like Bach, Beethoven, Brahms, Handel, and Wagner, and it's not all classical. Berlin, in particular, is a hotbed of youth-led musical anarchy.
Outstanding names can also be found in other artistic and intellectual fields. For example, Goethe, Brecht, Einstein, Nietzsche, Karl Marx, Kant, Beuys, Ernst, and so on.
As the powerhouse of a collapsing EU, this is a country with a massive past, a massive present, and an intriguing future.
The fact that so many Germans do not speak English astounds many travelers. Outside of sophisticated cities, meals often consist of plain meat and two vegetables, which is filling but not exciting.
The best tourist season in Germany is from May to September, with average lows of 12°C and highs of 20°C-25°C in July and August. It can rain at any moment; there is no designated rainy season.
Worst months: November-March, despite the fact that winter sports are fantastic and well-organized. Short daylight hours are chilly and dismal, but snow adds to the atmosphere, and Christmas markets in December, particularly in Munich, Berlin, Heidelberg, Lübek, and Munster, are colorful and vibrant.
Length of stay: Berlin for a wild weekend is the minimum worthwhile stay, excluding airfare. 2 weeks is recommended to get a good sense of this enormous country.
Berlin is a chaotic and energetic capital city that isn't particularly empathetic or breathtakingly gorgeous.
Leipzig is the home of Wagner, Mendelssohn, and Bach, this laid-back, charming ancient town is a musical gold mine. From disco to classical music, there's something for everyone in a relaxed setting.
Weimar is a little city, yet it is an important tourist destination for Germans, the birthplace of Nietzsche, Goethe, Klee, Kandinsky, Liszt, and Bach [Bach again? All of his homes [how many did Germany have?!] were taken into consideration. The concentration camp of Buchenwald is also located here.
Lübeck is a lovely and well-preserved medieval town and UNESCO World Heritage site in northern Germany, is not far from the less appealing but quite bustling Hamburg.
Cologne is on the Rhine and is known for its sights, which include the massive Gothic cathedral, the colorful Christmas market, and the wild Carnival. Then there's the Chocolate Museum, which is equally insane but more accessible.
Frankfurt is multicultural and offers a wealth of excellent galleries and museums to the culture vulture. Heidelberg and the Rhine Valley are easily accessible.
Heidelberg is a tiny, friendly university town with a river, castle, and historic district. The Rhine Valley is in close proximity. Heidelberg is the capital of the German state of Hessen.
Munich is the capital of the Bavarian state of Bavaria.
Füssen [or adjacent Schwangau] in Bavaria is for fantasy castle fans, with three outstanding contributions by insane King Ludwig clustered around here, including Neuschwanstein – Europe's best?
The castle of Neuschwanstein in Germany is one of the most famous in the world. The most famous castle in the world, Neuschwanstein, was the inspiration for Disney's design. It was built in 1869 as King Ludwig II's alpine getaway, and the interior is as wild as the landscape, with rooms decorated with murals from Wagner operas.
More castles from the same fantasy Schloss stable exist nearby, and the Romantic Road that stretches from Wurzberg to Fussen is currently marketed as 'the Romantic Road.'
Trains in Germany, especially the ICE [Intercity Express], are great for intercity travel. Buses are less pleasant and slower than trains but are less expensive. Apart from the occasional traffic congestion and some nerve-wracking driving on the autobahn, self-driving is a terrific method to go long distances.
Local Transportation: If trains are available, which they usually are in urban areas, trains are the best option. Taxis are more expensive than buses, which are less common. The S-Bahn is an above-ground rail system, whereas the U-Bahn is a subway system.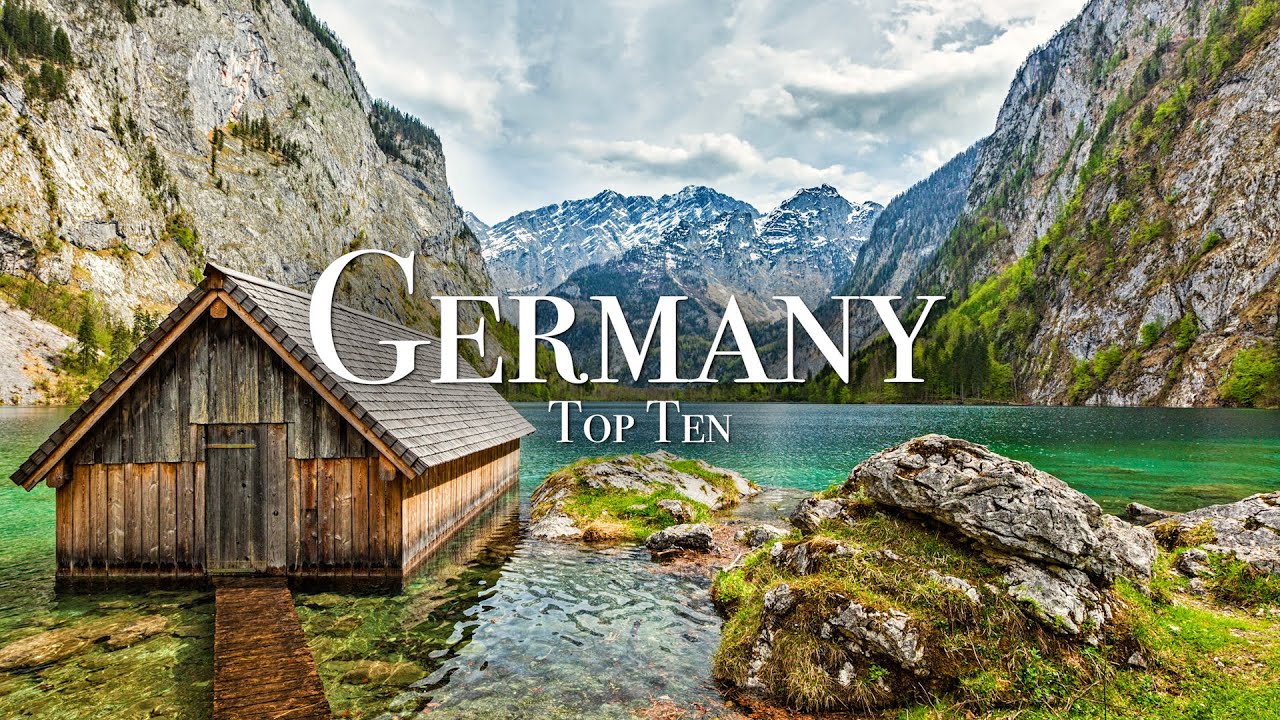 Top 10 Places To Visit In Germany - 4K Travel Guide
Germany has been designated as a Level 4 – Do Not Travel Advisory by the United States Department of State. The Robert Koch Institute (RKI), Germany's counterpart of the Centers for Disease Control and Prevention (CDC), offers daily updates in both German and English on the number of reported cases, fatalities, and recoveries.
Germany is a popular destination for travelers from all over the world and has many attractions, including the famous Oktoberfest. This comprehensive Germany travel guide to the best ways to explore Germany. From the best places to visit, where to eat, and what activities you can do in Germany, this article will help you plan your Germany trip packages.
Share:
Twitter

|
Facebook

|
Linkedin