Switzerland Constructed A 2-kilometer-long Train And Here Is Why
People are amazed to learn that Switzerland constructed a 2-kilometer-long train. To commemorate the 175th anniversary of Switzerland's first railway, the country's rail industry collaborated to run the world's longest-ever passenger train, which was 100 cars, 2,990 tonnes, and nearly two kilometers long.
St Moritz, located high in the Swiss Alps, has a reputation for pushing the limits of winter sports. Its reputation as a playground for wealthy adventurers was well established by the time it hosted the second Winter Olympics Games in 1928.
On Saturday, the region continued its long tradition of pushing the boundaries of what is possible with an epic world record attempt — this time on rails rather than snow or ice.
The record-breaking 1,906-meter train, made up of 25 new "Capricorn" electric trains, took nearly an hour to cover the spectacular UNESCO World Heritage Albula Line from Preda to Alvaneu in eastern Switzerland.
COPYRIGHT_BUG: Published on https://www.bugbog.com/switzerland-constructed-a-2-kilometer-long-train/ by Velma Battle on 2022-11-03T09:15:07.143Z
The Albula Line, like the legendary Cresta Run toboggan track, is known for its endless swooping curves and steep descents. Despite the fact that it required 55 bridges and 39 tunnels, the 62-kilometer line between Thusis and St Moritz took only five years to build.
See video below.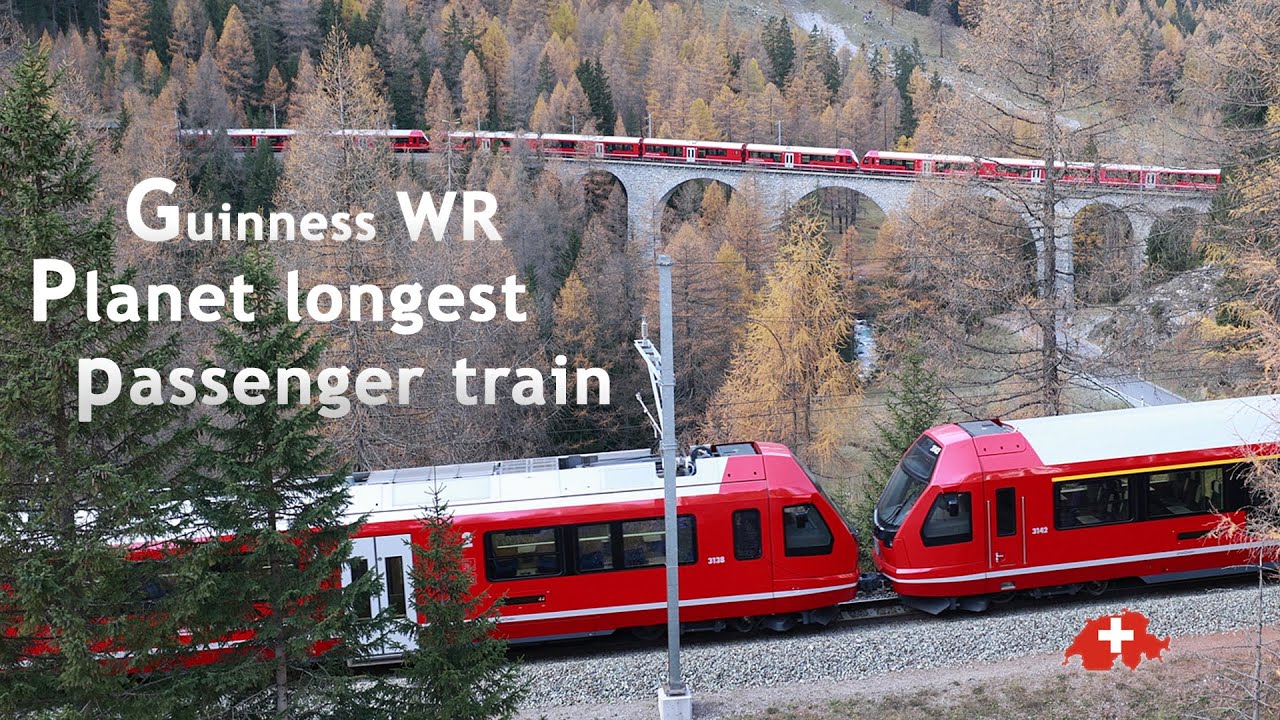 World's Longest Passenger Train | Guinness World Record. Rhaetian Railway Switzerland.
Visitors had to endure a perilous 14-hour journey over rough terrain in horse-drawn carriages or sledges prior to its completion in July 1904. The line's centerpiece is the 5,866-meter-long Albula Tunnel, which runs deep beneath the Rhine-Danube watershed.
The world record attempt took in the spectacular Landwasser Viaduct and the extraordinary spirals that secured the line's international heritage status, as well as a portion of the route taken by the world-famous Glacier Express since 1930.
The train dropped from 1,788 meters above sea level at Preda to 999.3 meters at Alvaneu in less than 25 kilometers, thanks to a series of spirals, soaring viaducts, and tunnels.
The record attempt was organized by the Rhaetische Bahn (RhB), with support from Swiss train-builder Stadler, and is perhaps even more remarkable for taking place on a narrow gauge railway.
Unlike most Swiss and European railways, which use the "standard" gauge of 1.435 meters (4 feet 8.5 inches) between rails, RhB rails are only one meter apart.
When you combine this with a route that has notoriously tight curves, steep gradients, 22 tunnels, and 48 bridges over deep valleys, the difficulties become clear.
Previous holders of the world's longest passenger train record, Belgium and, before that, the Netherlands, took advantage of standard gauge railways through flat landscapes.
An initial test run ended in failure before the train had even moved when it was discovered that the emergency brake system could not be activated and the seven drivers could not communicate with each other via radio or cellphone in the many tunnels, according to lead driver Andreas Kramer.
Kramer, assisted by six other drivers and 21 technicians, instead used a temporary field telephone system set up by the Swiss Civil Protection organization to maintain communications as the train sped through numerous tunnels and deep valleys at up to 35 km/h.
The 25 trains were able to work together thanks to specially modified software and an intercom system between the seven drivers. Any mismatch in acceleration or deceleration during the journey would have resulted in unacceptably high forces on the tracks and power supplies, posing a significant safety risk.
Switzerland punches far above its weight in the railway industry for a small country with a mountainous landscape that appears unsuitable at first glance.
It has long been a pioneer in electrical, mechanical, and civil engineering due to necessity, and its technology and expertise are exported all over the world.
Engineering marvels like the Gotthard Base Tunnel, which opened in 2016, continue a long tradition of pushing the limits of what is possible.
With reason, the Swiss are the world's most enthusiastic rail users, traveling an average of 2,450 kilometers by train each year, accounting for one-quarter of their total annual mileage.
Mobility has exploded in recent decades, as it has in other European countries, with the average annual distance traveled by car and public transportation more than doubling in the last 50 years.
In 2019, the last "normal" year before the Covid-19 pandemic, they traveled 19.7 billion passenger kilometers by rail.
This is expected to fall to 12.5 billion passenger kilometers in 2021, but as Switzerland celebrates 175 years since the opening of its first railway between Zürich and Baden, ridership is well on its way back to pre-pandemic levels.
Share:
Twitter

|
Facebook

|
Linkedin