Sailing Around The World - Make Your Fantasy Come True
Sailing across the world may be a once-in-a-lifetime trip that proves you're enjoying life to the fullest rather than settling for a life that's too mundane and routine.
Getting on a yacht and sailing around the globe, on the other hand, is not something you can do a week after deciding to do it. Is it possible for an average individual without a lot of money to sail around the world?
You may think that only the wealthy can afford to sail across the globe. Getting your own boat is expensive, and you may be concerned that without one, it would be difficult to embark on a lengthy sailing trip.
However, finding a crew and sailing across the globe on someone else's yacht is simpler than you may imagine.
Volunteering aboard a sailboat is one of the finest ways to sail around the globe without spending a lot of money.
COPYRIGHT_BUG: Published on https://www.bugbog.com/sailing-around-the-world/ by Velma Battle on 2022-06-12T15:34:23.850Z
The crew may be willing to take you for free because of the labor you perform on the boat.
Working aboard a yacht as a volunteer may be the greatest way to sail around the globe without spending a lot of money.
Other choices include paying money to join a crew and splitting expenses, finding friends who own sailboats, working on a research boat, or paying a boat off over time if you have the financial means.
People with the necessary talents, even if they merely know how to cook or be a skilled deckhand, will find it easy to join a crew.
You can discover a method to sail across the globe if you truly want to. A round-the-world sailing journey is a realistic and doable goal. All you have to do is be serious about it.
It's not the same as going to space, which you may not be able to accomplish even if you try hard enough.
Sailing across the globe is something that even the most ordinary person can achieve if they prepare ahead and hunt for opportunities.
If you have a lot of sailing expertise, finding a crew to sail around the globe with may not be difficult.
It's possible that your local marina is seeking for deckhands. Not every boat will be embarking on an around-the-world voyage, but some will.
Many yachts traveling around the globe are looking for additional crew members and would gladly accept you if you have some sailing expertise. Volunteer crew members are in high demand, and many people are unaware of this.
When a pair of rich individuals decide to sail around the globe, they do not necessarily want to do it alone.
It takes a lot of effort to keep a sailboat sailing with just a few people on board. If there are only two sailors on board, they will have to take turns napping in order to keep the boat sailing safely.
A third or fourth crew member may make the difference between a relaxing trip and one that is demanding.
A big boat and a huge crew are not required for a round-the-world voyage. They may have a smaller boat and simply need the services of a third person.
The nicest thing about helping aboard a boat is that it's usually not particularly difficult labor.
You'll be in charge of the ship at times, and you'll be doing tasks at others. This is not a tough task.
The amount of enjoyment you'll have much surpasses the amount of effort you'll have to perform.
You'll get to visit islands, see a variety of nations, meet new people, and complete your journey with plenty of tales to share. Don't be concerned about performing unpaid labour; it is well worth it.
Work aboard a sailboat for pay is also doable, but you'll need a lot of sailing expertise. Volunteering throughout the globe is a more feasible option than hunting for paid labor aboard a boat.
One downside of volunteering to sail around the globe is the chance of not getting along with the people you meet along the way.
While you may like working with the folks you volunteer with, there's a risk you won't. Traveling across the globe aboard a friend's yacht should be your first option if you have the chance.
You will encounter folks who have the resources to sail if you embark on shorter sailing excursions.
When someone plans to sail across the globe, you should hopefully know the proper individuals. They may be willing to take you for free.
Even if you know the individual a little bit ahead of time, being out at sea with someone you don't end up enjoying might be an issue.
Even if you like each other today, you could not like each other after spending weeks, months, or years at sea together.
Don't let this deter you from embarking on a lengthy sea cruise, but be sure you can get along with the individual before embarking on a year-long voyage.
While a sailboat that may be used to go around the globe costs roughly $75000, if the expense is shared among many individuals, it is not too expensive.
If you and five pals wish to sail across the globe, a seaworthy yacht will cost you just $15000 apiece.
$15000 isn't exactly pennies on the dollar, but if you decrease your expenses, you could be able to save it in a fair length of time.
You and your friends would have enough money to pay for the full trip today if you had begun saving a few years ago.
Years ago was the ideal time to start saving; now is the next best moment to start saving. If you have friends who share your ambition of sailing around the globe, you may be able to persuade them to make it a reality.
To work aboard a research ship that examines marine species, you don't have to be a scientist. Deckhands, chefs, and other crew members are also required on such boats.
You'll probably have to volunteer instead of looking for a paid job, but you'll still be able to sail to many places for free, maybe even across the globe.
If you're searching for a crew to sail across the globe with, cooking is one of the finest abilities you can have.
You have a decent chance of joining a crew if you are an exceptional chef with some sailing experience.
You must be able to adapt and create something delectable with whatever ingredients you have on hand.
To cook aboard a sailing ship, you don't have to be a trained chef; just being a decent cook is sufficient.
Only a bigger ship's cook may be required to be a trained chef, and even then, this isn't usually the case.
If a family is traveling across the globe with children, they may not have the time to homeschool them.
These families will be accompanied by a teacher. This is a less probable possibility than some of the others, but if you'd be excellent as a nanny and instructor aboard a ship, you may be able to obtain work.
If you can pay for your portion of the trip, a crew could be willing to take you. This may be costly, but it is considerably less so than purchasing your own boat.
For a single individual, a journey may cost $20, $50, or $70 each day. Don't be taken advantage of by individuals who attempt to charge much more than that.
They shouldn't be charging you such a high daily rate, and if they do, they're attempting to make a profit off of you.
If you are given a reasonable amount, paying to be a member of a crew is a smart idea. It might add up quickly if you're out at sea for an extended period of time, but it's less expensive than owning a boat.
If you already own a boat, you'll be able to get to the fun part much faster. There are still some preparations to do ahead of time and things to keep in mind while at sea, but you can get started on your journey sooner rather than later.
Typically, individuals sail around the globe from east to west. Because an eastward path is more difficult due to the wind, a westward route is more challenging.
You may take whatever path you like, but most people opt to go eastward and follow the wind.
You will sail from west to east on an eastward path, thus you will be sailing west on an eastward route.
If you're sailing from the United States, you'll first go via the Panama Canal before heading west across the Pacific.
You should be north of Australia after crossing the Pacific. Sail across the Indian Ocean and around the Cape of Good Hope from there. You may sail northwest from the cape and finally reach the United States.
Depending on how long you want to spend at sea, you may cruise to a variety of additional destinations.
For example, before returning to the United States, you may cruise from southern Africa to Europe and the Mediterranean.
Sailing across the Red Sea and the Mediterranean rather than around South Africa is a popular alternative to the traditional eastward route.
This is a quicker alternative of sailing around Cape Good Hope. Because there are pirates off the coast of East Africa, do not do this unless it is presently safe.
Instead of traversing the Panama canal, you might cruise under South America for a more adventurous journey.
Taking the northwest route and sailing across North America is a more adventurous alternative.
These routes take longer, and sailing through polar waters is dangerous if you follow the northwest way.
You can sail around the globe in around 15 months, but it's best to take your time and spend a few years at sea.
You won't be able to stop anywhere for any length of time if you attempt to complete the journey in less than two years, since any delay means hurricane season will cut you off for the rest of the year.
You will spend $3000, $2000, or at the very least $1000 every month while at sea. You can have a lot of difficulties if you attempt to spend merely $1500 per month or less.
Higher figures are more feasible, and if you stop often, your monthly expenditure may easily exceed $3000.
You will also need to purchase equipment, which will increase the cost of your yacht as well as your daily living expenses.
It is perilous to go out at sea with poor equipment, which may cost more than $15000. When you transit the Panama Canal, you will be charged a cost of more than $1000.
While at sea, you will encounter additional charges. It will cost you roughly $500 to have your yacht moored during a storm. You'll also have to pay for storage, as well as additional costs at ports.
Repairs are another cost, as your autopilot or engine may need to be repaired for $1000 or $2000.
If you wish to utilize satellite internet while at sea, it will cost you about $120 per month and you will only be able to use a minimal amount of data.
Nonetheless, $3000 per month is more than adequate to cover all of these fees, and $1500 per month may be sufficient if your costs are kept low.
Take everything into consideration, otherwise your expenditures may end up being larger than you anticipated.
When visiting a nation, you may need to hire a vehicle, pay for medical expenditures, or visit pubs and restaurants. Expenses might emerge out of nowhere and at any time.
Some individuals like to return home in the midst of a lengthy sailing expedition. They want to be away from the water for a time before returning to their boat and continuing their journey.
Flying home merely once or twice may not significantly increase the cost of your vacation.
A round-the-world sailing journey must be taken seriously and meticulously prepared in preparation. On your journey, you want to see as much of the globe as possible, so prepare appropriately.
Most sailors wish to visit Bora Bora, Tahiti, Samoa, and other well-known Pacific islands when sailing across the Pacific.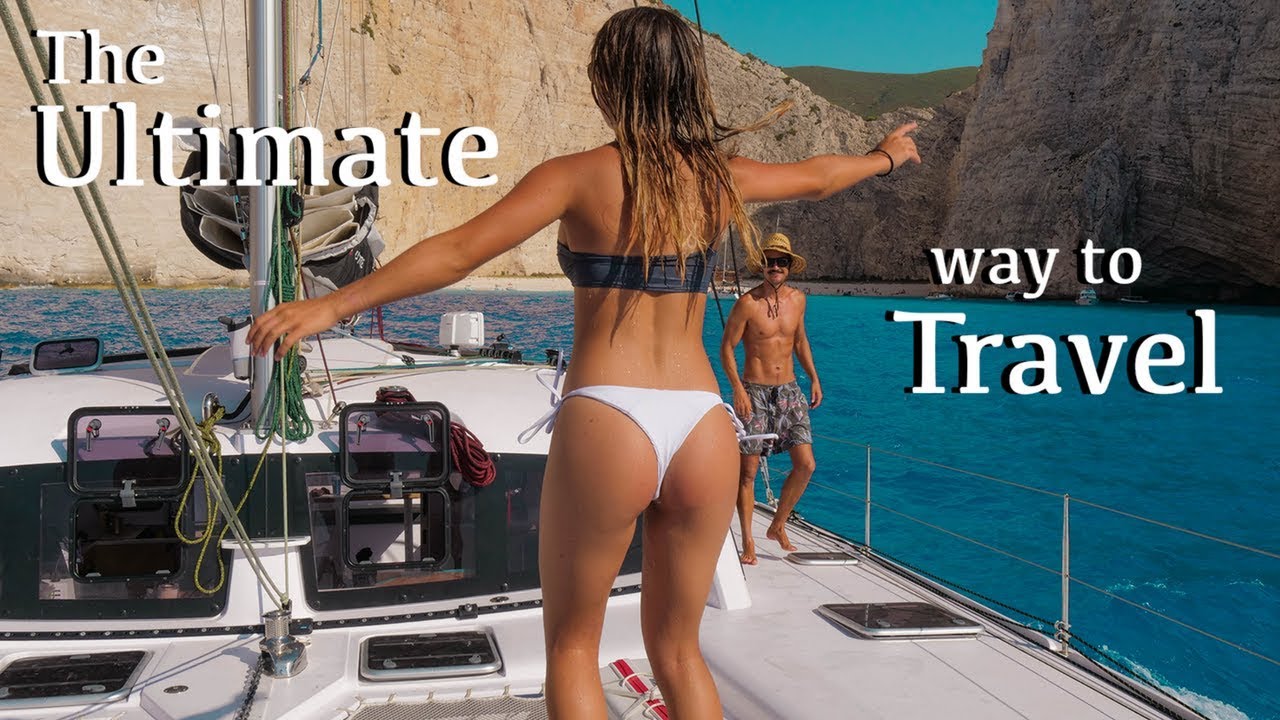 SAIL THE WORLD ON A BUDGET (8 TIPS)!
All you have to do is be serious about it. It's not the same as going to space, which you may not be able to accomplish even if you try hard enough.
Sailing across the globe is something that even the most ordinary person can achieve if they prepare ahead and hunt for opportunities.
Be Sure the Boating Lifestyle is Right For You
sea sickness (yourself or your passengers)

cooking and sleeping while the boat is rocking.

not being able to follow a strict schedule.

not being able to make quick trips to the mall or grocery store.

missing family and friends back home.

anxiety around stormy, rough oceans.
Learning to fish, fishing, cooking, viewing whales and icebergs, meeting people, exploring, enjoying local landmarks, taking photographs, meeting new sailors... are just a few of the many enjoyable activities available to you when sailing across the globe.
A license is not required to sail around the globe. Certain licenses and certificates, on the other hand, might aid you in local jurisdictions, and getting them isn't a terrible idea.
Sailing around the globe requires a sailboat that is between 35 and 45 feet long. This length ensures a high maximum hull speed, decent handling in heavy waves, and ample cargo capacity to transport food and water for many weeks. Longer boats will perform just as well, but they will also be more costly.
You will be gone from home for a long period, whether you are sailing away on your own boat or not.
While it is possible to sail around the globe in a short amount of time (the world record is 40 days), a typical round-the-world sailing expedition takes three or four years.
Sailing across the globe is an amazing endeavor that will consume a substantial portion of your life.
You'll eventually return to shore, and your perspective on life will have changed as a result of your sailing adventure.
Share:
Twitter

|
Facebook

|
Linkedin