Montenegro - The Black Mountain Of The Balkans
Montenegro, or the Black Mountain, may be driven in less than a day, yet you might not want to leave for months. Colorful flowers, rich green pine woods, dark towering peaks rising from crystal pure waterways, and an azure blue sea abound across the land. Montenegro, which stretches for over 100 kilometers from top to bottom, is also rich with postcard-perfect historic walled villages and orange-roofed buildings. Roman villas, Orthodox monasteries, Catholic churches, mosques, and old defensive fortifications are among the rich cultural legacy.
The Bay of Kotor, and by extension the walled town of Kotor, is one of Montenegro's most popular tourist sites. Because of the lovely ancient town and lively harbor, the region is a UNESCO World Heritage Site. Climb the 1500 stairs to the stronghold that overlooks the town if you choose. The bay is Europe's southernmost fjord and the greatest natural harbour on the Mediterranean's east coast. Kotor is an excellent location for a base camp from which to tour the nation.
COPYRIGHT_BUG: Published on https://www.bugbog.com/montenegro/ by Velma Battle on 2022-05-13T07:45:56.309Z
Perast, just a few kilometers from Kotor, is one of Boka Bay's most picturesque spots. It is a magnificent historic town that is a UNESCO World Heritage Site. Gospa od Skrpjela, or Our Lady of the Rock, is the most popular attraction. It's a little bay island with a fantastic museum and chapel. The taxi boat journey from the mainland to the island is part of the enjoyment! Finish your afternoon with a delicious seafood lunch at one of Perast's many eateries.
Sveti Stefan, an emblem of Montenegrin tourism, is fifteen minutes from Budva. The little islet, which is frequented by the rich and famous, was formerly a fishing community, and the old town, with its narrow streets, modest churches, and family stores, has remained almost untouched. Sveti Stefan's population decreased dramatically in the twentieth century (just 20 people were registered in 1954), but in the 1960s, a group of visionaries rebuilt the town into one of the most attractive and expensive resorts in the Mediterranean. You must be a resort visitor to access the island, however the north and south beaches are open to the public all year.
The spectacular mountain range that stands directly behind Kotor and Perast has turned the old capital of Montenegro into a backpacking paradise. The old residence of King Nikola, which has been transformed into a museum, can be found on Cetinje's main plaza. In fact, multiple museums are all within walking distance in town. The Cetinje Monastery, erected in the 15th century, is the principal attraction here. It has been demolished several times over the ages, with the most recent iteration being from the 18th century. A splinter of the True Cross and St. John the Baptist's mummified right hand can be seen here.
Getting to Piva Canyon is part of the enjoyment. In other points, the road dances with the river and hangs precariously to the rock. After WWII, 56 tunnels were excavated out of the mountain, and you must pass through them. However, once you arrive, you'll be rewarded by the sight of Lake Piva nestled in the Piva Canyon. Piva Monastery, which was meticulously transported to higher ground over the period of 11 years when the Pluine hydroelectric dam was erected, is a must-see. It is an ideal location for rafting and camping.
Skadar Lake is a nature paradise since it is the largest lake in the Balkans and an important migratory bird region. A sightseeing boat excursion followed by a visit to a local winery to sample traditional cuisine and wine is a great day here.
The atmosphere will be ideal for outdoor enthusiasts looking for a more relaxed setting. Bird watching, cultural-historical sites, festivals, cruises, water sports, and many more activities are available. Skadar is one of Montenegro's most picturesque towns.
Biogradska Gora National Park is located between the Tara and Lim rivers. Old woods, clean lakes, and gorgeous meadows may be found here. But there is something absolutely magnificent at the park's core. The first is the untouched woodland. Biogradska Lake, a genuinely amazing glacial lake, is located in the center of this incredible pristine forest. Six glacial lakes, high summits exceeding 2000 meters, ancient sites, spiritual structures, and various traditional-style dwellings may all be found in the park. The 26 unique behaviors, 200 plant variations, 150 bird species, and 10 types of animals will appeal to nature enthusiasts.
Durmitor, one of Montenegro's five national parks, draws adrenaline addicts of all types. Mountaineering, hiking, bicycling, swimming, bungee jumping, skiing, snowboarding, rafting, and other activities are available in this magnificent and unspoiled park in the north of the nation. Outdoor explorers come here in any season to get their fill of thrill and breathtaking natural beauty. You'll also find great local meals here, rounding off your Montenegrin adventure.
Budva is known for its nightlife and sandy beaches and is located on the Adriatic Sea as part of the Budva Riviera. If you're searching for a place to let free and party, this is the place to go. Take a stroll around the small alleyways of Stari Grad, or Old Town, one of the most picturesque portions of town, before the celebration begins. A seaside fortress and the 9th-century Church of Santa Maria in Punta can be found in the historic district. Budva is a popular destination for yacht owners, and a stroll through the marina is ideal for fantasizing and deciding which vessel you like.
A land of marvels, a treasure box filled with the most amazing riches, as if, as tradition has it, God's bag tore apart while presenting gifts of nature, and wonderful things like mountains and other natural wonders dropped out right over Montenegro.
However, geographers claim that the great forces of nature formed this area in the south of Europe and the Balkans, which is not big but unusual in its richness. Whether it was created by forces or not, it turned out to be beautiful and uncommon - exquisite.
Montenegro is an interesting country to visit because of its magnificent natural beauty and unique history. This little country packs a strong punch for its size, with jaw-dropping landscapes around every corner, ruins of conquered kingdoms, and fashionable subterranean locations.
Destination Montenegro is a tiny mountainous nation in Southeastern Europe on the Balkan Peninsula, having an Adriatic Sea coastline. Albania, Bosnia and Herzegovina, Croatia, and Serbia are its neighbors.
It's raining a lot...

Before you

travel

, look up the cruise boat timetables.

If you rent a car, you'll be able to see a lot more.

Be warned: Finding a parking spot might be difficult.

Tourists can feel safe in Montenegro.

There is some communication difficulty.
Montenegro is stunning! It not only has amazing natural beauty, but also attractive old cities, delicious food, enough services, and a welcoming populace.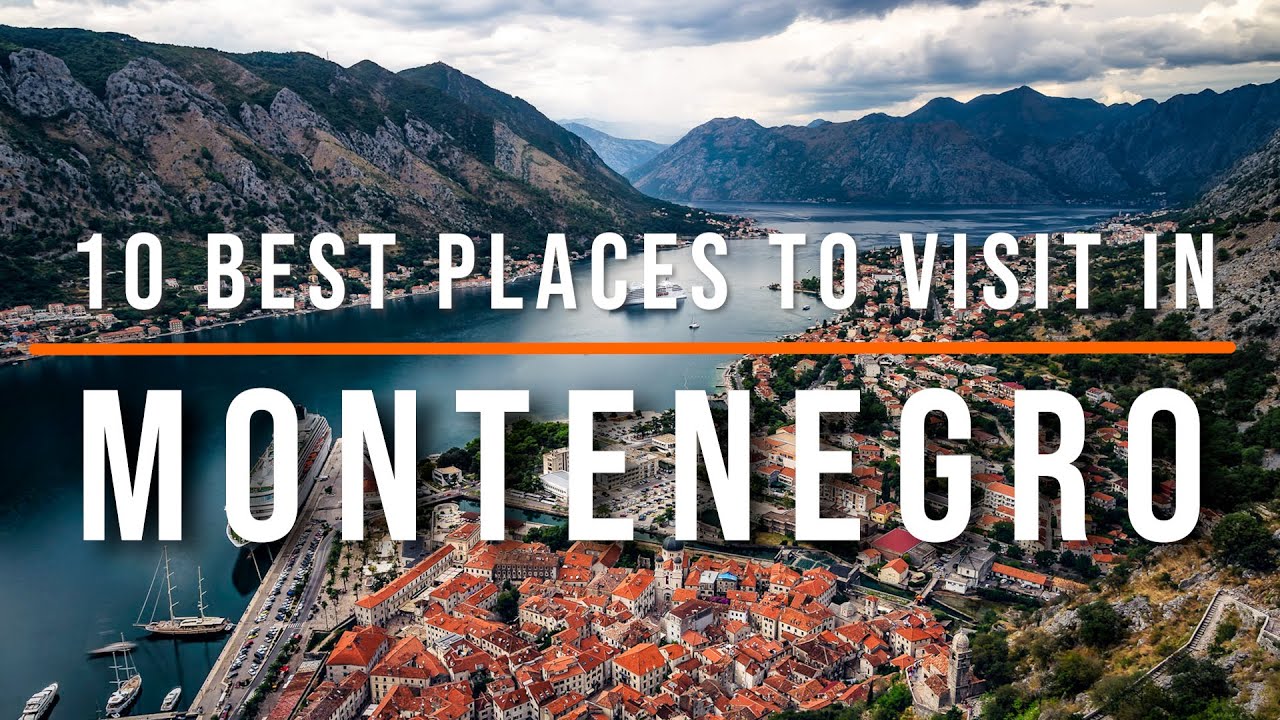 10 Best Places to Visit in Montenegro | Travel Video | Travel Guide | SKY Travel
Share:
Twitter

|
Facebook

|
Linkedin